Stuffed seitan roast in puff pastry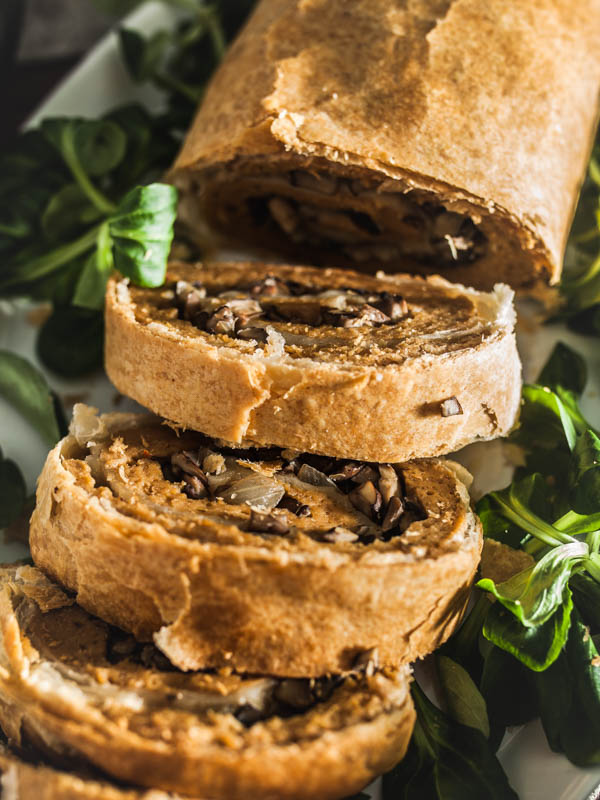 Author:
Sabrina Dietz / Purple Avocado
Cuisine:
Vegetarian, Vegan
Portionen / Serves:
approx. 4 servings
175g wheat gluten*
30g yeast flakes*
1 clove of garlic
1 tsp tomato paste
70ml Soy sauce
125ml vegetable broth
2 tsp mustard
1 pack of fresh puff pastryWHAT
300-400g Champignons (Option for mushroom haters - how about zucchini?)
1 small onion
1 clove of garlic
a pinch of salt
some oil and plant milk
Mix the wheat gluten with the yeast flakes. Peel and mince (or press) the garlic and add it as well.
Stir together tomato paste, soy sauce, vegetable broth and mustard. Add it to the seitan mixture and with a spoon stir it until you get a solid dough. Continue kneading it with your hands for a while, form a ball and put it aside.
Clean the mushrooms and mince them. Peel the onion and garlic and dice them finely as well.
Heat oil in a pan and sauté the onions before adding in the mushrooms and garlic and frying it for another 5-10 minutes. Salt lightly.
Preheat the ofen to 190° lower/upper heat (170° air circulation).
Roll out the puff pastry and place the seitan dough on top.
With a rolling pin toll out the dough thinly on the puff pastry. You should leave some space in the front and the back (just like you do with Sushi). It doesn't have to be perfect.
Spread the fried onions on the seitan dough evenly.
Now we're rolling.
Fold the dough up on the sights to prevent the stuffing from falling out.
Now we're rolling the dough up, still taking care of the sides being closed.
Lastly we're brushing the dough with some oil and plant milk to prevent it from drying and bake it in the oven for 50-55 minutes.
Recipe by
Purple Avocado
at https://purpleavocado.de/en/vegan-seitan-roast-christmas/