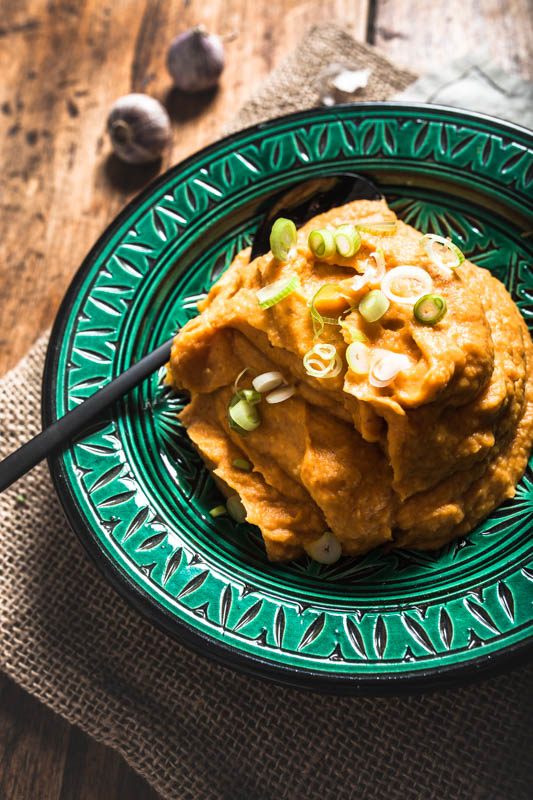 I already promised it at the end of last year. Our stuffed and roasted Christmas pumpkin was served with creamy, garlicky mashed potatoes for which a recipe didn't exist yet, shame on me! But after being bugged obtrusively by hosts of people (at least 2!) to finally fork out the recipe – it's here.
Whether you make this mash from ordinary potatoes or exotic sweet potatoes – it's going to be brilliant! Depending on the dish you want to serve these garlicky mashed potatoes to, one or the other will fit better.
For the stuffed pumpkin for example, which already had quite a sweet and light touch, the garlicky mashed sweet potatoes would have been the overkill. That's why we chose the hearty mashed potatoes for this dish.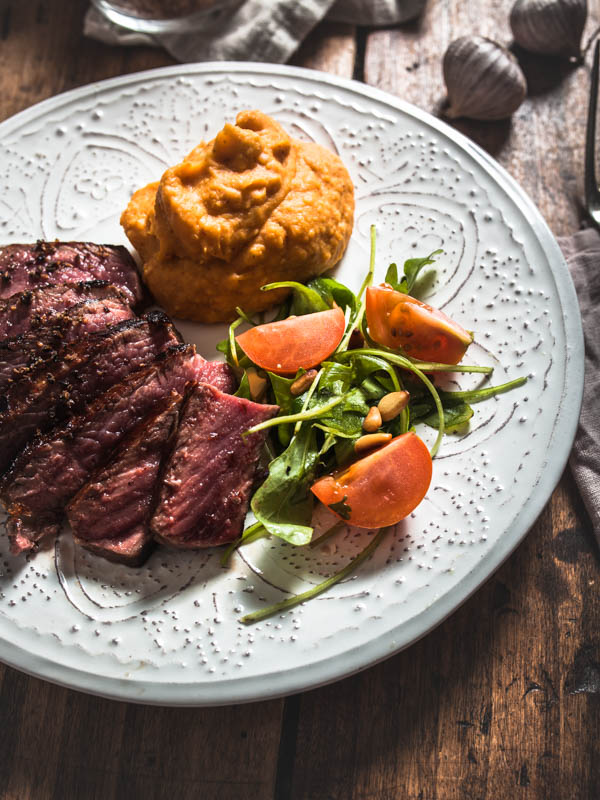 No matter how you chose (chose wisely), there's one thing that shouldn't be missing by any means:
Garlicky garlic is garlicky. There's hardly anything that I would miss more dearly than garlic. Garlic is love and if you have a problem with that I pity you, especially if you're about to spend time with me 😀 *breeeeaathe*
I've tested and exhausted the limits of garlic for this recipe to the maximum. And found out that 8 garlic cloves are definitely too much 😀 The pungency was very biting and covered all the other flavours. Hahaha, that day of the garlic overkill was also the evening we went out with friends.
Roasting garlic in the oven
Yet it's a whole different story if you're going for roasted or pickled garlic. Those types lack the pungent sting in favour of a soft, almost velvety pure garlic aroma. Roasting is quite easy to manage: Chop of the top of a garlic head and roast it at 200°C (392°F) for about 20 – 30 Minutes until it's golden brown (and the whole kitchen smells like a vampire hunter hideout). The garlic will be nice and soft and easy to be pressed out of its peel. You can store this roasted garlic in the fridge for about 3 days. But I won't judge you either if you add it all to the mashed sweet potatoes.
Here's another method to roast garlic by Salt & Lavender: Perfect roasted Garlic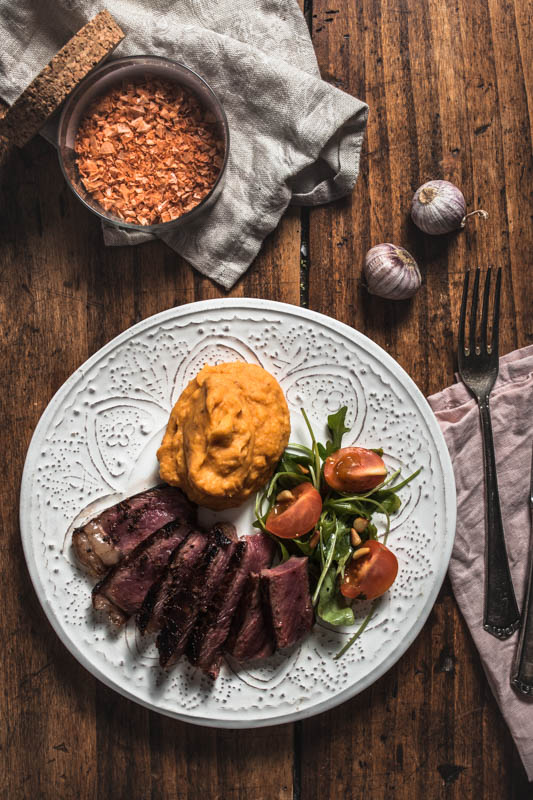 RECIPE
Creamy, garlicky mashed sweet potatoes
Author:
Sabrina Dietz / Purple Avocado
Cuisine:
vegan, vegetarian
Portionen / Serves:
for 3-4 servings as a side or 2 servings if you're really hungry
Zutaten / Ingredients
1kg of potatoes or sweet potatoes
1 bunch of chives
150 ml (¾ cup) of (plantbased) cream
3 piled tbsp (about 90g) margarine / butter
3 garlic cloves (it's implicitly allowed to adjust this number to your own garlic needs) Tip: roasted or pickled garlic will be much less spicy and very soft in taste)
1 tsp nutmeg
salt
Zubereitung / Instructions
Peel and wash the potatoes. Add salted water to a pot and cook the potatoes for about 20 – 30 minutes until soft.
Peel and mince the garlic or press it through a garlic crusher.
Once the sweet potatoes are cooked and soft drain the water through a strainer and leave the potatoes in the pot.
Bit by bit add the margarine, cream and garlic to the potatoes and use a potato masher* until you have a thick and smooth mass and all the ingredients are blended well.
Season to taste with salt and nutmeg.
Mince the chives and stir them under the mashed potatoes.
Anmerkungen / Notes
You can either use a potato masher or a hand-held blender. However, it takes some more muscle power to receive a creamy result with the non-electric device.
The desired texture – smooth or clumpy – also depends on your personal taste.
If you're working with the potato masher be sure to mince the garlic very finely to prevent unpleasent situations in which you bite on a raw piece of garlic.
You might like these recipes as well:
Pin it for later