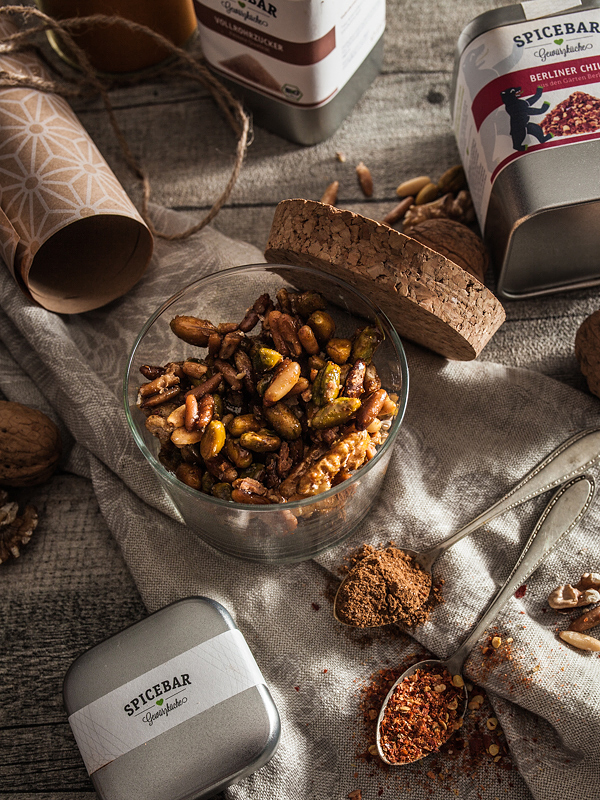 The New Year is running already and we only have the eleventh of January! Last year was so eventful, this blog grew so much and I got to meet some really great people. Towards the end of 2016 Spicebar hosted a nut challenge to which, despite all the pre-Christmas stress I simply couldn't say no. The recipe is now finally online for you to recreate.
The best spiced nuts
Spicebar invited a couple of Bloggers to join the #xmasnutchallenge and savoured all the results live on facebook. Our task was to create the perfect Christmas Nut on our BBQ / in the oven / whatever. Therefor every participant got a ginormous sack of nuts – a mix of pine seeds, pistachios and walnuts – and some of their amazing spices. Sponsoring such valuable and expensive good for not less than 15 bloggers is incredible and at this place I'd like to mention that I really appreciated this. I'm still savouring those delicious nuts on cozy evenings while watching series.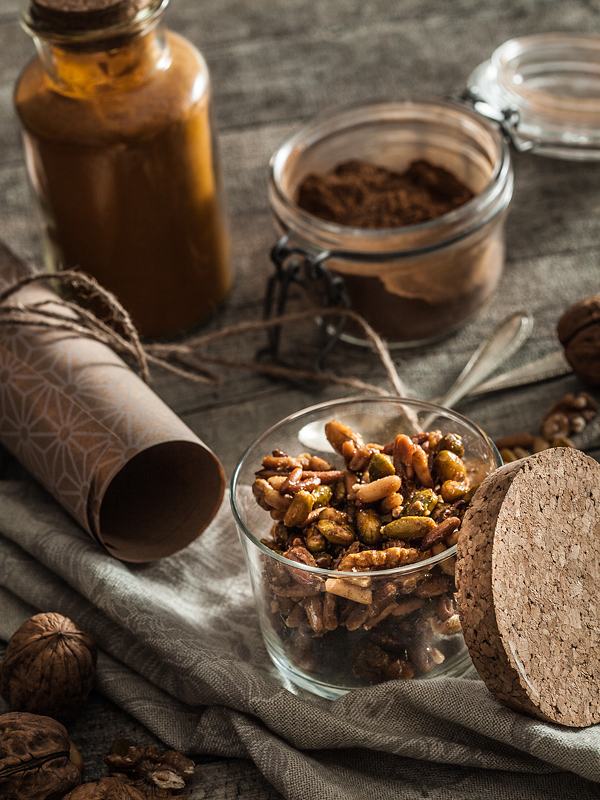 Organic spices from Spicebar from Berlin, Germany
No, the friendly fellows from Spicebar didn't pay me for writing those lines. I had the chance to try their lovely spices and want to recommend them to you out of my own accord. The prices are fair, the spice mixes amazing and it's all organic. If you happen to follow me on  Instagram you might have recognized on or another creation which was Spicebar inspired.

Caramelizing nuts for the first time
… is something I imagined to be very complicated and difficult. In the end it turned out be quite easy and clean. When I'm cooking it has to be quick. I'm not a patient kind of person that prepares a dish over days and days. That's why I was rather astonished by some of the creations of my competitors. The guys from Old School Grill Clan for example soaked the nuts in a spicemix for 24 hours and smoked them another 2 hours in a whisky smoke. That's dedication!
OSGC's Recipe (in German only)
No no no. Not on my watch. Madame is nitty-gritty and spontaneous. If she wants caramelized spiced nuts she ain't gonna wait 2 days until they take some pity and are ready to eat. lol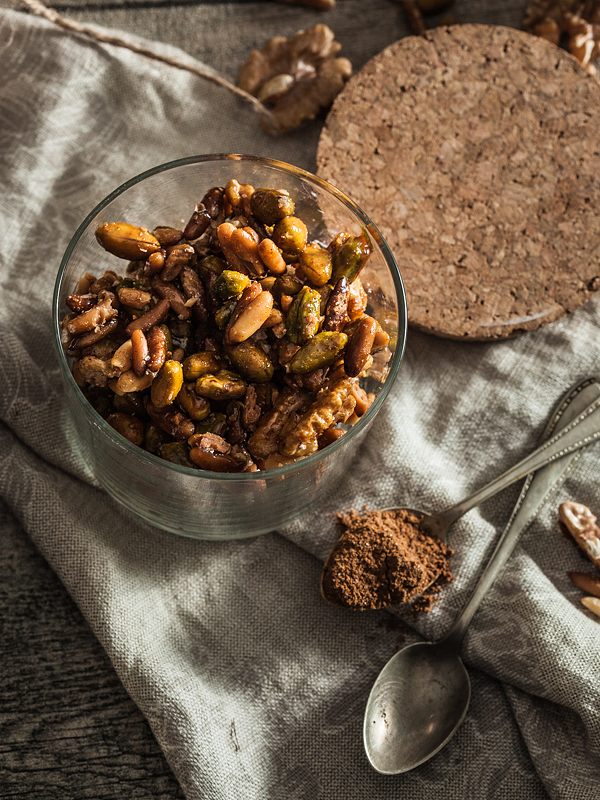 Quick Curry spiced nuts with a special touch
That's why my recipe is a quick and practical one that you can prepare in the oven and a pan within an evening. As an absolut curry fan I had to drown my nuts in it. The christmassy touch comes from cinnamon. Cinnamon makes everything better. The last touch comes from a spicy chili mix and there we have it – the perfect Christmas Nut.

Karamellisierte Curry-Würznüsse mit Zimt
Portionen / Serves:
1 baking tray
Zutaten / Ingredients
1 baking tray nuts / seeds of choice e.g. walnuts, pine seeds, pistachios, cashews
1 cup cane sugar
1 cup water
4-5 tsp golden curry mix
1-2 tsp cinnamon
1-2 tsp salt
½ tsp chili mix
Zubereitung / Instructions
Spread the nuts on a baking tray and roast them for 15 - 20 minutes at 150 °C. Toss them from time to time. Don't leave the nuts unattended for to long. As soon as they become darker they can burn easily. Don't let them turn black.
Bring 1 cup of water and 1 cup of cane sugar to a boil and let it simmer for 5 minutes.
Take the pot from the stove, add the roasted nuts and stir the mix for about 5 minutes until the nuts are evenly coated.
Mix the spices in a mortar and put them in a bowl that can hold the whole batch of nuts.
Add the nuts to that bowl and mix them with the spices until it's spread evenly.
Add the nuts to the baking tray for a second time in the oven. This time they should be fine after 10-15 minutes at 150°C
Let the nuts cool down or enjoy still warm.