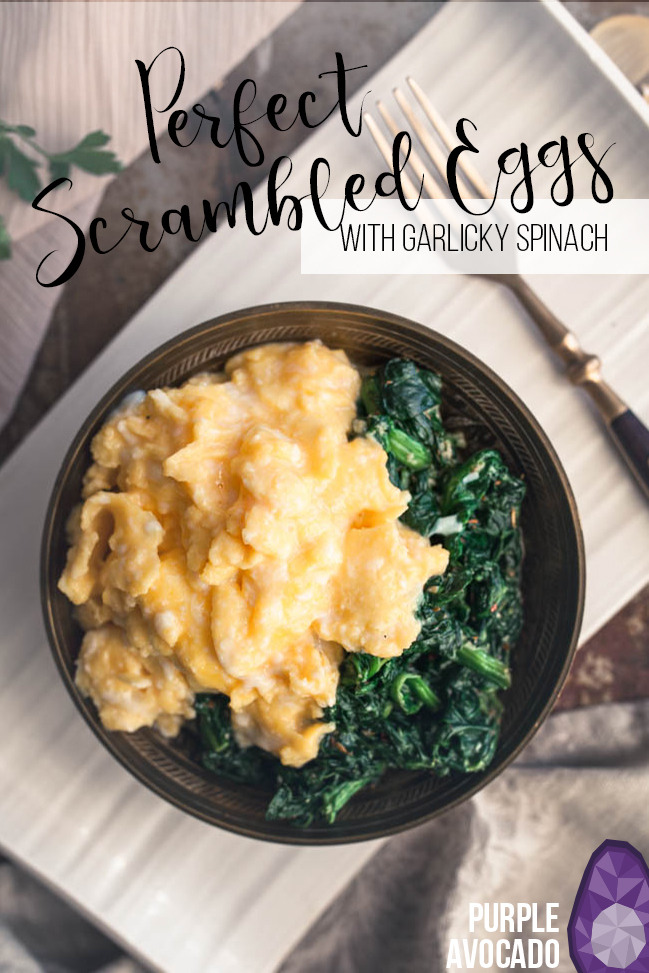 I love scrambled eggs. This adoration goes back until my early childhood and manifests in my favourite meal cooked by my granny – scambled eggs with spinach, which she deliberately 'stirred cold' in front of the frontdoor so that us poor, impatient grand children didn't burn their mouths and could start eating right away. Good old times, no one has taken care of me like that ever since. But then again – only granny's do such things.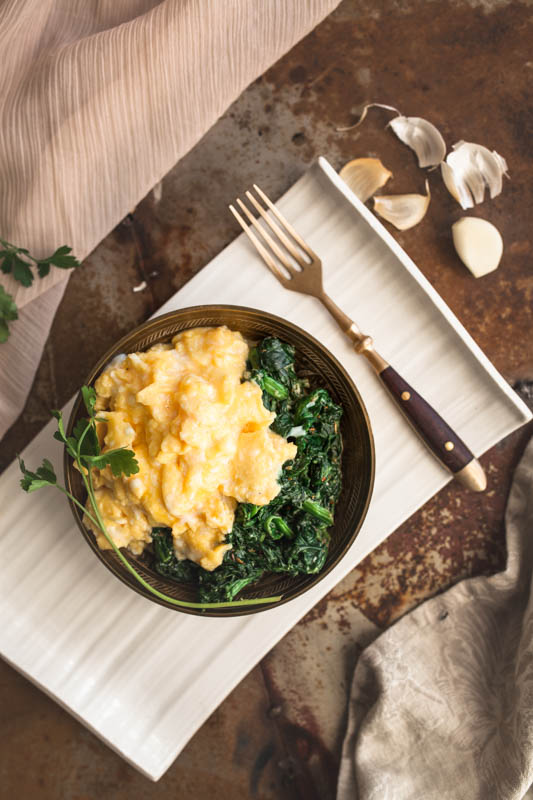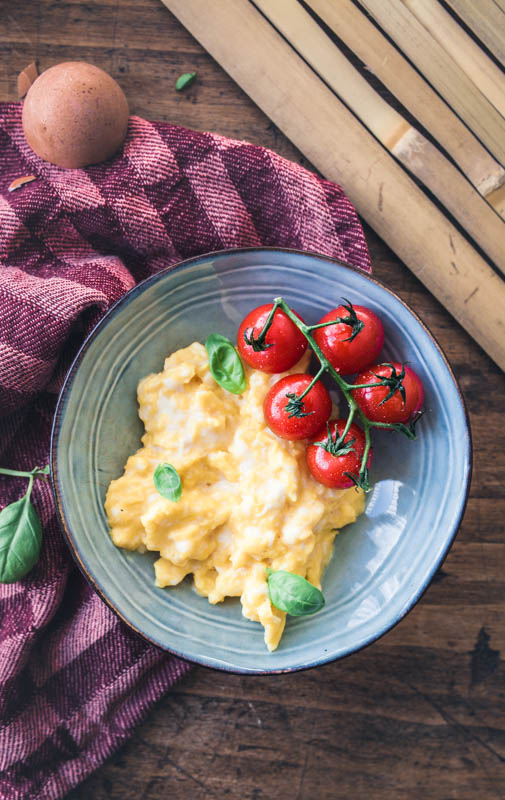 Meanwhile a lot of things happened. I live in my own apartment, I cook my own food and gandma watches from the sky. Scrambled eggs and spinach still have quite the nostaltic impact on me and are a part of my cooking routine.
You can also find some recipes here on the blog:
Stuffed sweet potato with spinach
Chanterelle sandwiches with scrambled eggs
Sesame-Tofu with nut sauce and spinach salad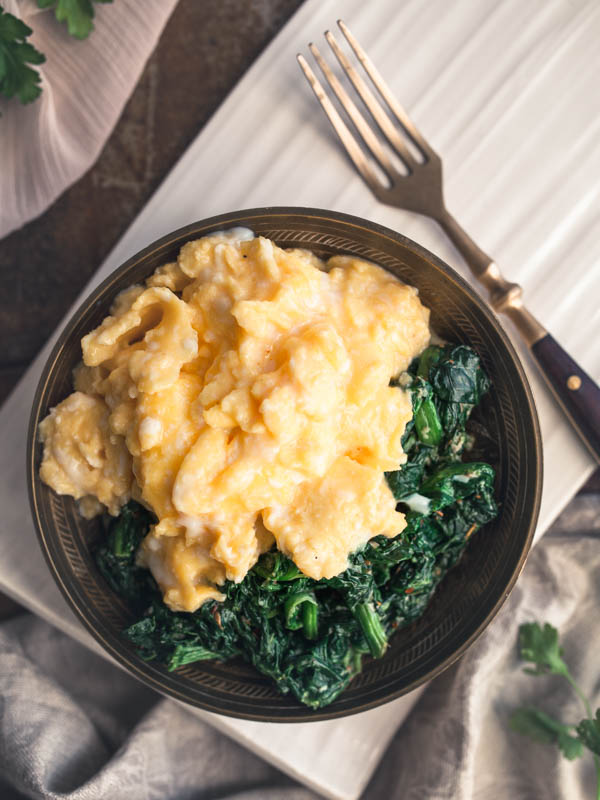 Kind of as a tribute to my little granny – tiptoeing she barely reached the 1,50m (Granny's are supposed to be small – that's the way it is) – I'm sharing my most nostalgic recipe with you since I posted my childhood birthday cake.
How to make perfect scrambled eggs
I'm not going to make rocket science out of this topic, yet there are some things that'll up your scrambled eggs game immensely and bring it to the next level.
ADD THE EGG TO THE COLD PAN
For perfect scrambled eggs you won't need more than a pan (or pot) and a spoon (/fork) or spatula. The most important thing is that you don't heat the egg to much or too quickly. Therefore you add it to the cold pan, whisk it and only then start slowly heating it up.
DON'T HEAT IT TOO MUCH OR TOO QUICKLY
You either heat it on low to medium heat or take the pan from the heat from time to time. Bit by bit, slowly and gently so it won't stick to the base of the pan.
STIR, STIR, STIR
Concentrate! For the next 5 minutes you won't waver in your attention for these perfect scrambled-eggs-to-be in this pan! Keep on stirring, take care of it and don't blink – just like the Doctor.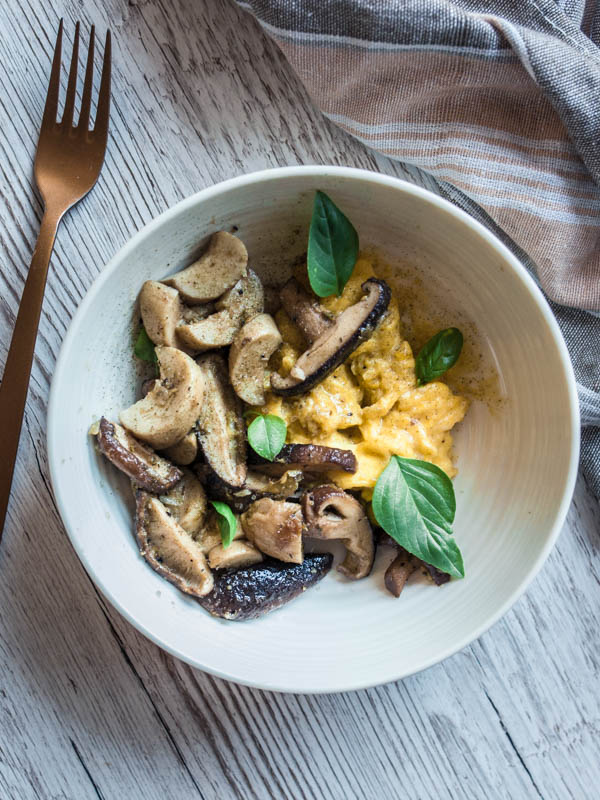 I love to have scrambled eggs for breakfast on toast or plain with some garlic mushrooms, herbs or crisp, marinated tofu.
How to make crunchy tofu is explained here:
Crisp tofu, spinach salad and tteokokki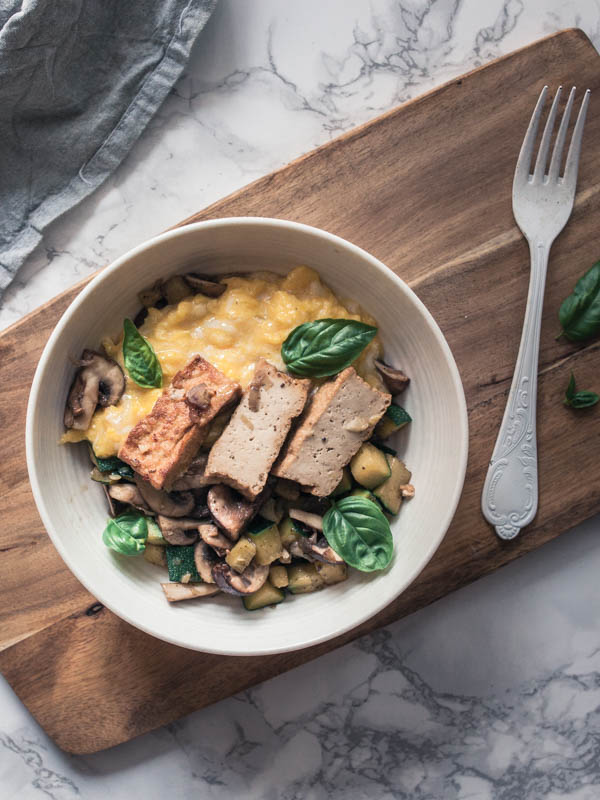 As we're a bit nostalgic today we're adding some creamy spinach. In my childhood this spinach had to be from one exact brand – called Iglo. My brother and I didn't eat any other spinach – especially leaf spinach was the real enemy.
Meanwhile my taste buds have quite evolved and I switched from frozen spinach to fresh spinach.
Yet it always breaks my heart when I blanch a whole pillow-y bag of spinach and it reduces to about 0,00001% of it's original volume. Am I the only one who is heartbroken by this? Please tell me I'm not.
By the way, I'm usually cooking / blanching my spinach in a pan with little to no water at all. I find that way more practical and quicker as you can add spices and other ingredients right away.
The perfect scrambled eggs with creamy garlic spinach
Author:
Sabrina Dietz / Purple Avocado
Portionen / Serves:
1 portion
Zutaten / Ingredients
2-3 eggs (or any amount that you can tolerate cholesterol-wise
some oil or margarine
250g fresh spinach
1 garlic clove
2-3 tbsp cream cheese
1-2 tbsp grated Parmesan
salt + pepper
Zubereitung / Instructions
SPINACH
Add the spinach to a strainer and wash it with cold water while kneading and roughly tearing the bigger leaves.
Add some oil to a pan and heat it (medium). Add the spinach (gradually if your pan is to small – as the spinach will shrink immensely). If you like you can add a dash of water, but the spinach will shrink and become soft anyway.
Peel and mince the garlic clove and add it to the spinach, once it's cooked, as well as the cream cheese and Parmesan.
Season to taste with salt and pepper and leave it on the stove at low heat while you prepare the scrambled eggs.
SCRAMBLED EGGS
Add the eggs to the gold pan and whisk them with a fork. Turn on the heat and start stirring as soon as the egg starts sticking to the base. If it thickens too quickly remove the pan from the head and whisk thoroughly before heating it up again. Continue until your desired consistency. Season to taste with salt and pepper.