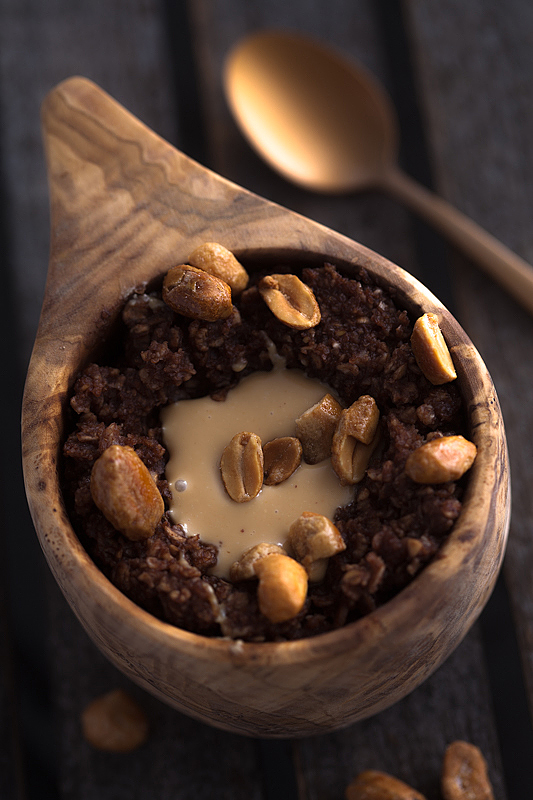 After showing you the basic recipe for the microwave oatmeal combined with a healthy berry version I feel obliged to share a less healthy but therefore satisfyingly delicious version with you.
You cannot always eat clean and healthy. And you don't have to! Eating healthy is fine, and my blog efficiently proofs that healthy and delicious can be combined very well. But sometimes it has to be the sweet, fatty Junkfood that clogs your arteries. That's okay, as long as you keep it in moderation.
Just recently I had a little dialogue with some people about sugar and its oh so healthy substitute products. No matter if you google white sugar, brown sugar, agave syrup, stevia, honey, maple syrup, and so on – you'll find at least as many critical as praising articles. White sugar is the incarnated evil in general, agave syrup cannot be digested very well and stevia is a chemical bomb.
Honestly: How are non-nutrionists able to wrap their head around it.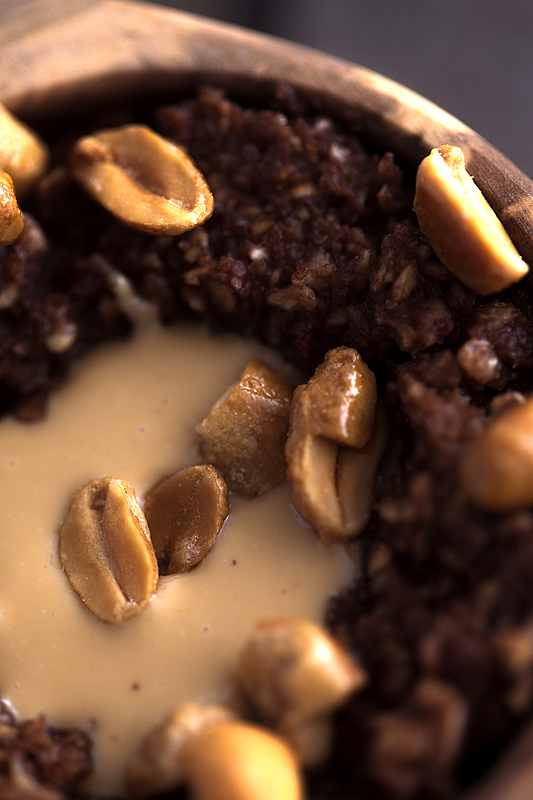 Therefore my philosophy is: It's all in the mix.
I combine and rotate between all sweeteners, so none of them can take their full deathly effect and I will die of old-age with 102. Problem solved 😉
But let's talkt about that sinful, delicious peanut porridge, with all its 'harmful' ingredients, such as sweetened cocoa powder and peanut butter (bambambam). This dish is not exactly healthy, but extremely tasty. For those mornings  when we need a little energy and motivational boost to start the day properly (for your conscience you can always add some fresh berries ; )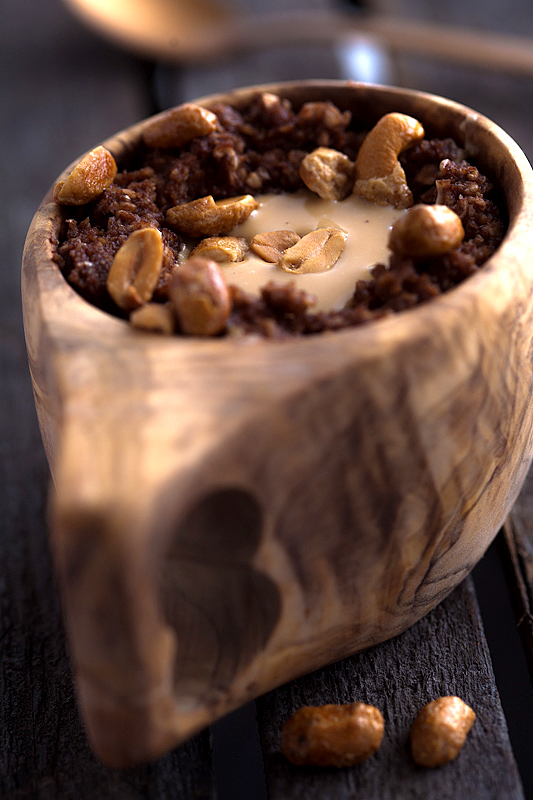 Chocolate Peanut Porridge
Portionen / Serves:
1 Portion
Zutaten / Ingredients
50g / 5 tbs spelt flakes
20g / 2 tbs oat bran
10g / 2 tbs cocoa powder (sweetened)
~ 150 ml Oat milk
20g / 1 tbs peanut butter
1 tsp peanut butter for topping
honey & salt peanuts
Zubereitung / Instructions
Mix the spelt flakes, oat bran, cocoa powder and oat milk in a bowl and microwave it for 1- 2 minutes.
Add the peanut butter, stir it a little and microwave it for another 1-2 minutes.
You should have a solid porridge mass by now. With a spoon push a little willow in the middle and add the last tbs peanut butter. Microwave it for 10 - 20 seconds, until it is smooth and creamy.
Garnish with peanuts and enjoy