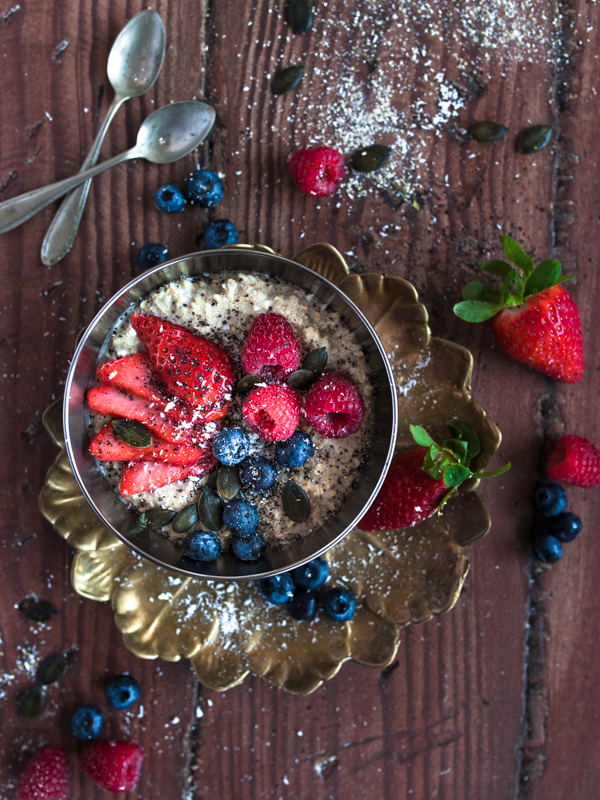 Do you like Porridge but hate the hassle of boiling milk in a pot and then maniacally stirring the oat milk mixture for an eternity? Well, let me tell you something. We all hate that. If you're not a supernatural, perfect housewife there's no way you're going through this procedure. Let alone in the morning, shortly after rolling yourself out of bed.
But of course there is a shortcut for oatmeal loving people like us. Grumpy people who won't talk, listen or be decent human beings if they didn't have their coffee and a proper, fulfilling meal in the morning. Because, let's be honest. Nutella and toast might be satisfying for the next passing 20 – 30 minutes but after that our tummy wants more. And microwave porridge can give you that more.
It is satisfyingly stuffing thanks to the oats, grains or whatever you want to make it with and will keep you sated until it's time for lunch. You can make it healthy by adding fruits, berries, seeds or those hipster goji berries (which I find rather disgusting). Or you jump on the f*ck-healthy-train and drown it in maple syrup, chocolate sprinkles and peanut butter. Your choice and I won't judge you.
Of course there's plenty of ways to prepare your microwave porridge. And that's the great thing about it. It never get's boring. Let me give you some inspiration before we come to the basic recipe.
Microwave Porridge Combination Inspiration
Fruits
Keep it simple with (warm) apples, banana, orange, kiwi or go all in by adding some badass mango, pomegranate or papaya.
Berries
Whether frozen or not, they are the perfect supplement for porridge as they give a fruity, slightly sour touch to the meal. I prefer blueberries, blackberries, raspberries and strawberries. (I really, really dislike goji berries)
Milk
There's lots of delicious alternatives to dairy milk. Soy milk, almond milk (big YES!), rice milk, coconut milk, oat milk (perfect!) and a lot more. Lot's of those dairy free milks often come with added vanilla taste, which I like a lot.
Peanut butter
You can add peanut butter straight to the milk and oat mixture before microwaving. Try it, you will love it! Add some banana on top and it's perfect.
Seeds and nuts
Sunflower seeds, pumpkin seed, pecan nuts, walnuts, poppy seeds, cashews, coconut flakes – all those ingredients will add the final crunchy touch to your porridge.
Apple & Cinnamon
Do I really have to explain myself?
Maple Syrup, Agave Syrup, Honey
We all have a sweet tooth sometimes and instead of adding boring, unhealthy, raffinated sugar why not try one of the alternatives above.
Amaranth, Chia and whatever all those trendy grains are called
Yeah, why not. The taste comes with the other ingredients, why not add some health?
What's your favourite microwave oatmeal combo? Let me know in the comments : )
5 Minute Microwave Oatmeal
Portionen / Serves:
1 Bowl
Zutaten / Ingredients
1 part oats
2 parts milk (I recommend almond or oat milk)
Sweetener of choice (Maple syrup, honey, agave syrup, brown sugar)
Garnish of choice (Fruits, berries, seeds, nuts, cinnamon, peanut butter, Nutella, popped amaranth...)
Zubereitung / Instructions
Add the oats and milk to a bowl and microwave it for 30 - 60 seconds
Remove it from the microwave add the sweetener (and if necessary the toppings - peanut butter, frozen berries, apples and bananas taste so much better when warmed up) and stir it together
Repeat the microwaving in 30 - 60 second steps until the desired texture, solid but still creamy, is reached. Careful it get's really hot.
More tips and tricks for breakfast
Pin it for later