I still owe you some Hamburg restaurants. Shame on me, but I didn't manage it earlier. My private life kicked in as well as the natural shortness of the last months of the year. But here are some last, final restaurant tips from my stay in Hamburg that'll come online in the next weeks. So let me take you on a wonderful journey to the Nil*.

For less than 50 Euro you can enjoy a 4-course-menu in a fancy and stylish restaurant that reaches over several floors.
October 4-course-menu for 42€
Yeah, I know, October's already some time ago, but you will still get an impression what the food at the Nil will be like. Let's get started
I. Home made bresaola with carrot, avocado and wild cabbage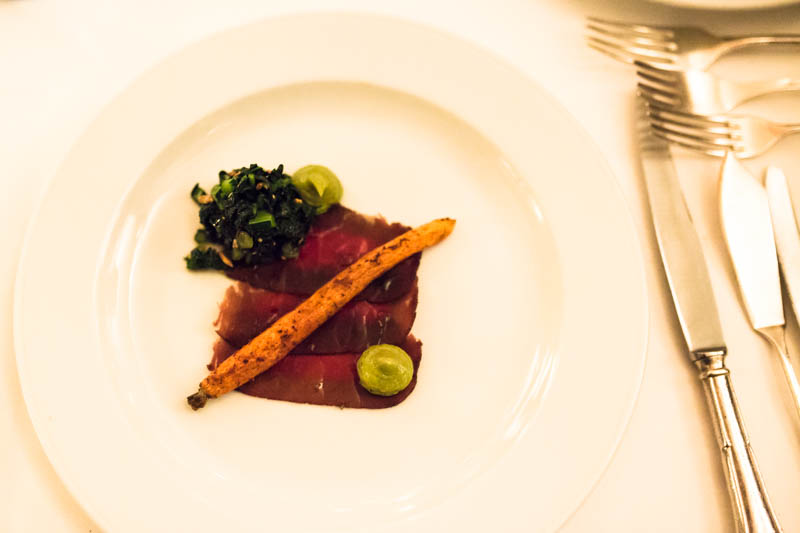 After some Google research I got my assumption confirmed. Bresaola is an air-dried beef ham from Italy. Very tender, salty and all in all delicious, paired with carrot, some avocado and wild cabbage, which wasn't to my taste.
II. Filet from the spined loach with mustard sauce, spinach and potatoes.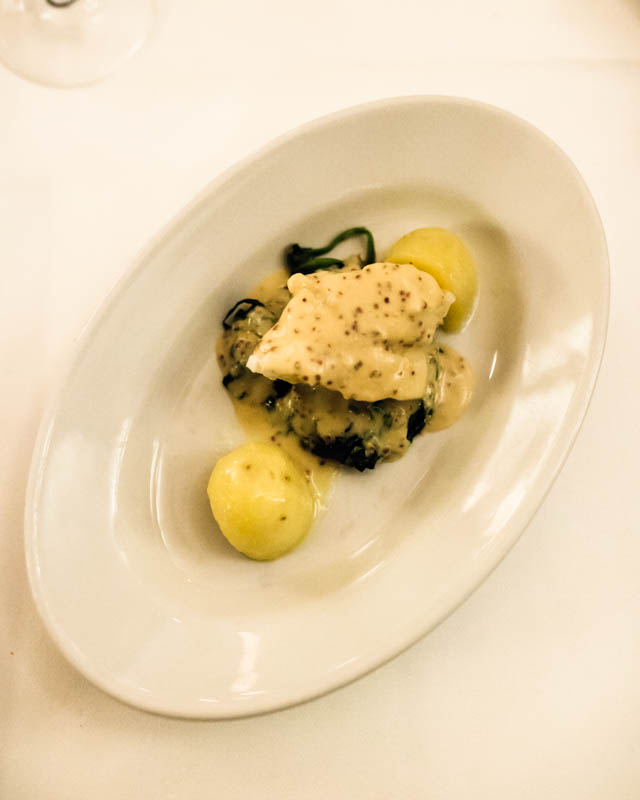 While my boyfriend liked it a lot I perceived the whole dish as pretty much oversalted. The fish, the poatoes, the spinach – everything was way too much seasoned and I couldn't make out any specific components in flavour. I couldn't enjoy this dish at all unfortunately.
III. Entrecôte with crisp green beans, roasted sunchoke and béarnaise sauce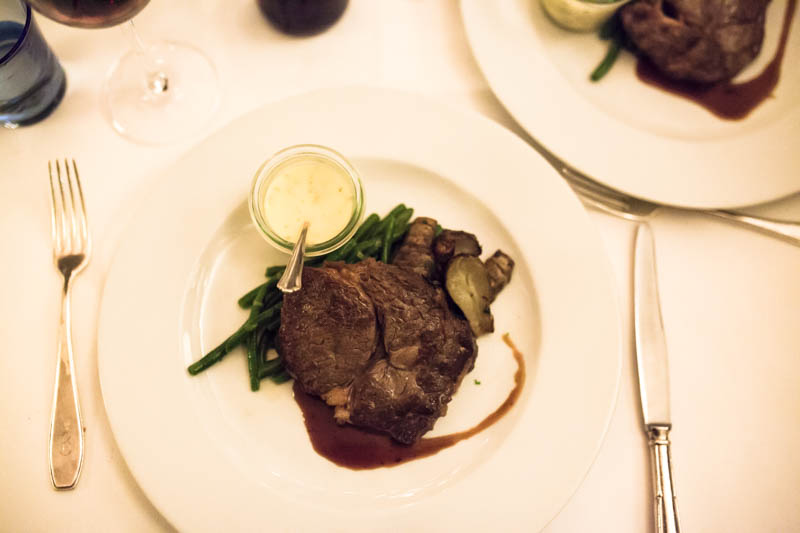 Our highlight from the menu. While not really visually pleasing the entrecôte was heavenly tender and aromatic. The rather fatty piece of meat was in neither way chewy or dry. It was juicy,tender and just perfect. The sides were also quite splendid – the sunchoke in particular, as it was the first time I tried and liked it. (Meanwhile I'm cooking with sunchoke, too)
IV. Apple-Pecan-Pie with thyme and salty vanilla ice cream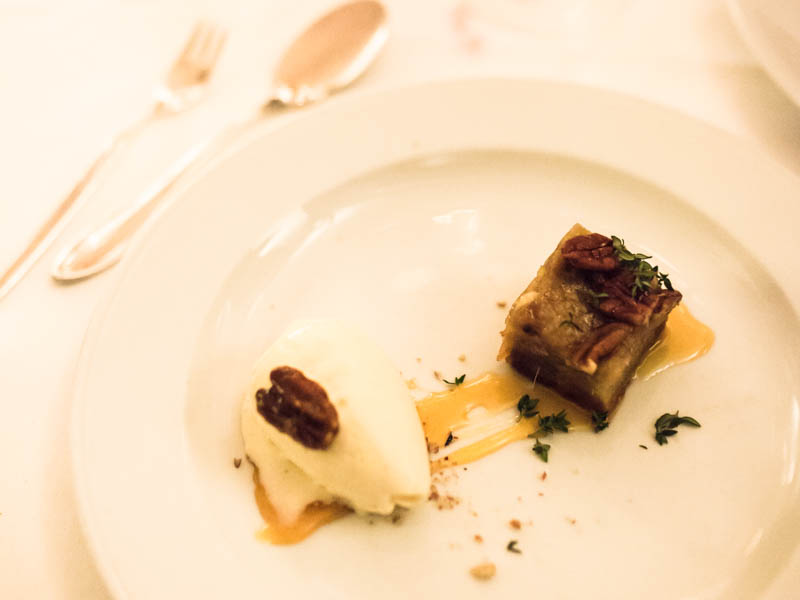 When there's the choice between a cheese platter and cake & ice cream there's not much hesitation. Sweet wins over savory for sure. The ice cream was super creamy and vanilla flavoured. The pecan pie with apples was juicy and soft, and I could have eaten another 4 pieces without any trouble at all.
A nice ending to a menu with slight weaknesses.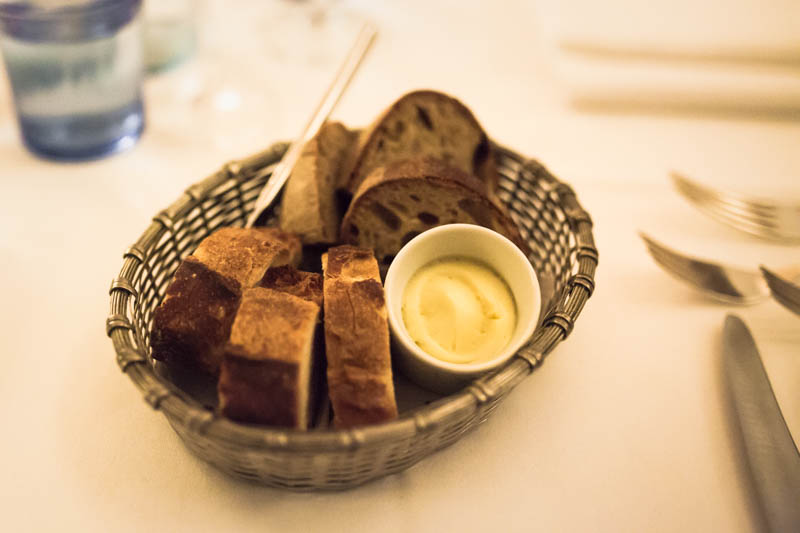 Service & Atmosphere
We were nicely welcomed and lead to our table. The waiter was friendly, attentive and professional, but that was about it. The open and hearty interactions that we cherished so much at the Vlet, Hygge or Scherrer we're lacking here.
This may very well be part of the concept of the Nil, which made us leave the restaurant with mixed feelings.
While the food was very enjoyable (especially the main course), we we're a little alienated by the atmosphere (and I'm emphasizing that again: This is our personal recap of the evening, and you know that tastes commonly differ).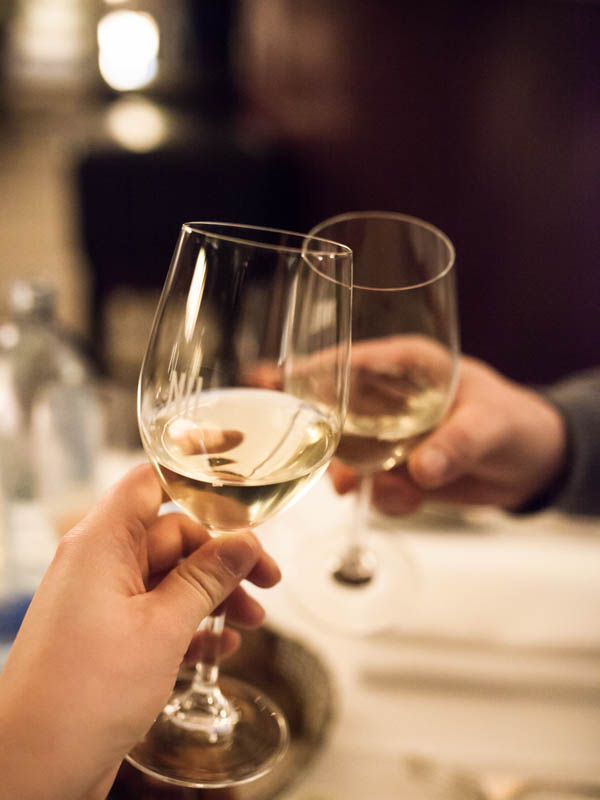 The thing is: If you had a stressful day and are up for a cozy, relaxing evening, let it be alone or with some friends and you want to enjoy this time in calm and privacy, then you might want to check in at another place. The concept of the Nil restaurant is comparable to that of a fancy downtown bistro. The tables are, untypical for classic restaurants, rather small and quite close to each other. Consequently you're quite close to your neighbours.
There are people who like that and those who don't. Chose for yourself, the food is great 🙂
Restaurant Nil
Neuer Pferdemarkt 5
20359 Hamburg
*A big thanks to the Nil for providing us with a free meal. However, this post represents my own opinion and wasn't recompensed else wise.
This post is part of the: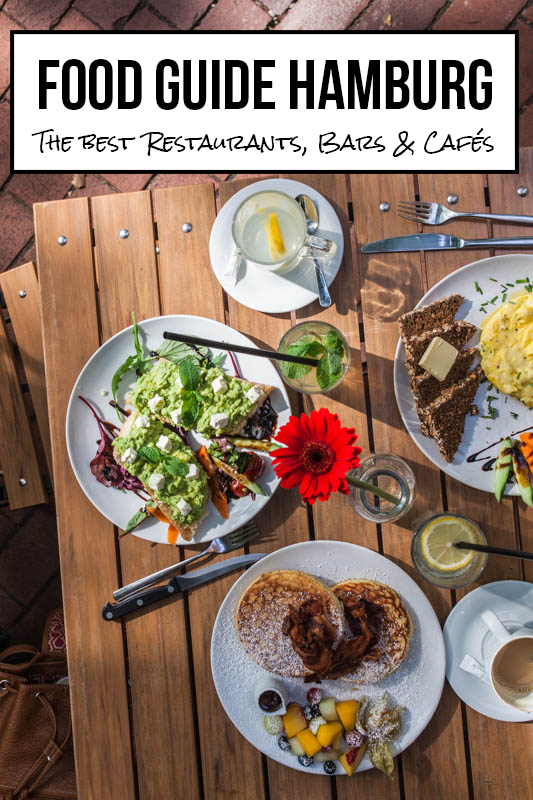 Also worth a visit:
Pin it for later