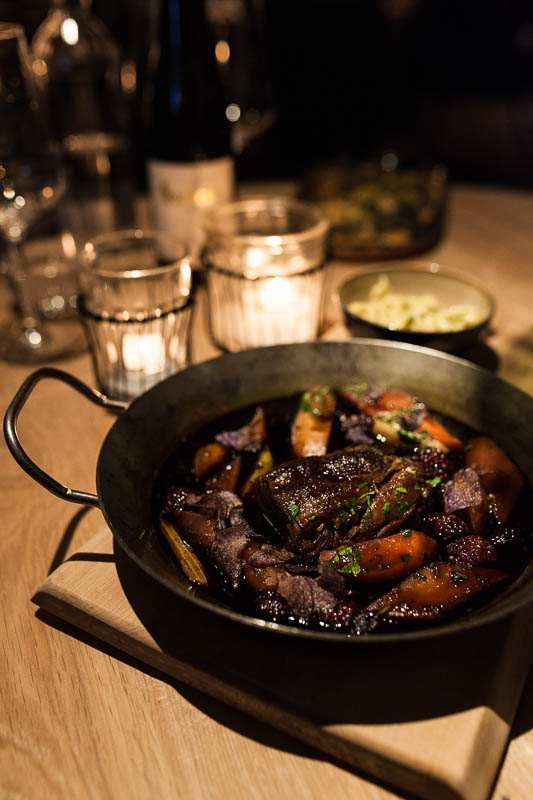 The restaurant guide goes Hygge – literally. At the Hygge* you get to feel the Scandinavian way of life. In both ways – human and culinary.
Came across the Hygge trend yet?
Have you heard about Hygge? This trendy word, deriving from Scandinavia, has been around for a while and cannot be translated into English properly – and that already tells quite a lot about the happy Scandinavian people.
Hygge is cosiness, ease and comfort. Hygge is time with your loved ones. Hygge is the art of valuing and enjoying the simple things. In sum: Hygge is the Scandinavian Lifestyle and can be found in many little facets – spending time with friends and family, arranging your living space and of course savouring good food.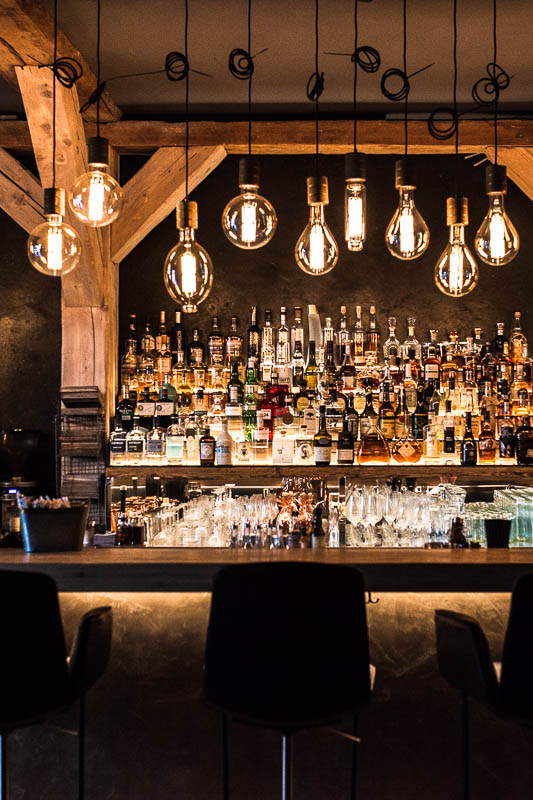 The guest house Flottbek becomes hyggelig
The 'Landhaus Flottbek' (= guest house, tavern) opened a new restaurant, brasserie & bar for anyone who values good food in a cosy and stylish atmosphere. Knut, the chef at the Vlet recommended this new hot spot to us and I couldn't be happier for that opportunity.
Admittedly, the guest house Flottbek doesn't lie just around the corner, but to be honest, the concept of the restaurant fits perfectly with the suburban, green surrounding. I couldn't imagine it in the loud and buzzing city centre of Hamburg.
For the Hygge you have to travel a bit further than Hamburg Altona, but don't worry, trains and busses will get you exactly where you want to be. In fact, after feasting on way too much delicious food we were quite happy for a little walk to the station.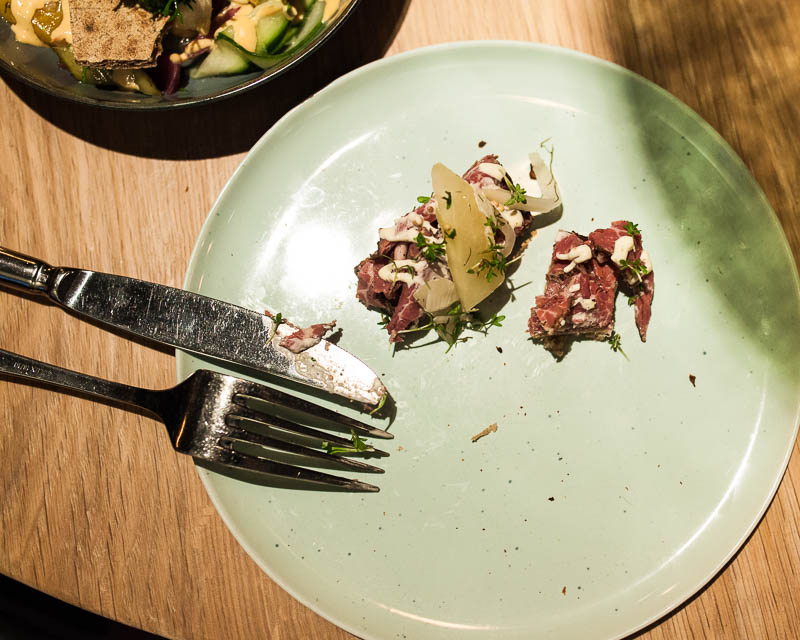 What can you expect from the Hygge restaurant in Hamburg?
The moment you enter the Hygge you feel at home. As Jenny was travelling the world again I asked a good friend of mine to come and visit me in Hamburg, cook cool stuff, get wasted and have fun. The grand finale was our lunch / dinner at the Hygge. Fabi will be grateful for all eternity I guess 😉
A glance into the menu reveals partly German, partly Scandinavian and somehow a little NYC fancy bistro inspired food.
The overall concept allows for ordering like you would at a Spanish tapas bar. You shouldn't come here alone, but enjoy and share your food with some good pals in order to be able to try out a lot without stuffing yourself too much (something we ignored deliberately, of course we fell for gluttony).
Everything about the Hygge is somehow beautiful. The amazing and cozy designer furniture, a pretty bar, – the staff. Our sommelier Lennart recommended us some of the best wines I've ever tasted (and you might notice that I've tried a lot of good wine in the last months) and the guys from the bar definitely know their profession, too.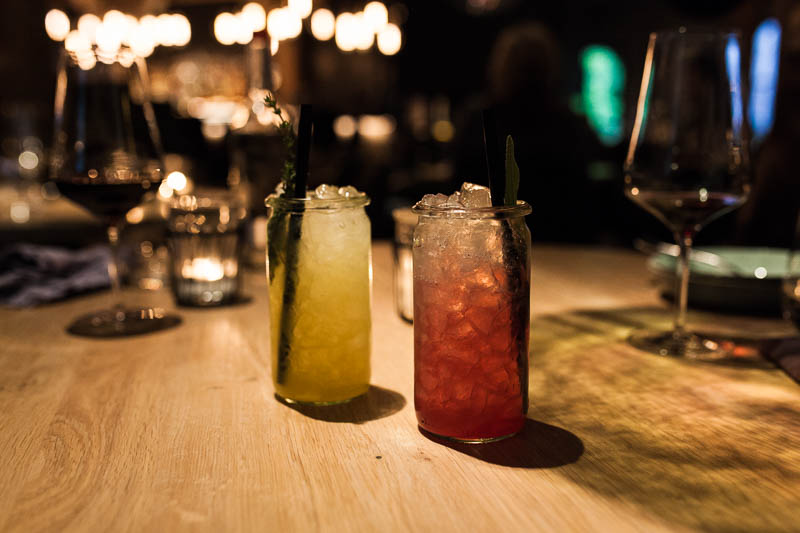 I was incredibly surprised by a Cameron's Kick – Scotch with almond syrup, lemon and some sugar sirup – my first mixed drink ever with good, expensive Whisky and it was beyond everything you will ever get at a cheap happy hour bar, I can tell you that much 😉 I'm fairly happy to know that my man got some good Whiskys at home. *hrhr*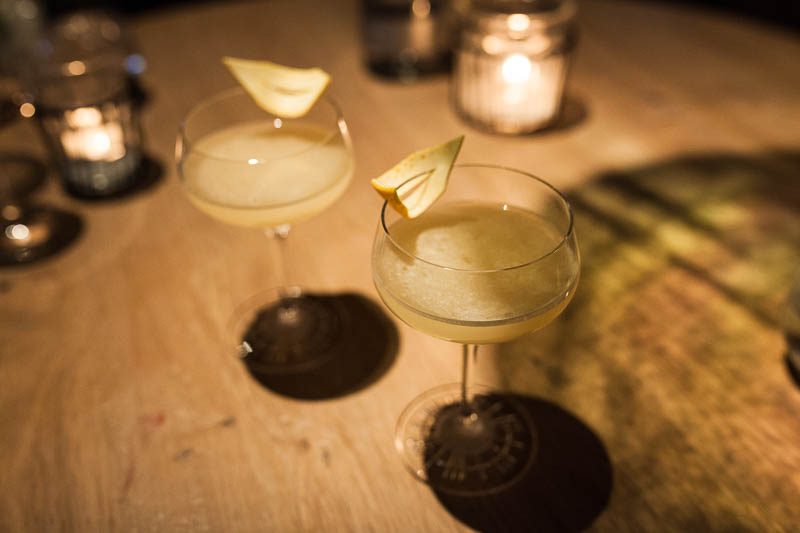 And here's what we discovered on our culinary trip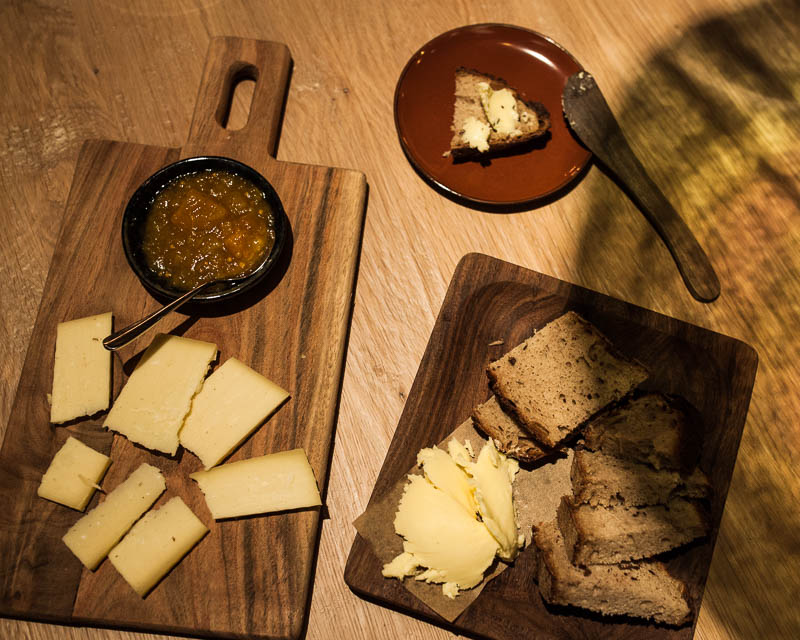 It started with 15 month aged cheese from the Allgäu, served with home made sour dough bread and soft butter. Lennart recommended a Soalheiro Alvarinho from 2014, from now on one of my absolute favourite white wines. The cheese was, despite tasting strong and intense, extremely mild., the bread was soft and crisp. A perfect start to a perfect meal.
Pickled summer veggies Nordic Style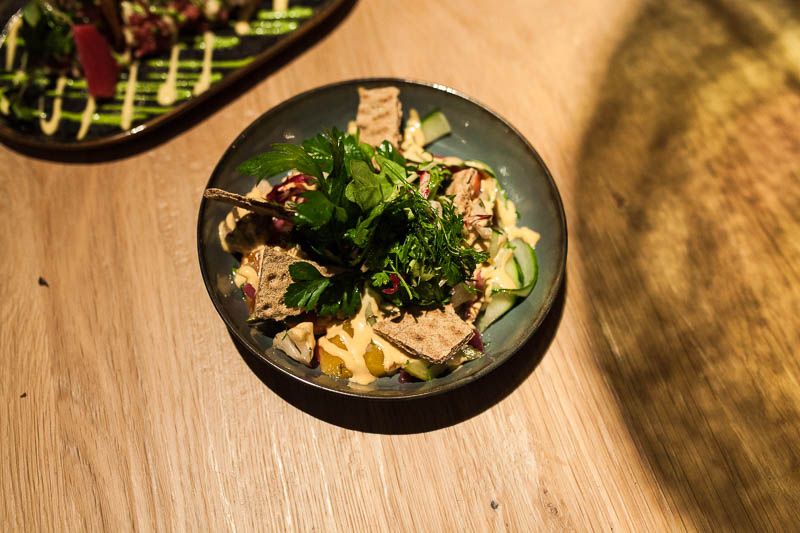 Served with some 'knäckebrot'-chips (a Scandinavian crispy bread), pepper cream and mâche. Vegetarians don't have to starve here. The vegetables were fresh, crisp and had the perfect level of sourness.
Smoked salmon with pumpkin seed crème fraîche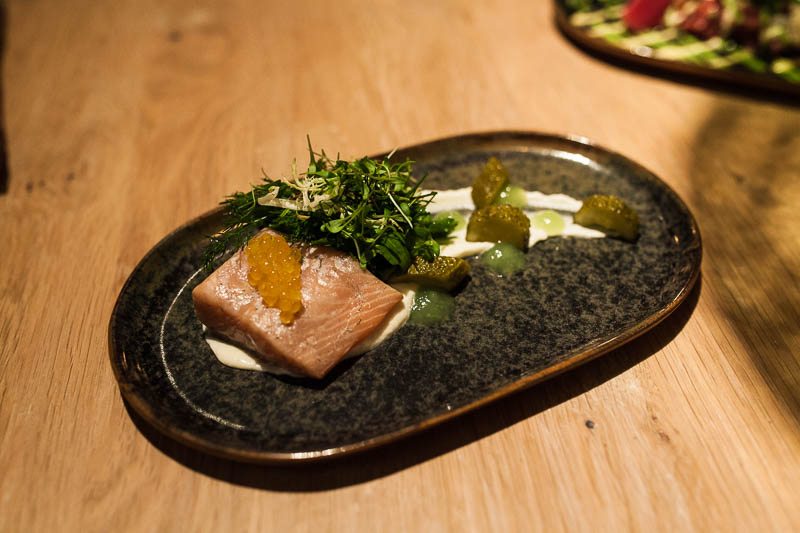 I won't forget this excellent taste experience for sure. The salmon, soft and buttery, was smoked in the restaurants own garden. Fabi's face took on an expression of pure joy and I wish I would have taken a photo to show you a glimpse of what this salmon tasted like.
Pastrami Sandwich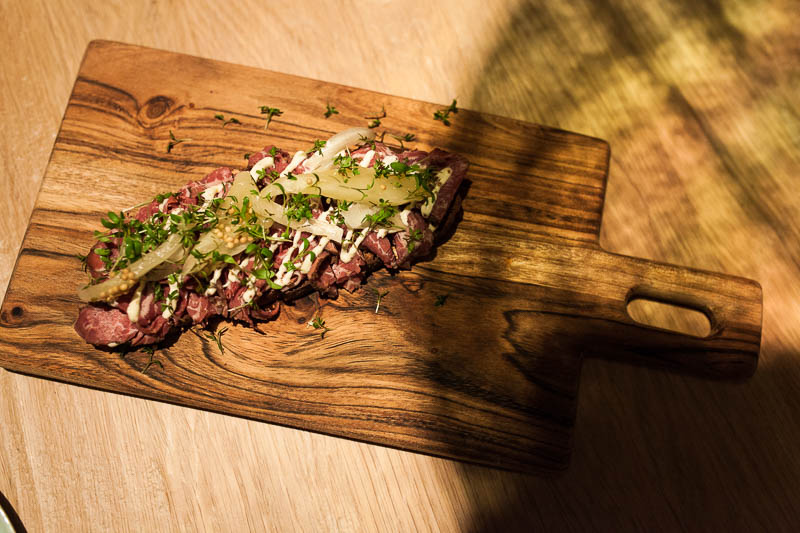 Crisp bread, thin slices of Pastrami, mustard mayonnaise, pickled onions and cress. A good and down to earth sandwich.
Free-range beef tartar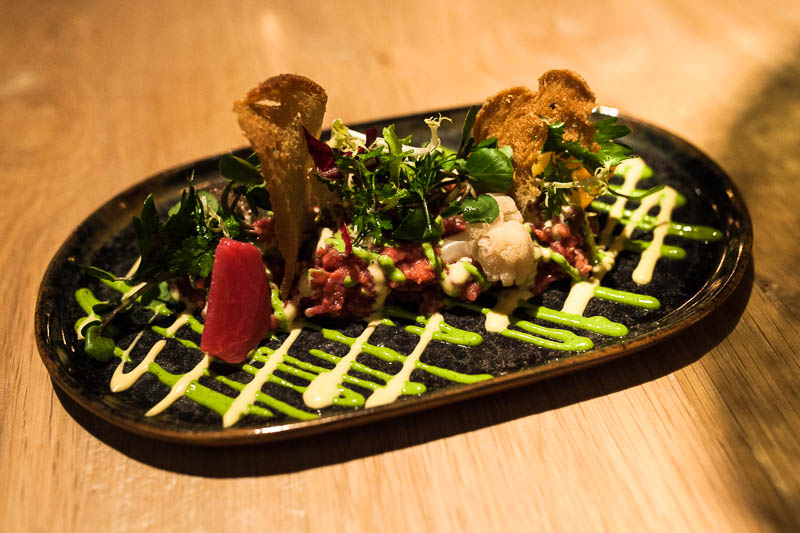 This tartar was so soft, almost creamy and very intense in taste. One of the best tartars I've tried so far.
Now to the entrees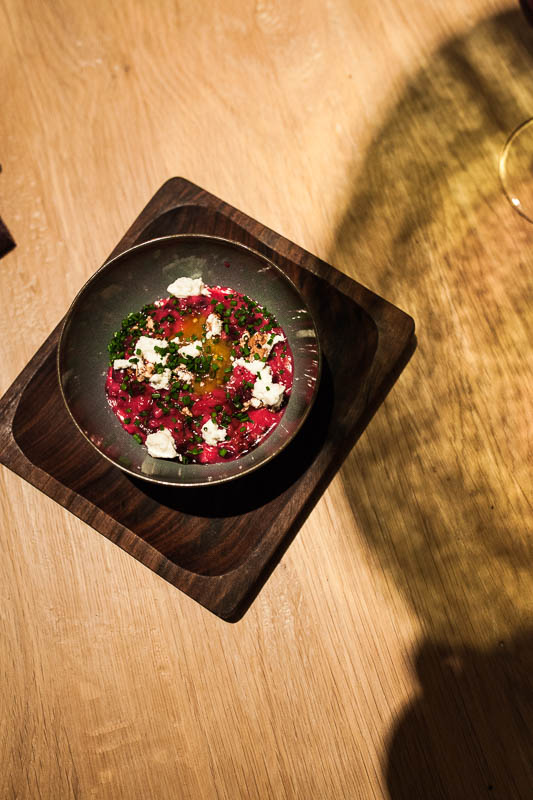 It all started with a beautiful coloured beetroot risotto with goat cheese. Warm, creamy and veeery stuffing. The perfect comfort food for cold winter days. Just that, nothing else. I need to have a serious word with the chef Thomas Nerlich, he either needs to give me the recipe or make a house call. -laugh-
Loup de Mere Filet with braised fennel and seafood risotto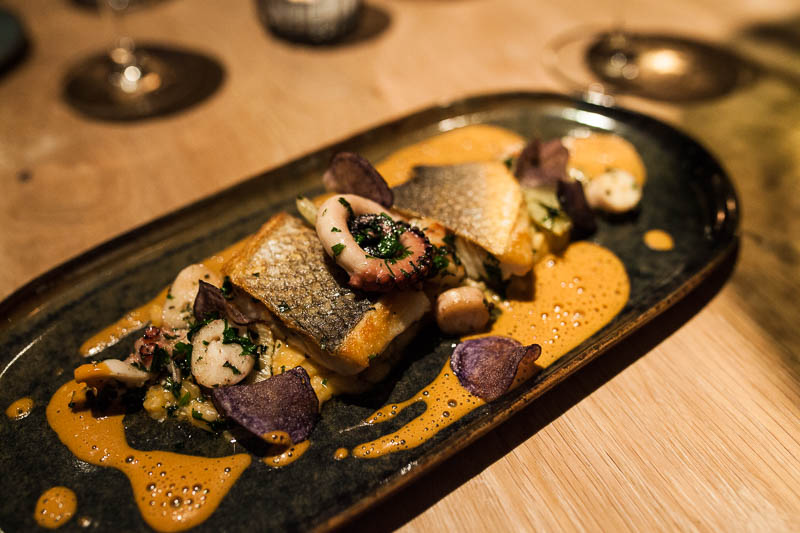 The risotto was different and amazing, the fish crisp and missed a little salt – to my taste at least. The spicy risotto, however, could compensate this.
Deer shoulder stewed in red wine still on the bone served with braised vegetables and home made spätzle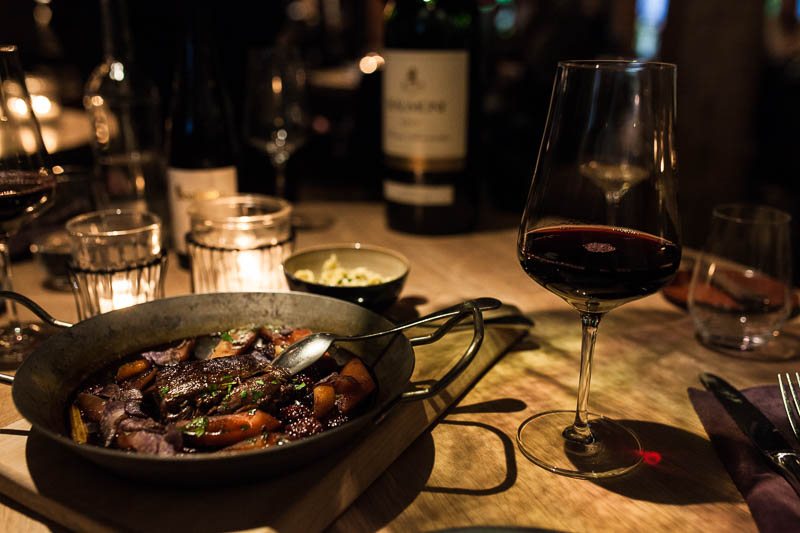 Game is the perfect company on wet and cold autumn days. It's storming outside. Rain crackles strongly onto the windows and you're sitting inside by the fireplace which spends warmth and light. Together with your loved ones you enjoy this special game meal.This is the personification of Hygge.
The deer was soft and tender, the vegetables firm to the bite, the spätzle, a southern German pasta speciality creamy and the red wine sauce could have been directly from Grandmas kitchen.
Too good to let any droplet go to waste, which is why we sipped it unceremoniously with our spoons.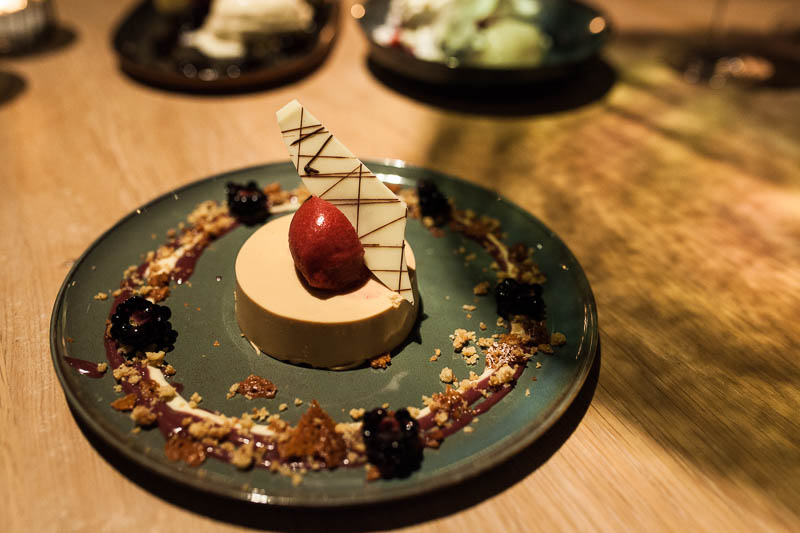 Dessert
No matter how stuffed I am, there's always (and I mean always!) space for dessert. As much as I love savoury food, I can never say no to dessert.
From the previous dishes you might guess that we did not just get one dessert. Haha! No, as we couldn't decide and the chef wanted to present us their best dishes we tried three different desserts and I couldn't possibly tell you which of the three was the best. Each of these three different choices, cheesecake, caramel panacotta and pavlova, was uniquely tasty.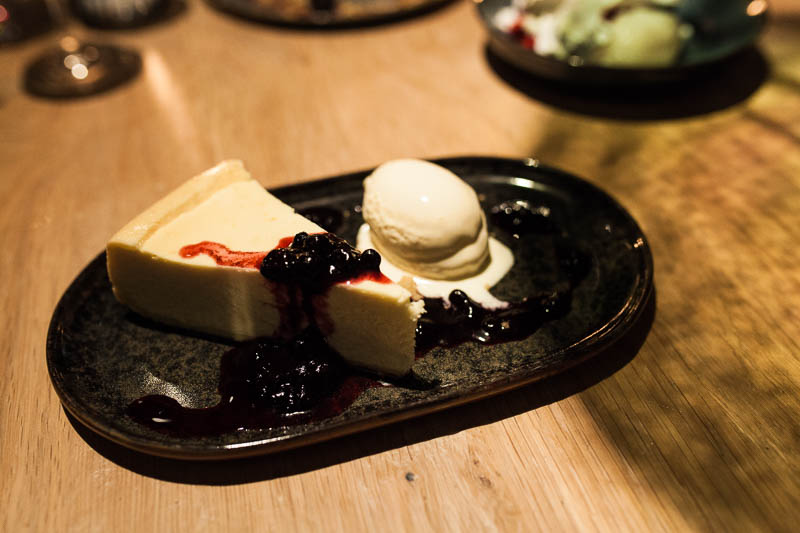 This is exactly how I imagine the perfect restaurant experience. Starting with a cosy and stylish interior, super friendly and authentic staff – without exception – and finally fantastic food.
What I loved about this food the most was the fact that we got traditional, classic dishes, that one might know from home, just much better than you'd probably be able to recreate.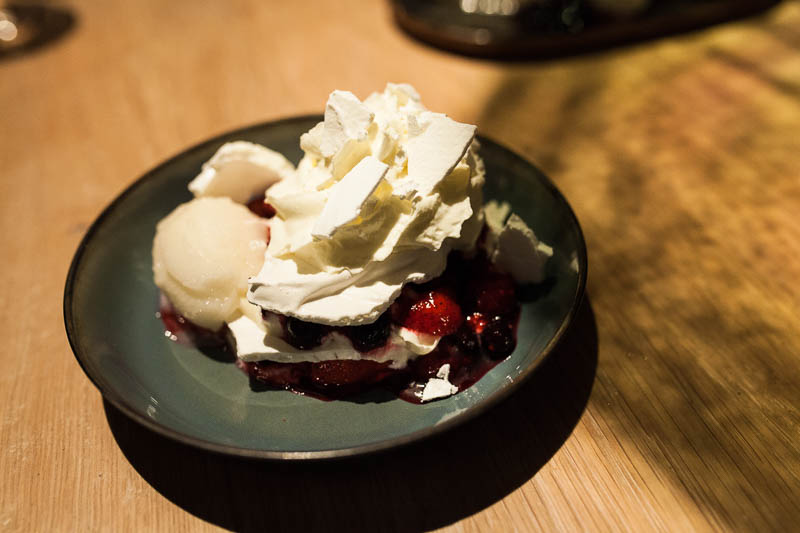 The Hygge restaurant & brasserie in Hamburg
Cosy and stylish brasserie with German-Scandinavian food. A bit more pricy but worth every damn penny.
Purple recommendations
Pastrami Sandwich. Wild game. Risotto. And – if you can find it on the daily menu – smoked salmon. Ask for the home made lemonade or a Cameron's Kick (trust me, even you non-whisky lovers)
*A big thanks to the Hygge for providing us with a free meal. However, this post represents my own opinion and wasn't recompensed else wise.
Pin it for later