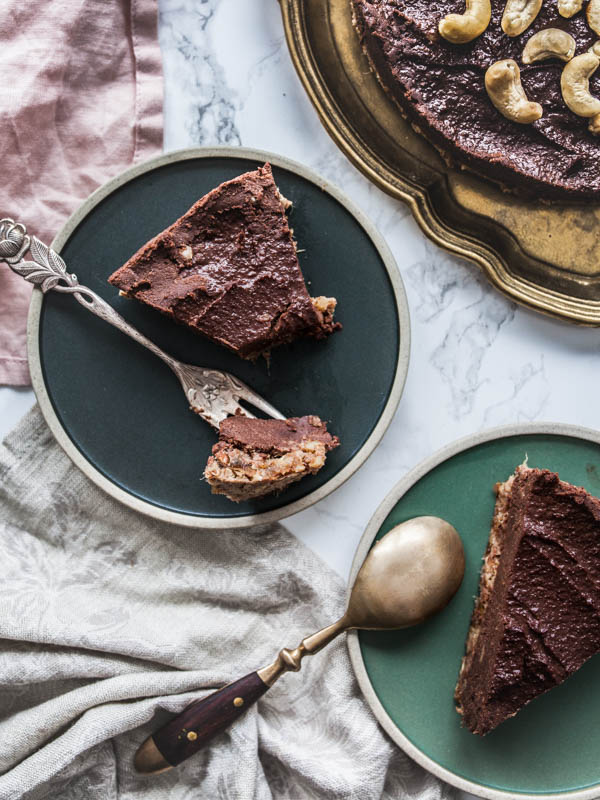 Yeah, I did not bake again! This time I'm going all out with chocolate, cashews and peanut butter. Big in taste – and calories but still on the healthier dessert side – no added sugars and no flour are in this no-bake chocolate cake, Having said that I would still not recommend to eat this whole cake at once, as tempting as it might sound.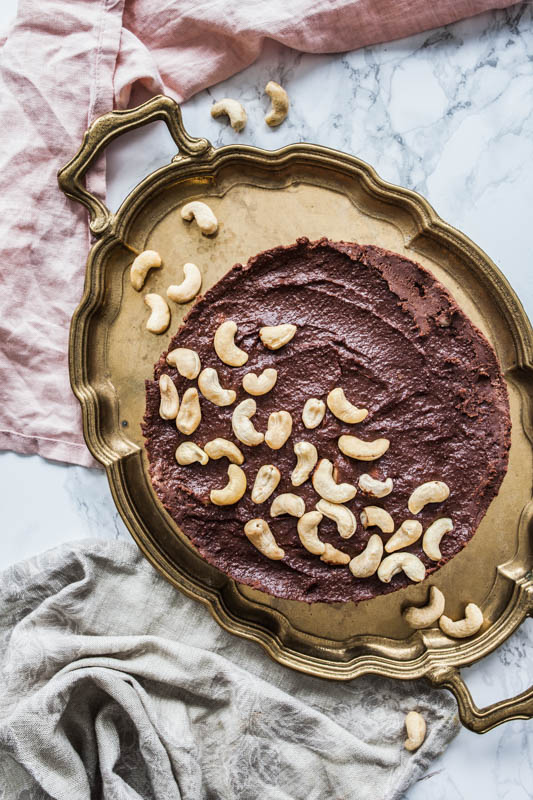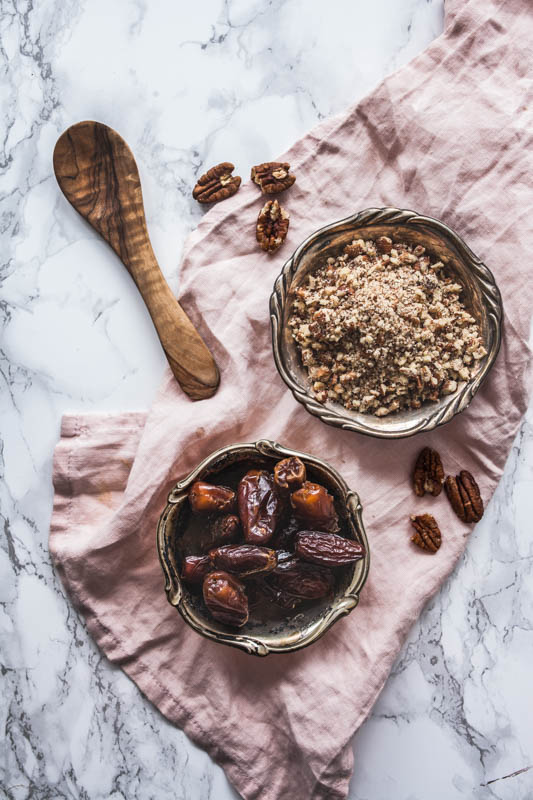 Originally I planned to make a no-bake cashew 'cheesecake', which I've done plenty of times already but never felt like it was a 'real avocado' recipe. You can find gazillions of amazing vegan cheesecake recipes out there and I wanted to surprise you with something that's more 'me'.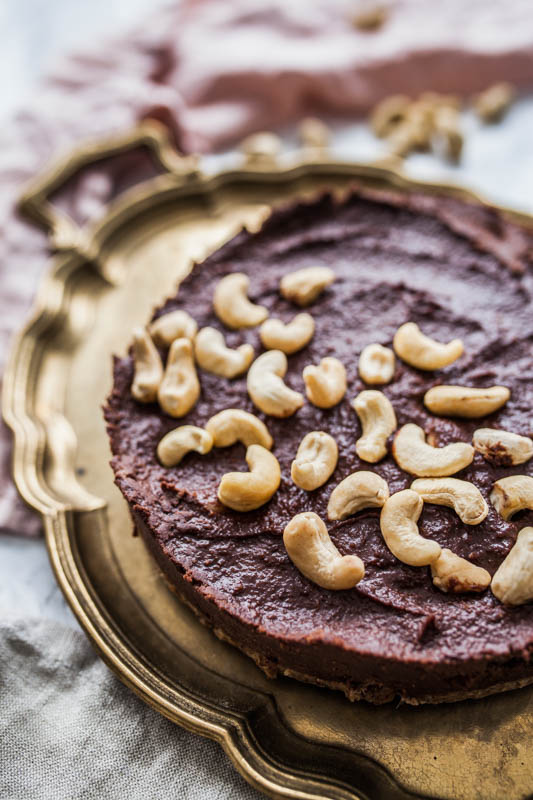 A word and a blow. Even I didn't know on the shooting day that I was about to not bake the most rich, chocolatey and creamy chocolate cake ever. But here it is and I admit I was literally drooling over the photos when editing.
Which I absolutely adore by the way, so if you have to say something nice about the photos go ahead 😀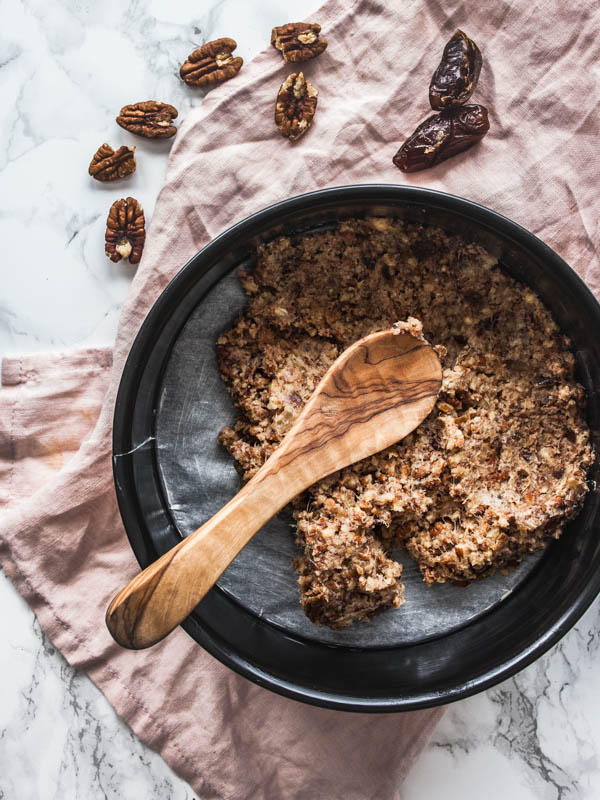 No-bake cakes without a food processor
For most cashew and no-bake recipes you unfortunately need a powerful food processor.
I know, this is nasty for those of you who don't have the space or budget or simply don't need it that often. I myself just lost my long loyal friend and couldn't afford a new one so far which is why I'm using my immersion blender for almost everything recently.
As if this wouldn't be challenging enough already I forgot said immersion blender when visiting Grimm, where I planned to not bake and shoot.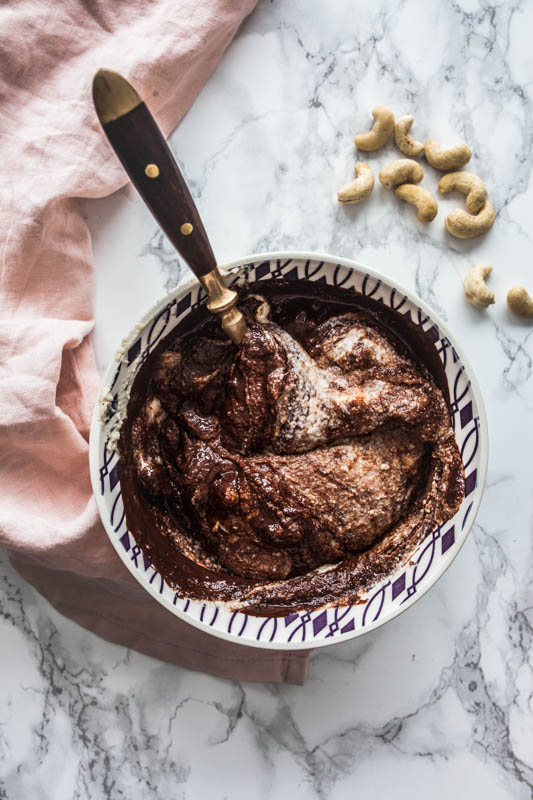 The base for this cake consists of dates and nuts which are supposed to be turned into a gooey and sticky dough. Most mixers won't be able to handle this shit. So I decided for the most savage way of doing it. Adding pecan nuts to a plastic bag, getting a hammer from the garage and taking all my repressed frustration and anger out on those poor, innocent nuts. It was awesome!
I am a 100% sure this is the reason why the photos turned out so great.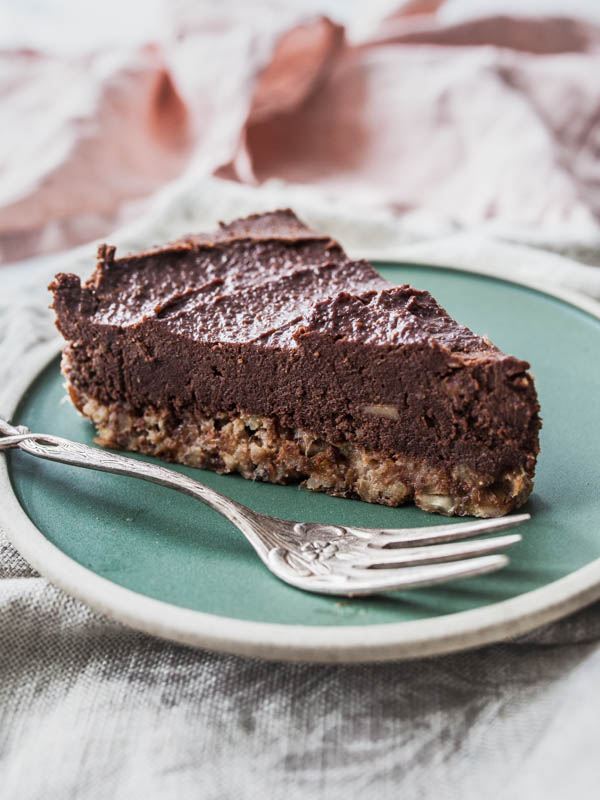 For the cashews which are needed for the chocolate layer of the cake I also had to find a solution to turn them into a creamy mass. Unfortunately (my) pure muscle strength won't help us with this challenge, so we have to rely on any electronic device.
If you forget your immersion blender at home you gotta get creative. Luckily Grimm's kitchen offered a solution in the form of a smoothie-maker. With some patience, vigorous shaking, tapping and jiggling the results were great. Yay!
So you see, even under aggravated terms this recipe works just fine. So go for it even if you just own a immersion blender or a smoothie-maker!
As for the chocolate handling I've given you some useful tips, recommended handy gear* and provided information about tempering chocolate already. Have a look:
And now off to the no-bake chocolate cake, I know you can't wait any longer.

No-bake chocolate cake with peanut butter & cashews
Author:
Sabrina Dietz / Purple Avocado
Portionen / Serves:
for a 20cm / 8 inches round baking pan (double the ingredients for 26cm / 10 inches round)
Zutaten / Ingredients
FOR THE CAKE BASE
150g dates
150g pecan nuts (or walnuts or almonds)
FOR THE CASHEW CHOCOLATE LAYER
200g cashew nuts
3-4 tbsp agave syrup or maple syrup
100ml (soy) milk
2 tbsp lemon juice (or a dash of apple vinegar)
100g dark chocolate (60%)
50g coconut oil or coconut butter
Zubereitung / Instructions
PREPARATIONS
Soak the cashews and dates each in a bowl with water over night, but at least for 4-6 hours.
Drain the soaking water and rinse the cashews with some water before processing them further.
FOR THE BASE
Add the pecan nuts to a plastic bag or the like and shred them to pieces with a hammer, rolling pin (or the like ;).
Chop the dates, which should have become nicely soft from the soaking, thinly with a knife. With the pecan nuts add them to a bowl. Take a spoon and/ or fork and mix it up to a smooth and sticky dough.
Cover a round baking pan with baking paper. It's not necessary to cover the sides as you can easily cut around with a knife to separate the cake from the pan.
Spread the dough evenly onto the pan and set it aside in the fridge while you prepare the cashew layer.
FOR THE CASHEW CHOCOLATE LAYER
Blend the cashews, soy milk and agave syrup in a blender until it's smooth and there are no chunks left. If you don't own a blender go for a handheld mixer or a smoothie maker.
Chop the chocolate roughly and add about half of it and the coconut oil to a bowl. Heat water in a pot (don't boil) and melt the chocolate over it.
Once the chocolate is completely molten remove the bowl from the heat and stir in the remaining chocolate and the peanut butter.
Stir the warm chocolate under the cashew dough and add this cashew chocolate mix evenly onto the base in the baking pan.
Refrigerate for at least 30 minutes or until the chocolate mass has become firm.
To separate the pan from the cake cut around it with a knife carefully. Only then remove the pan.
If you want you can now decorate the cake to your liking, e.g. with cashews, more chocolate or some fresh fruits.
You can store the cake for a couple of days in the fridge or freeze it for longer storage. If you want to serve it, take it out at least 30 minutes in advance. This is how you always have cake at home when you get a surprising visit.
More you can not bake
Pin it for later
---
Info & Transparency | Links marked with an *asterisk are so called affiliate-links! If you buy a product via this link you support me and my work on this blog with a small commission. Obviously this won't cost you a cent more, but I see it as an appreciation for my work. I will only recommend products and services, which I use myself and with which I am fully satisfied.