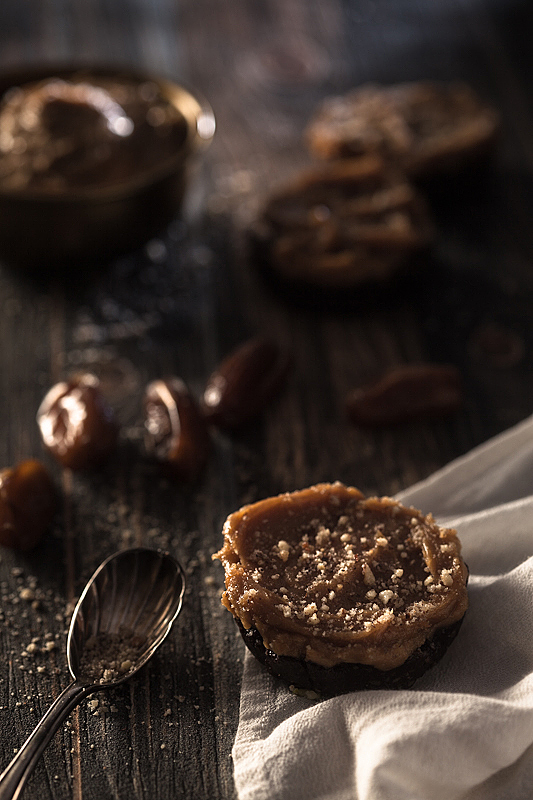 Hi guys!
Before I'm going over to healthy, light spring recipes in the upcoming weeks (can't wait for the warm seasons to approach!!), I have a last dessert bomb for you!
Although this vegan brownies recipe consists mostly of healthy ingredients I would never dare to declare it as light. It consists of dates, minced nuts and almonds and raw cocoa. It's extremely rich and stuffing, with an intense taste and calorie wise not more innocent than its ordinary version.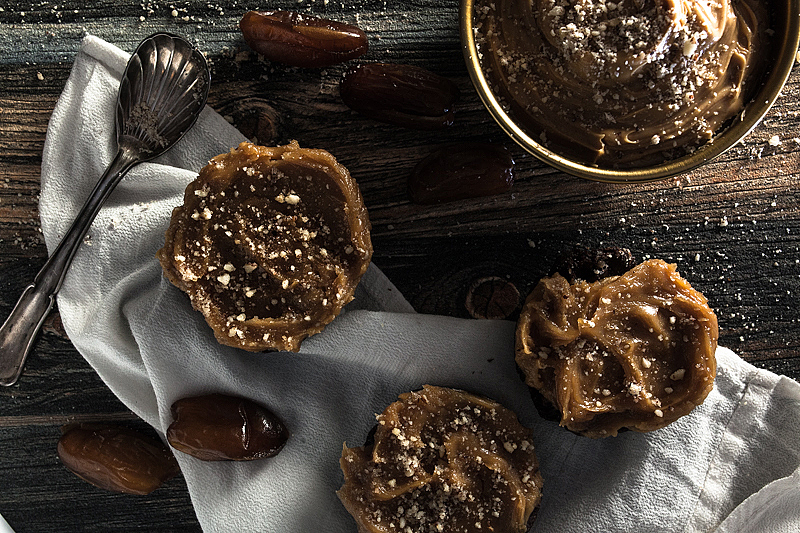 The sweetness in those vegan brownies derives from the dates. Until approximately one year ago I didn't really have great feelings towards dates. Until that day when a friend brought his favourite dates from the market in Dortund. Those medjool dates were so soft and sweet and juicy, that supermarket dates were no option anymore. In case you don't have a trusted date dealer at your service you can certainly use store bought dates. In order to be able to process them properly however, you have to soak them in water for some hours.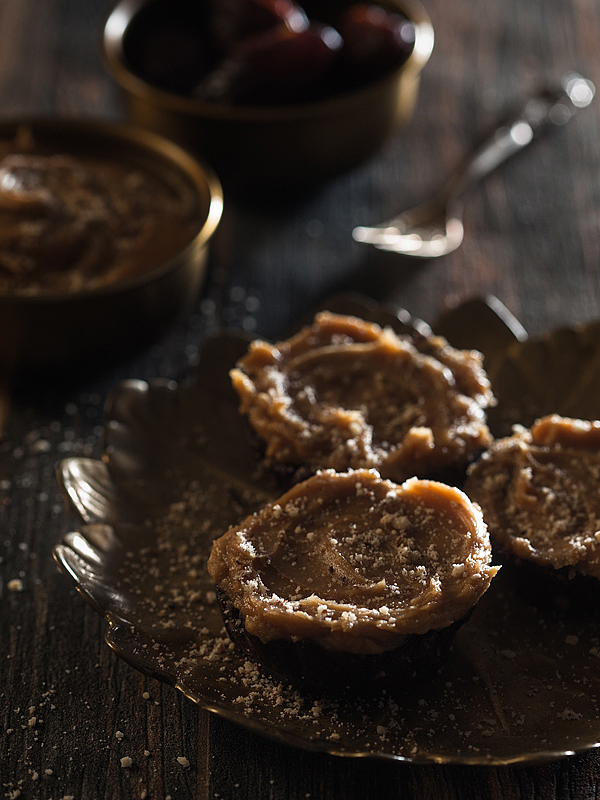 Just for fun I also used dried plums instead of dates for this brownies recipe. It worked as well as with dates, but the taste is completely different. I liked it and would recommend to try it out 😉
To make this delicious date brownie dough even more amazing I topped it with a mix of peanut butter, almond milk and maple syrup. It is divine! You need to try this yourself. Solid, chocolatey brownie mass with a creamy, soft and sweet topping. My mouth is watering by just thinking about it.
Oh and one more thing: You don't have to go through the hassle of baking those brownies. It is a no bake recipe. You simply push your dough into a baking sheet or into little baking moulds and let it sit in the fridge for 1-2 hours (and if you're one of the really impatient kind you can put it in the freezer for 20 minutes).
No Bake Date Brownies Recipe with Peanut Butter Maple Syrup Topping
Healthier Brownies made of dates and minced nuts with a peanut butter and maple syrup topping. Vegan, quickly done and without baking.
Portionen / Serves:
für ca. 9 Muffinförmchen / ein kleines Backblech
Zutaten / Ingredients
Brownies
200-300g medjool dates *
100g hazelnuts (minced)
60g almonds (minced)
30g cocoa
a pinch of salt
Topping
150g peanut butter
30ml maple syrup
20-30ml almond milk
1 tbs coconut oil (optional)**
Zubereitung / Instructions
Brownies
Knead the dates with the hazelnuts, almonds, cocoa and a pinch of salt to a dough.
Cover a baking / muffin tray / muffin dish with baking paper and fill it up with the brownie dough.
Let it cool in the fridge for approx. 1h (20 min in the freezer)
Topping
Mix the peanut butter with the almond milk and maple syrup until creamy
Optionally add some coconut oil.
Spread the mixture on the cool brownies and store in fridge until it's eaten.
Garnish with some minced nuts or almonds.
Anmerkungen / Notes
* If you don't have soft and creamy medjool dates, I would reccommend to soak the dates in water for 1-2 hours.
** (good!) coconut oil is very healthy. As an ingredient for your topping it'll make the mass a bit more stiff. Melt the coconut oil and mix it with the topping ingredients.
The wonderful
Meriem from Culinary Couture
inspired me to this recipe.