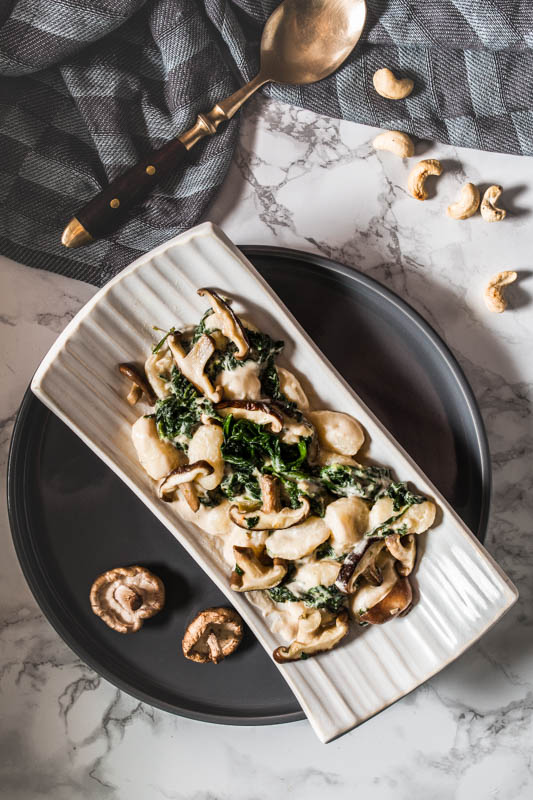 I have something new for you. If you only recreate one recipe from my site go for this one! I'm currently madly in love with cashew nuts, whether it be sweet, savoury, whole or further processed – its variety makes it hard for me not to use it. Today's recipe is an incredibly creamy and tangy cashew-sauce completely dairy-free made from only 5 ingredients. It's the perfect addition to any pasta dish. I'm giving you a comforting option with spinach and shiitake.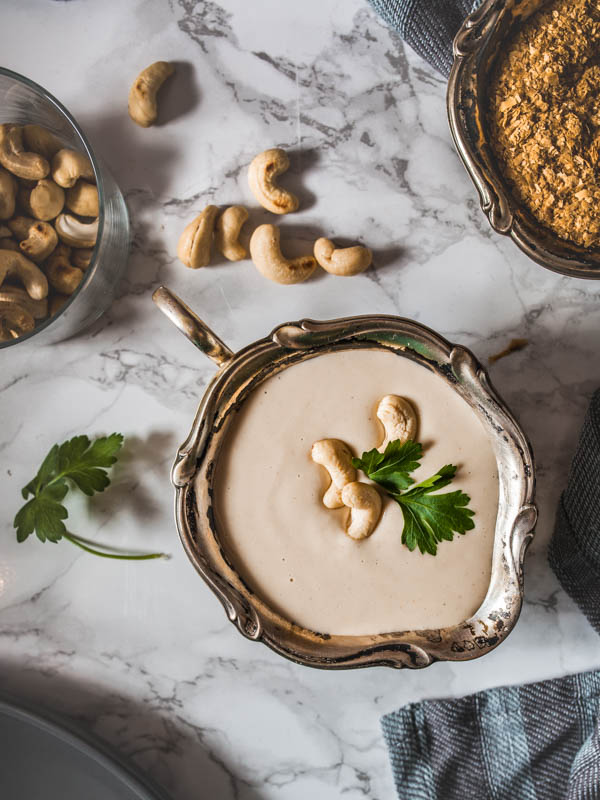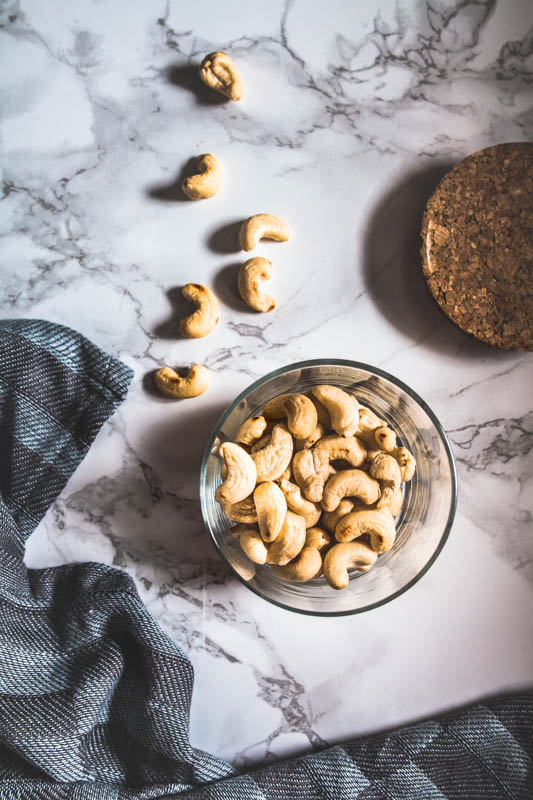 I always knew that vegans are very creative and inventive when it comes to substituting animal and dairy products in order to relinquish without sacrificing taste and the enjoyment of food. This is also one of the reasons why I, as a meat eater, love cooking mostly vegan so very much.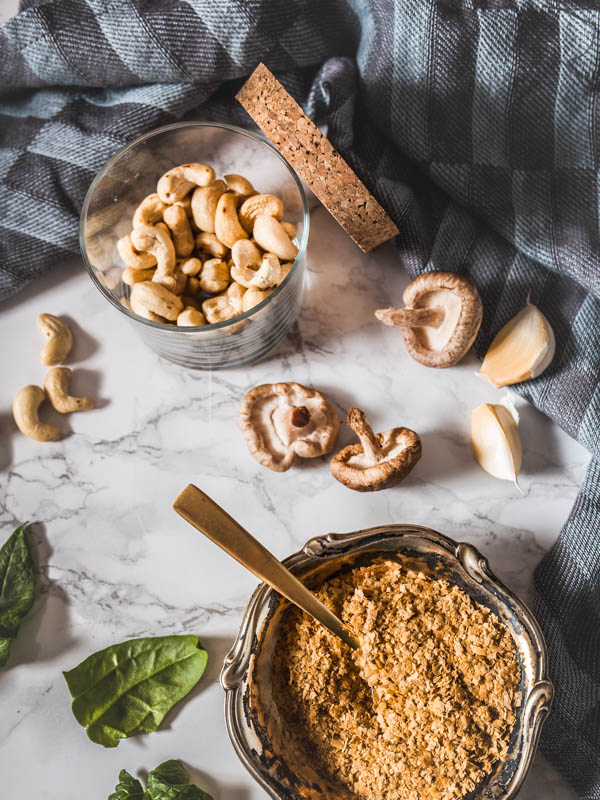 I only then started to really appreciate the versatility of cashews. It can be used for both, sweet treats and savoury comfort food:
---
---
And here comes yet another addition to my cashew recipe list. This savoury, vegan cashew-cheese-sauce is super silky, creamy and tangy and consists of only 5 ingredients:
cashews

nutritional yeast

water

salt

sesame oil
Don't believe me? Well, give it a try and make it for someone who has no clue what you cooked. I'd love to hear about the reactions!
This cashew sauce is a great base for all creamy pasta dishes and can be adjusted to taste with more spices and herbs.
Instead of gnocchi you can very well use tortellini or any other pasta you like. I decided to use gnocchi as they can soak up every last drop of this marvellous sauce.

Gnocchi with vegan cashew-sauce, garlicky spinach and shiitake
Author:
Sabrina Dietz / Purple Avocado
Portionen / Serves:
2 servings
Zutaten / Ingredients
250- 300g spinach (about 2-3 hands full)
500g gnocchi
150g fresh shiitake mushrooms
1 garlic clove
oil for frying
OPTIONAL
1 hand full roasted walnuts
some fresh parsley
FOR THE SAUCE
100g cashews
3 tbsp nutritional yeast flakes
ca. 200 – 250ml hot water (¾ – 1 cup)
1 dash of sesame oil
some fresh, pressed garlic (optional, as it'll make your sauce rather intense and spicy)
1 dash of salt
Zubereitung / Instructions
SPINACH
Wash the spinach under cold water and roughly tear the bigger leaves apart.
Add oil to a pan and fry the spinach on maximum heat for about 5 minutes.
Clean and slice the shiitake. Peel and mince the garlic. Add both with some more oil to the spinach and fry for another 5-10 minutes.
VEGAN CASHEW-SAUCE
Add the cashews with about 150ml (~ ⅔ cup) of hot water (I used boiling water from the water kettle) to a high jar and blend it to a smooth mass. Add more water if necessary until you reach your desired consistency (note that the sauce will thicken further).
Now add nutritional yeast, sesame oil and season with salt to taste.
If you like you can blend in a garlic clove, which will result in an extremely garlicky but also spicy taste.
GNOCCHI
Add the gnocchi to a pot with boiling, salted water and cook until they float up towards the surface. Use a skimmer or the like to fish them out of the water and add them to the spinach and mushrooms in the pan.
You can turn off the heat now, as we're just mixing everything together.
Pour the cashew sauce on top and stir everything together carefully (optional: only mix the gnocchi with the sauce and add the spinach and shiitake on top later)
Garnish with walnuts and parsley and serve immediately.
Anmerkungen / Notes
You can store the sauce and spinach in your fridge for a couple of days, yet for the gnocchi I'd recommend to always cook them right before serving.
Pin it for later