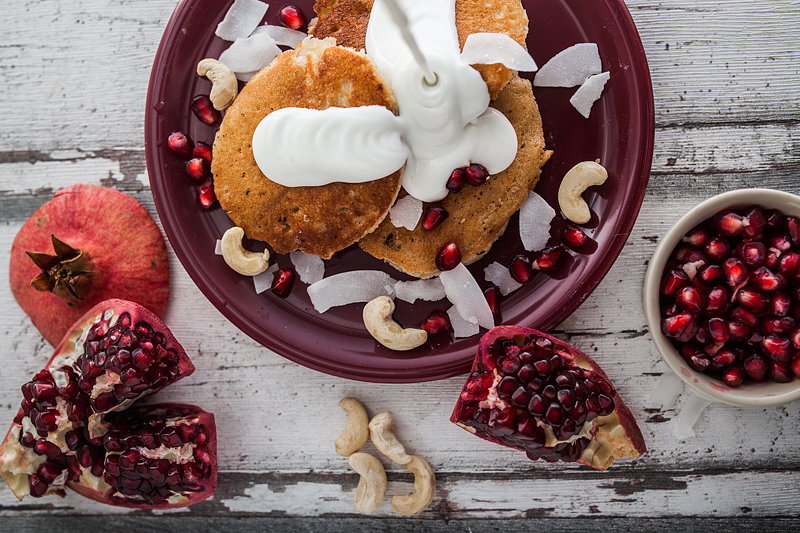 Remember that post about Cashew Butter?
Here's a recipe that'll change your life. You will see everything in a whole new light after eating those straight from heaven cashew coconut pancakes with pomegranate. Your worries will fade away, problems will solve all alone and your level of attractiveness  will increase exponentially.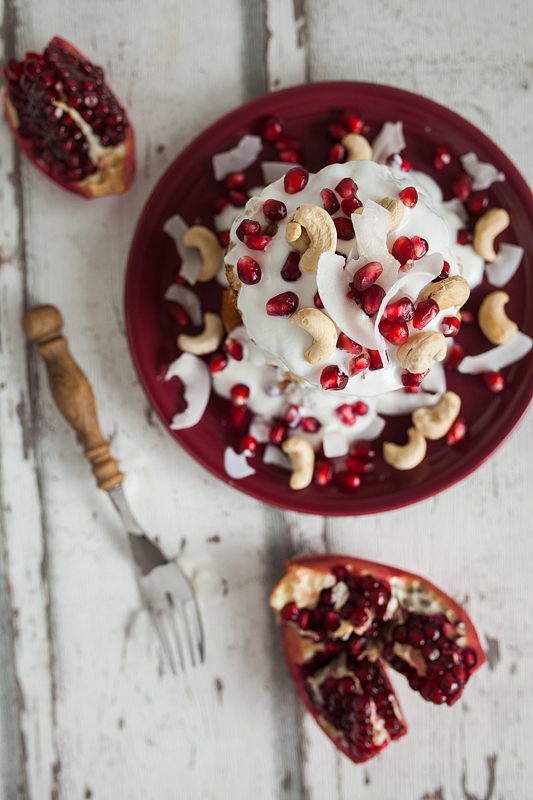 Admittedly, this might be a bit exaggerated. In fact, that point about your level of attractiveness could actually turn into quite the opposite as the calorie value of those cashew pancakes must be truly massive. But everything else is the truth, I swear!
As I explained in the cashew butter post, if you don't have a food processor to make your own homemade cashew butter you can buy it in vegan stores and wholefood shops in an upper price range. A low budget alternative would be peanut butter. Peanut butter pancakes are in no way inferior to the cashew version but be aware that it'll be a whole different taste.
What else is there to say about this recipe that'll guide you into a sweet food coma for the rest of the day?
When you begin to mix the ingredients for the dough, blend the cashew butter (or peanut butter or whatever) with the liquid ingredients first until it's smooth and creamy. The first time I made those pancakes I had trouble to blend the nut butter clumps with the dough as it was just so sticky. Also, if you find coconut milk alone to massive and rich you can replace it with any other milk you like (almond milk is marvellous!). Or you make a mix of coconut milk and coconut water.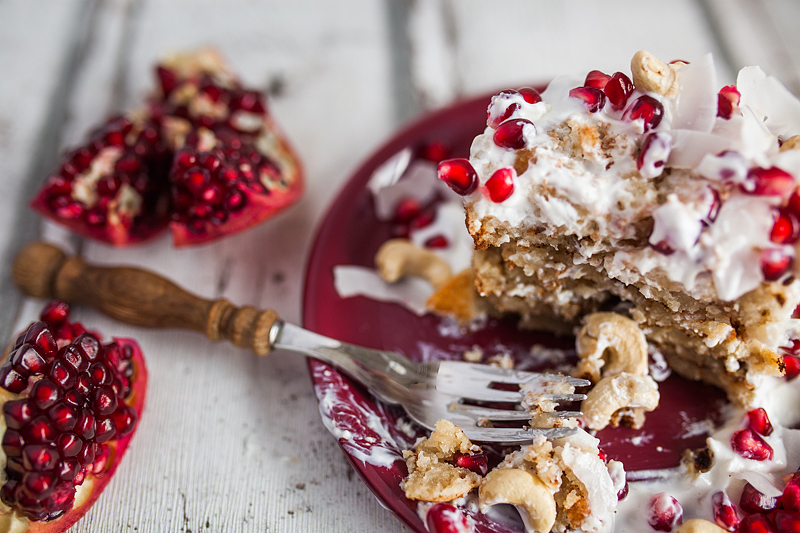 Those pancakes are really, really stuffing! I ate a bit more than half the pile of pancakes in one day and that was it. Nothing else! I just couldn't. I was loaded to the limit. The next day I chopped the leftovers into small pieces and added them into the remaining yoghurt and curd with the rest of the pomegranate seeds and it made a very convenient food supply for a six-hour bus trip.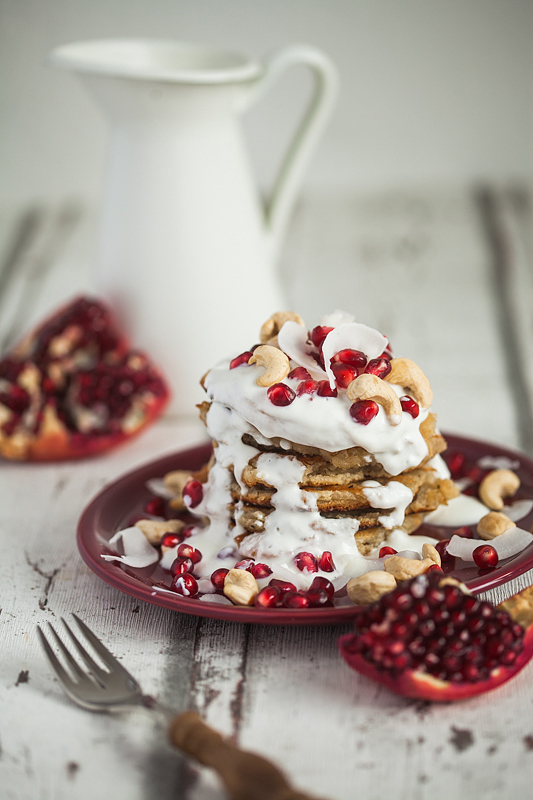 With no further delay, here's the recipe:

Cashew Coconut Pancakes
Portionen / Serves:
2 very hungry humans
Zutaten / Ingredients
100 g Flour
1 Package Vanilla sugar
1 tsp Baking powder or Soda
50 g Sugar
80 g Cashew butter
80-100 g Coconut Milk
2 tbsp vinegar
10 g shredded coconut
Topping
200 g curd
200 g yoghurt
100 g coconut milk
opt. honey to sweeten
1 pomegranate
cashew seeds
Zubereitung / Instructions
Blend together the coconut milk and the cashew butter until smooth
Add the other ingredients. The pancake dough should have a constistency not too fluid and not too solid. Add more flour or milk if needed. (You can also replace part of the coconut milk with coconut water make the dish lighter in general)
Bake the dough in a medium heated pan with coconut oil
Topping
Stir together the curd and yogurt and add coconut milk until creamy
Staple the pancakes on a plate, pour the topping over it, drizzle some cashew seeds and pomegranate on top
Revel in a sweet food coma
Die in peace
This recipe was inspired by the amazing Consuelo from
honeyandfigskitchen
Pin it for later