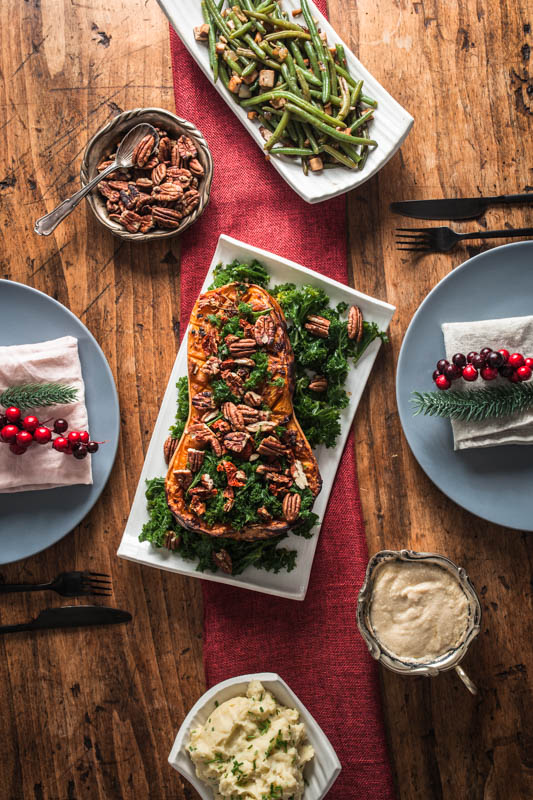 Well, sometimes your private life just kicks in at the busiest time of the year, and just doesn't give a shit that you planned to publish your Christmas dinner in the beginning of December. Instead I now have a last minute Christmas quickie for you shortly before Christmas Eve.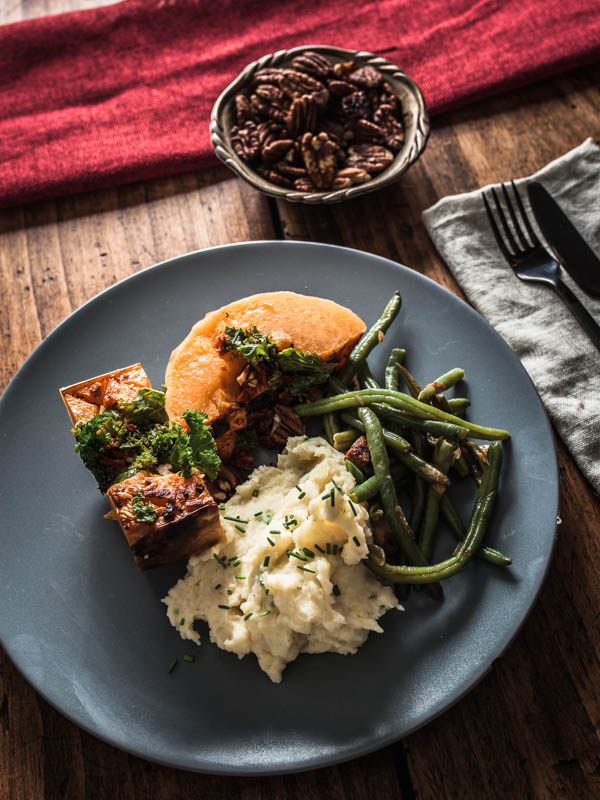 But let's focus on the good things: This stuffed pumpkin with sweet-sour kale, crispy pecan nuts and dried tomatoes with an almond butter sauce is generally a beautiful winter dish. Savory, thick, spicy and warming.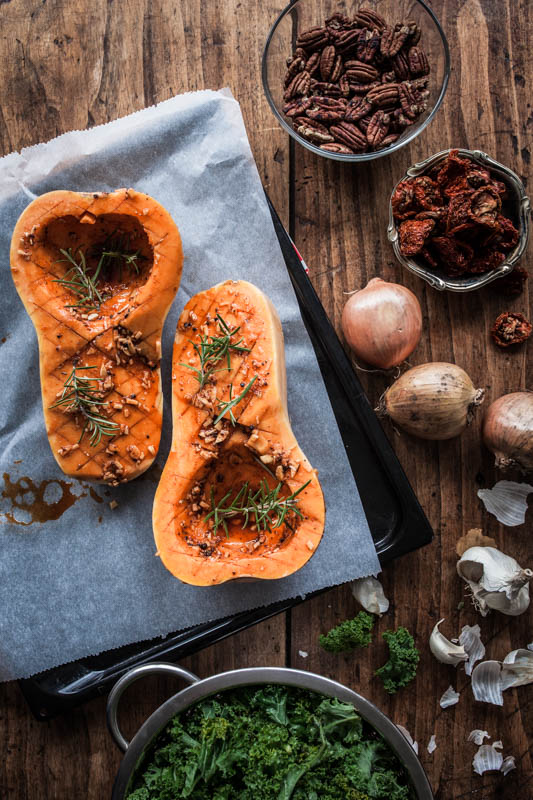 I've planned to stuff a pumpkin for a while now, and I'm sure there'll be more recipes of this kind following next year, now that I got the hang of it. The stuffing took me quite some evenings of brainstorming. I couldn't possibly bother you again with spinach and feta – my favourite combo ever – again. But I neither felt like making a meat stuffed pumpkin.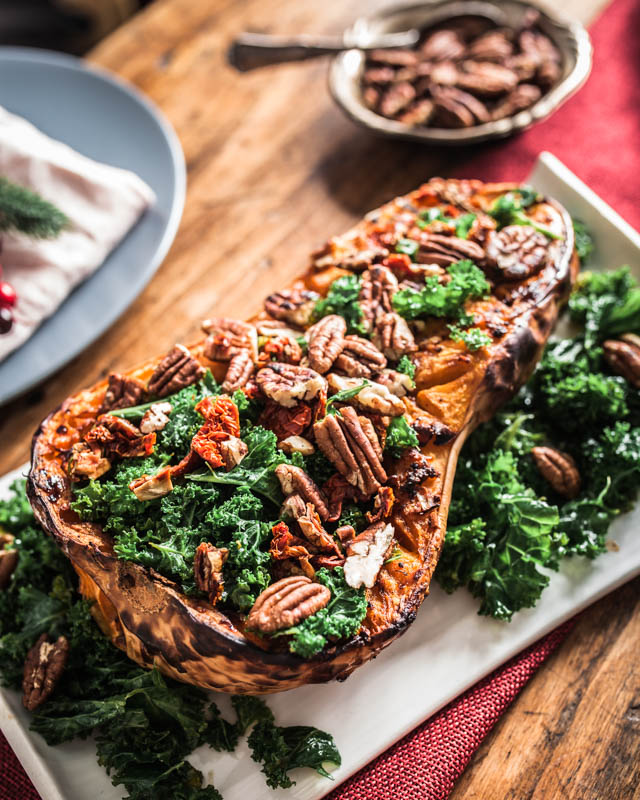 The final, chosen stuffing will make meat lovers equally happy as vegans. The taste got everything covered you could wish for. A hearty, soft pumpkin, sweet-sour kale, crunchy nuts and salty tomatoes. The almond butter sauce has a nice touch of acid while mainly being nutty and rich.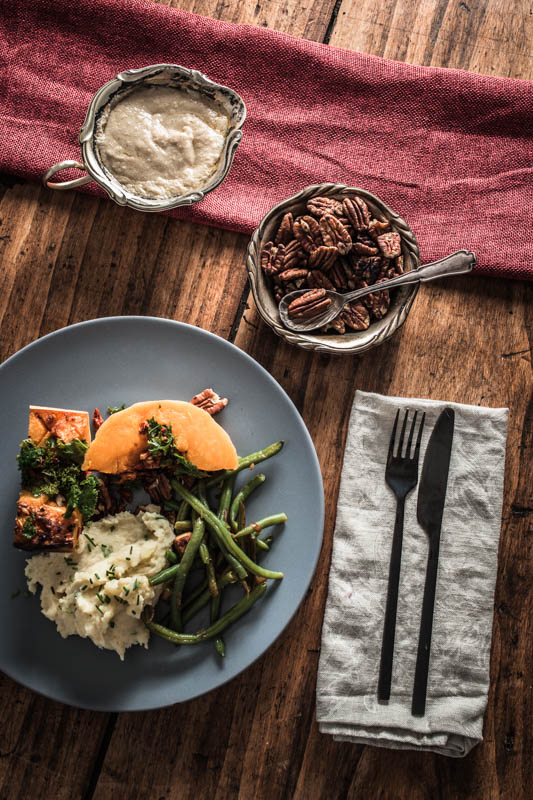 As sides we had a simple, creamy and perfect potato purée with loads of garlic – the recipe will follow… when the time is right 😀 – and green beans from the freezer with onions and smoked tofu dices.
A well rounded dish I'd say, so let's get started!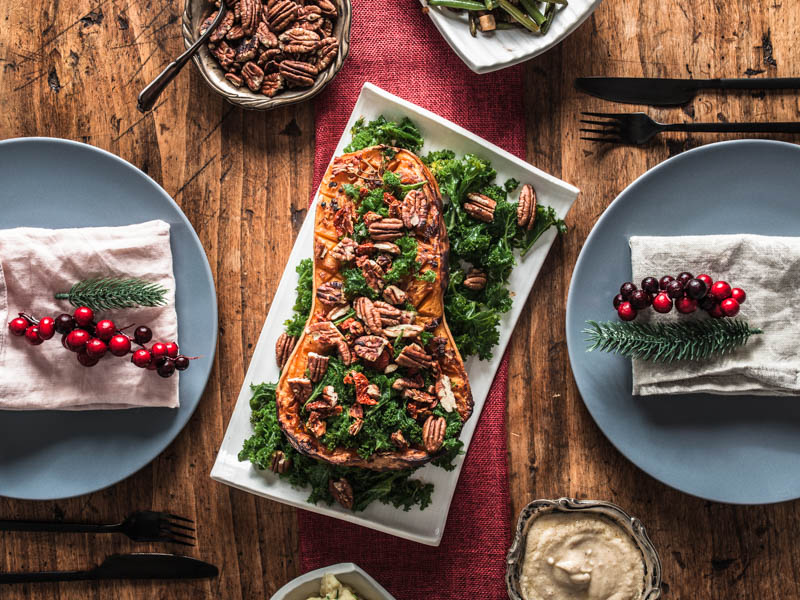 Stuffed pumpkin with kale and almond butter sauce
A festive, stuffed butternut pumpkin for the holidays or one of those evenings at which you'd just like to treat yourself.
Portionen / Serves:
3-4 servings
Zutaten / Ingredients
for the pumkin (200°C / 392°F for 60-80 minutes)
1 medium sized butternut pumpkin (~ 1,5 -2kg)
2 cloves of garlic
30ml olive oil
1 tsp smoked paprika
2-3 twigs of rosemary
salt & pepper
for the stuffing
3-4 hands full of kale (~300g)
30ml olive oil
2-3 tbsp maple syrup (or honey)
1 tbsp hot mustard
20ml apple vinegar
some salt
30g dried tomatoes (favourably in oil)
2 hands full of roasted pecan nuts
for the almond butter sauce
200ml vegetable broth
4 tbsp almond butter
1 dash of apple vinegar (or lemon juice)
1 tbsp nutmeg
1 tbsp margarine
Zubereitung / Instructions
for the pumpkin
Preheat the oven to 200°C / 392°Fand cover a tray with baking paper.
Halve the pumpkin and remove the seeds. With a sharp knife cut both ways diagonally into the pumpkin flesh. The cuts shall be deep, but not too deep to injure the outer skin.
Mince two cloves of garlic and add them to a bowl with olive oil, smoked paprika, salt and pepper.
With a brush or your hands spread the marinade evenly on both pumpkin halves. Whatever is left over can be poured into the scraped out part of the pumpkin. Add the rosemary twigs lastly.
On a baking tray put the pumpkin into the oven to roast it for 60-80 minutes until soft. From time to time you can spoon the leftover olive oil onto the drier parts of the pumpkin.
After about 45 minutes the pumpkin should be already half way soft and you may want to spoon out the soft parts of the flesh (and leave it in the pumpkin). This will speed up the further roasting process.
for the stuffing
While the pumpkin is roasting you can prepare the stuffing.
Rinse the kale in cold water and knead it thoroughly with your hands. Remove the leaves from the hard stems and let them drain in a sieve.
Mix oil, vinegar, mustard, maple syrup and salt in a big bowl to a dressing. Bit by bit add the kale and knead the dressing in the leaves. It's easiest if you just use your hands for this.
Roast the pecan nuts without oil in a pan. Let the tomatoes drain from excess oil on a paper towel and cut them into small pieces.
Take the soft and roasted pumpkin out of the oven and turn if off. Now add the kale, tomatoes and pecan nuts evenly into both pumpkin pieces and put it into the oven with the remaining heat while you prepare the almond butter sauce.
for the sauce
In a pot bring the broth and almond butter to a boil slowly. Once it simmers add a little margarine, a dash of apple vinegar and – if necessary – some salt and let the sauce reduce on medium heat. If your sauce does not seem to get thick enough add a teaspoon of starch solved in some warm water.
Remove the pumpkin from the oven and serve it on a plate (maybe on a bed of kale). I recommend creamy mashed potatoes and crisp green beans as sides.
My seitan roast from last year
Dessert Ideen
Pin it for later