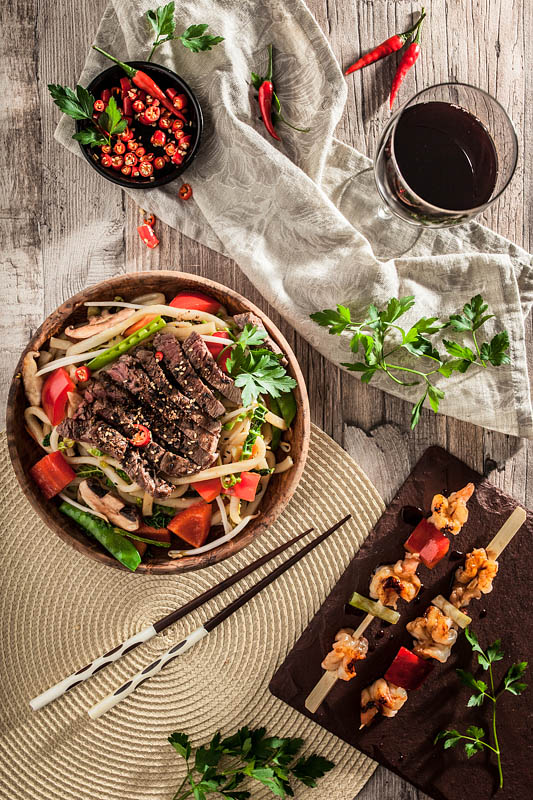 *contains promotion for MoschMosch
As a food photographer there are, just like in any other job, good and bad customers. Some can make your life harder than necessary by raising complaints on each and everything. And then there's customers such as  MoschMosch. I'm SO EXCITED to finally show you the finished photos from my comissioned work for them. Also, I have a light summer recipe for you – Surf'n'Turf from the barbecue.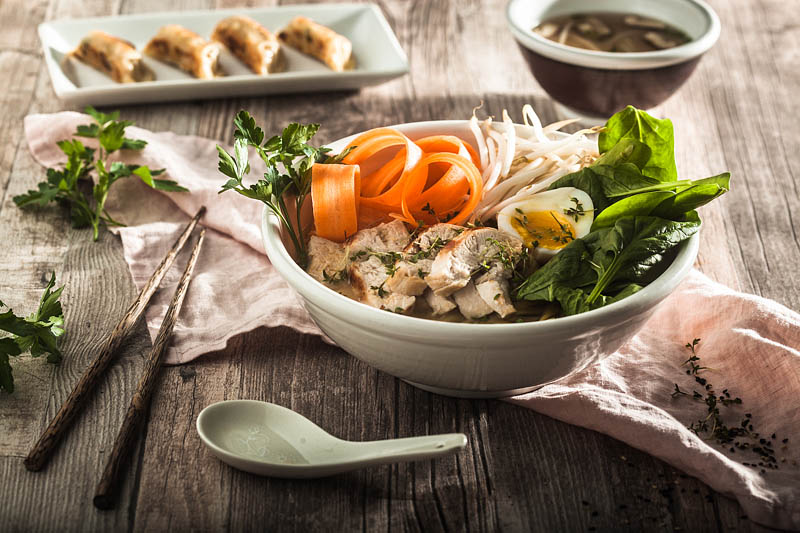 Right at the beginning of the year I had the pleasure of photographing the food photographies for the new website of the Japanese noodle bar MoschMosch. Beforehand though I was invited to test out some of their meals at their restaurant in Oberhausen to get into the right mindset.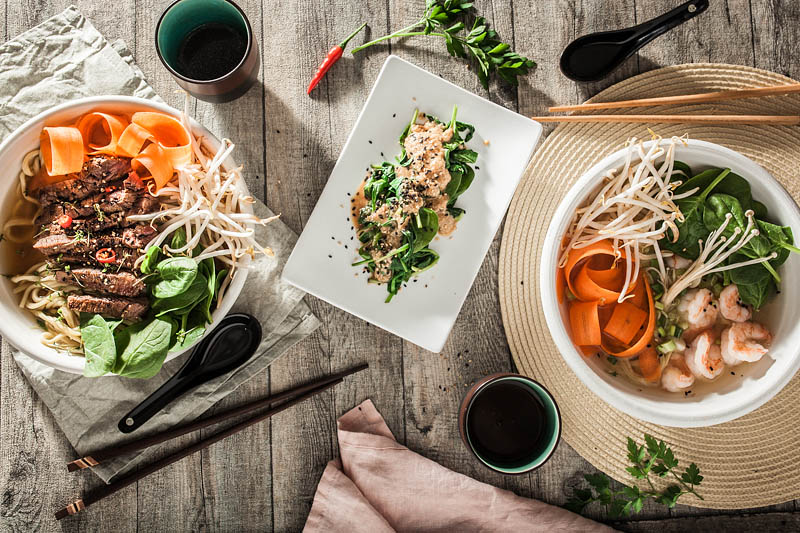 Ramen soup and other Japanese specialities at the MoschMosch
For sure I did not hesitate too long before I grabbed my boyfriend and drove with him to the MoschMosch in Oberhausen in order to try some of their healthy, good-looking bowl dishes. The MoschMosch is popular for their wide variety of ramen soups, as well as pasta and rice dishes which are served and beautifully arranged in huuuuuge bowls. The vegetables are colourful, fresh and crisp and you can choose from several extras such as boiled egg, meat or seafood to order separately. The veggies and many bowl dishes change according to the season, so you will always be able to try out something new.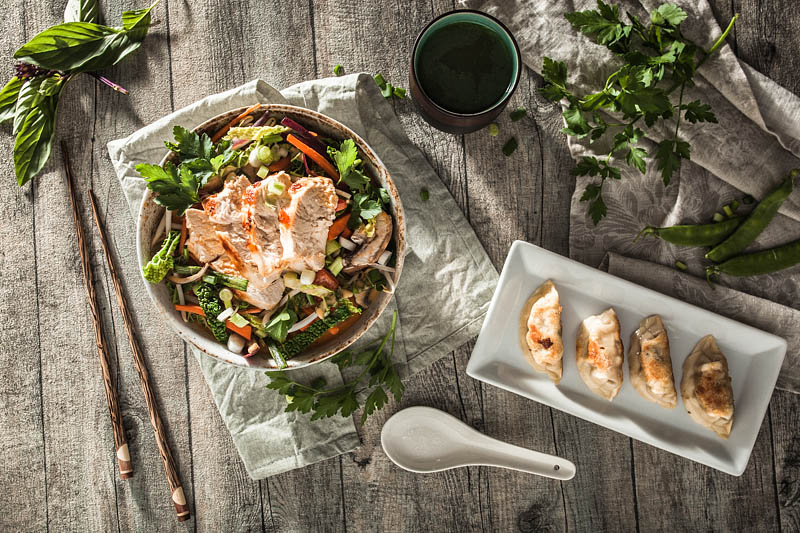 Of course you can get a wide range of typical Japanese starters such as gyoza, miso soup, saté skewers, edamame, spring rolls or kimchi as well as some delicious, light desserts for the sweet finale (my recommendation: Definitely go for the Raw 42 cake with mango sorbet!).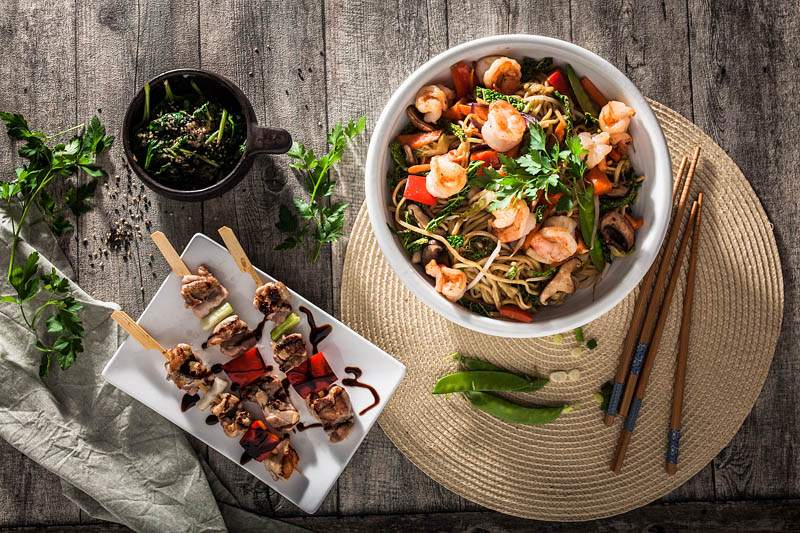 To me the MoschMosch is the perfect restaurant for a light and healthy lunch. The dishes are low in fat and contain lots and lots of veggies. So, even though we had a starter, entree and dessert we did not feel uncomfortably stuffed at all. There are currently branches in Frankfurt, Oberhausen, Darmstadt, Bonn, Heilbronn, Heidelberg, Mainz and Mannheim. If you're sticking around one of those places go for it 🙂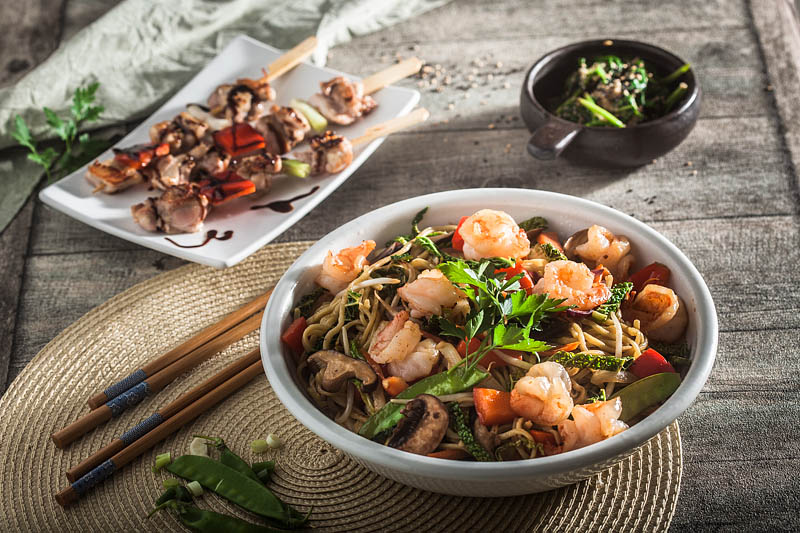 By now the MoschMosch even has a little shop where you can order some of their products and get some Asian flair into your own home. Pamela, the sweet soul that accompanied me before, during and after the shooting supplied my guys from Nord Nord Pott and me with the classic MoschMosch sauces to test them thoroughly.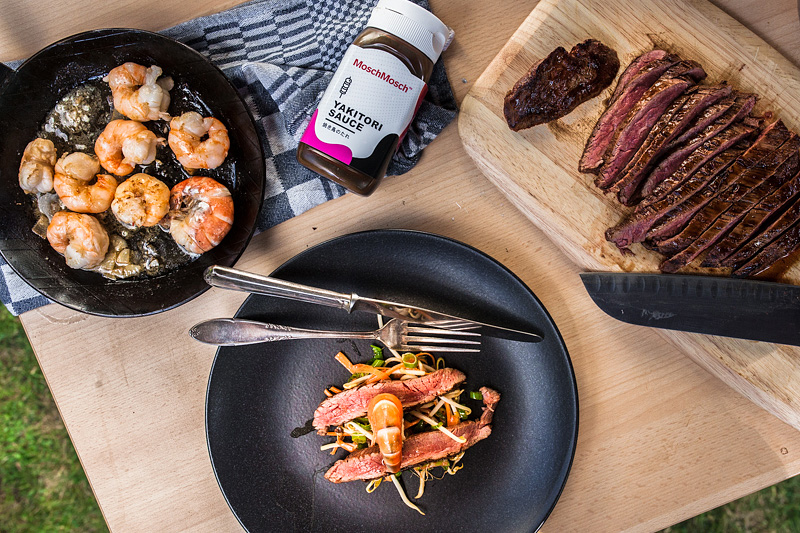 BBQ Sauces from MoschMosch
Firstly there's the ever so popular Yakitori Sauce, that reminds me of a soy- or terriyaki sauce with quite a sweet touch and – in all honesty – I could eat it directly from the bottle – yeah it's that delicious.
Secondly there's this really fruity chili sauce which is mild enough for me – the biggest spice-pussy there is – to eat purely.
One of the best things about those sauces is that they don't contain any flavour enhancer or preservatives. On top of that I love that simple, pretty design and – being a total aesthetics  victim – I might have bought it just for this reason.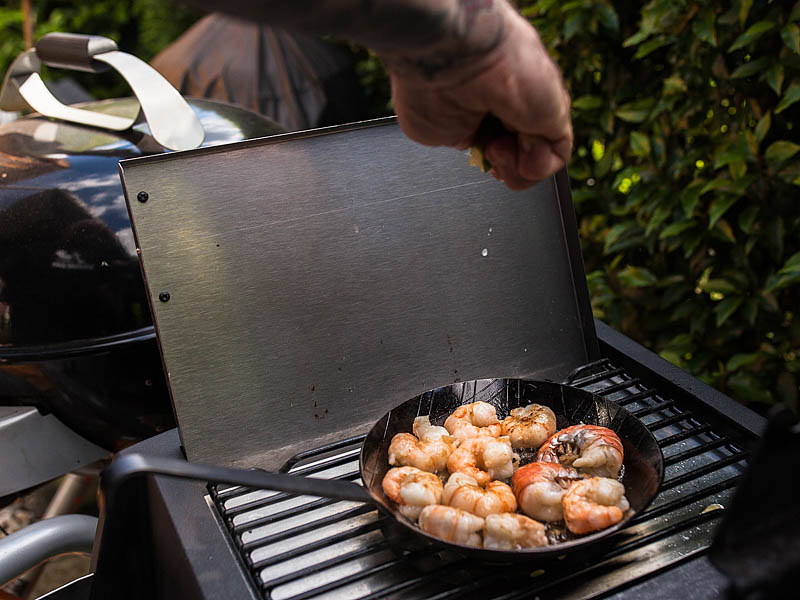 Both sauces are perfectly suitable for marinating or simply dipping your meat, fish, veggies of tofu.
For this reason, Dennis from OSGC and I developed this very light dish with both our favourite sauce. Dennis could inhale the Yakitori Sauce right from the bottle as well.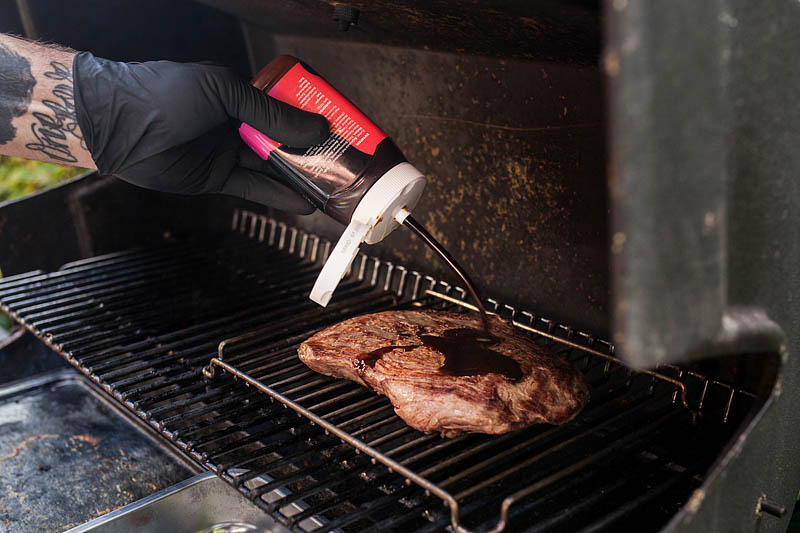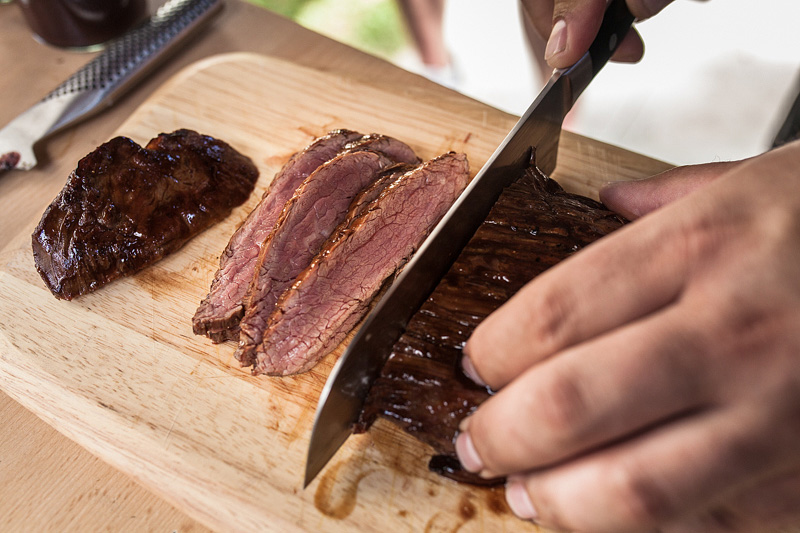 Father's day BBQ with Nord Nord Pott
So on a refreshing 30°C day the "Nord Nord Pott" peeps from the Ruhrpott met for a barbecue afternoon full of delicious shizzle.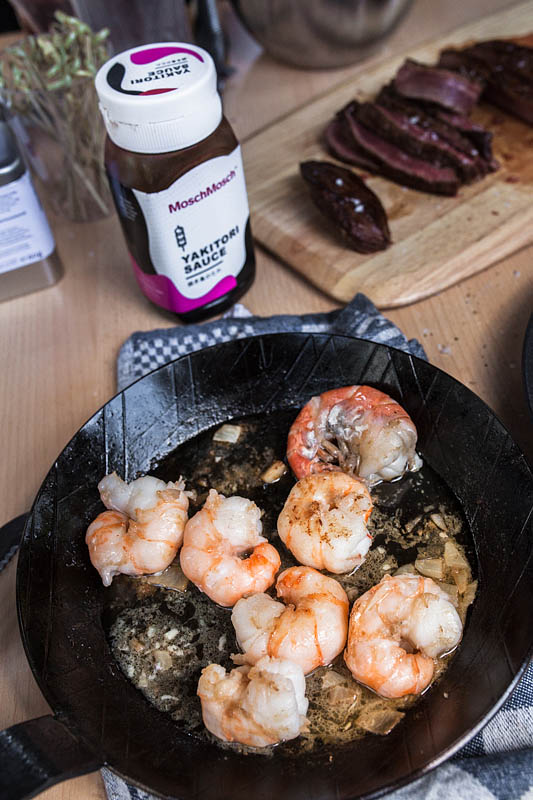 Surf'n'turf summer recipe
So, around the Yakitori sauce we created a light and crisp surf'n'turf dish for you. We have a fresh soy sprouts salad with a Yakitori Dressing for you, garlic marinated – whom am I fooling? DROWNED in garlic – prawns and a 400g flank steak from Uruguay which we drowned in Yakitori sauce as well. This dish is the perfect appetizer for your BBQ.
A summery meal for the 2-3 hot days in Germany 😉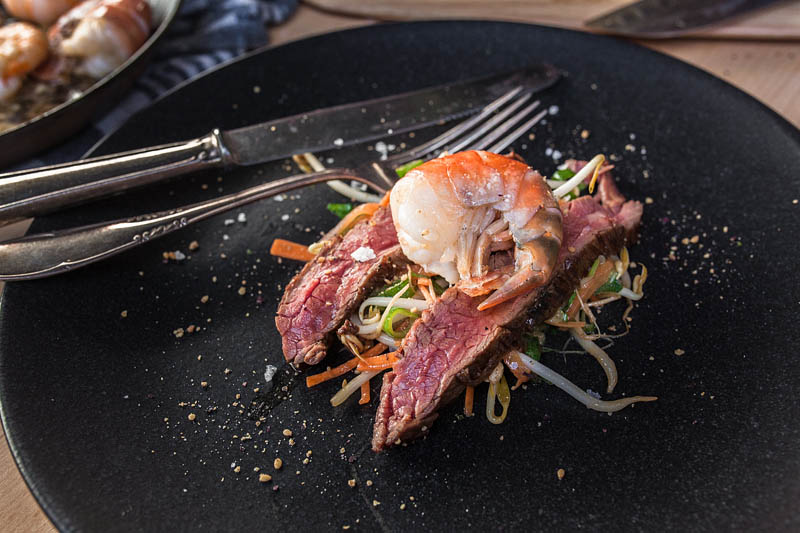 Surf'n'Turf soy sprouts salad with prawn and flank steak
A summery recipe to bring Asian flair to your next BBQ. Should serve 6-8 people as a light starter or 3-4 for a bigger serving.
Zutaten / Ingredients
~ 400g flank steak
3-4 tbsp Yakitori sauce to marinate


~ 10 prawns
some olive oil
1-2 garlic cloves
juice of 1 lime
some salt


~ 100g soy sprouts
1-2 carrots
1 red pepper
3-4 spring onions
½ bunch of coriander
for the dressing
2 tbsp rice vinegar
4 tbsp sesame oil
2 tsp medium hot mustard
2 tbsp Yakitori sauce
Zubereitung / Instructions
for the salad
Wash and dice the red pepper, spring onions and shred the carrots. Wash the coriander and mince if. Leave the soy sprouts whole.
Mix the dressing ingredients in a bowl and add the vegetables mixing everything swiftly.
Prawns
Optimally you marinate the prawns the previous evening or at least some hours before grilling them. Wash and gut the prawns, mince 1-2 garlic cloves and add it all to a bowl with some olive oil and let it marinate (covered or your whole fridge will smell like garlic) for a couple of hours in the fridge.
Sear the prawns in a pan for a couple of minutes until slightly golden. Deglaze them with the juice of one lime, salt to taste and serve.
Flank steak
Sear the steak shortly from both sides at the highest temperature you can get.
Let it cook at lower heat until the core temperature is at about 54°C / 130°F and cover it with the Yakitori Sauce.
Take the flank steak from the grill / oven and let it sit for about 5 - 10 minutes before cutting and serving.
MoschMosch Grill Sauce Contest
If you're from Germany you can enter the give-away on Facebook and win a set of the MoschMosch sauces to make your own Surf'n'Turf at home.
Take me to the Facebook Contest
Good luck and happy cooking!