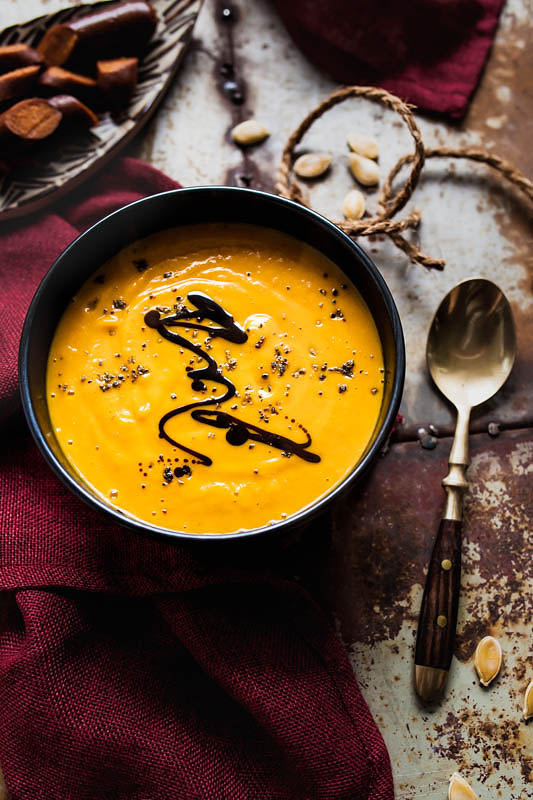 This classic recipe needs to be in every well sorted recipe collection. And as everyone prepares it differently I'm throwing my coconut pumpkin soup into the game. This soup is all you need on wet and cold autumn days when there's nothing else to do but binge watch the next 8 episodes of vikings 😉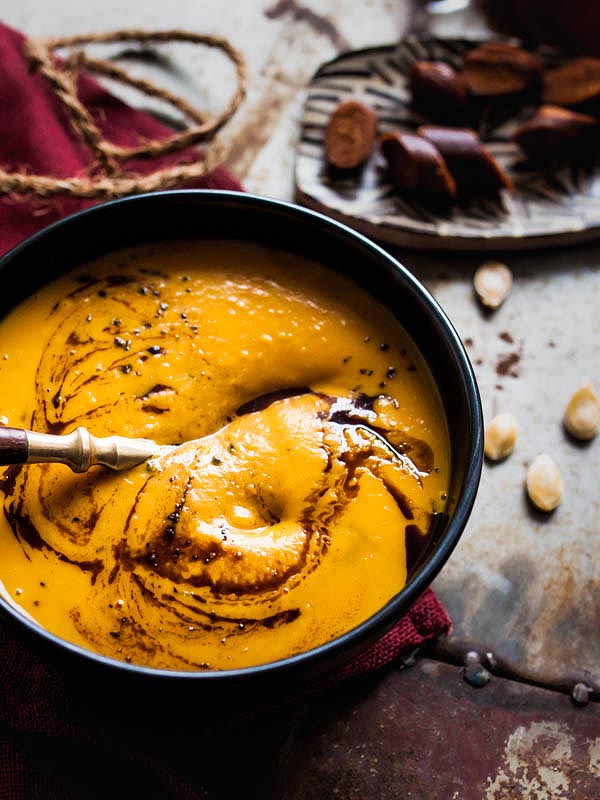 Oh guys, I just love autumn. Food-wise it's one of the best seasons. Not too hot anymore to stuff oneself with ridiculous amounts of food – and then there's even the many layers of clothing that allow to hide all this feasting. Hiyaaah. Here in Germany you can find lots and lots of autumn- and winter veggies everywhere. Cozy nights cooking with friends happen much more frequently. The summer-party-season is over and the stay-at-home-time has just begun.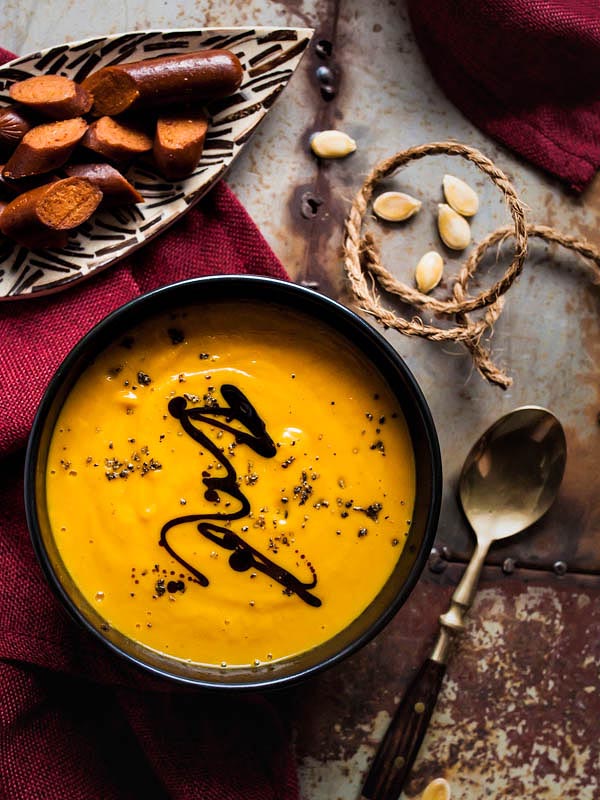 Before I'm turning towards more fancy and eccentric fall recipes, I have a timeless classic for you all. There simply has to be a great pumpkin soup recipe on any decent blog. If you've never made pumpkin soup before you're definitely missing out on something. The possibilities of adjusting it to your taste are endless, and once you've prepared it once, you surely will create a favourite version of your own.
For me that special combination is a coconut pumpkin soup, spiced with curry – so slightly exotic in taste. The sweetness of the pumpkin is further brought out by my secret weapon for everything sweet – maple syrup. I love that shit.
To round it up just nicely we're usually frying some vegan merguez for the salty touch. My brain just needs that solid ingredient to deem a meal as 'food' and get the feeling of satiety started.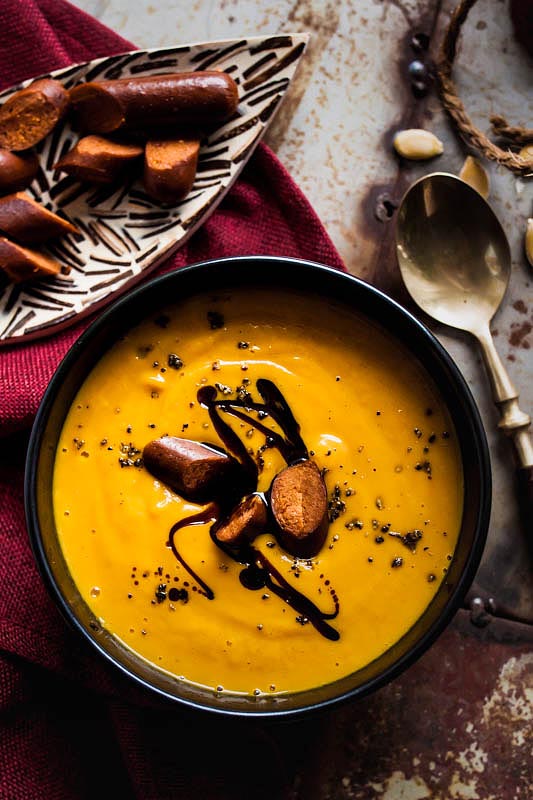 If you don't happen to have vegan sausages at hand you can very well use smoked tofu, roasted pumpkin seeds or fresh garlic bread. Or how about some fried batter pearls?
What you shouldn't change in this recipe, however, is the combination of coconut milk, curry, muscat and maple syrup, you really want to give it a try.

Vegan coconut pumpkin soup
Portionen / Serves:
2-4 servings
Zutaten / Ingredients
1 hokkaido (or musquee or butternut – take whatever fucking pumpkin you like) it should have around 1 – 1,5 kg
400ml canned coconut milk
400ml water
2-3 tsp salt
2 tsp curry spice
2-3 tsp maple syrup
oil for frying
optional
vegan merguez or another salty vegan sausage (I love wheaty)
pumpkin seed oil or aceto balsamico
Zubereitung / Instructions
Wash the pumpkin thoroughly, halve it and scoop out the pulp and seeds. Cut it into thumb-sized pieces. If you're using hokkaido or sweet mama pumpkin don't bother to remove the skin. For the other breeds you'll have to take the effort as they're not edible.
Heat oil in a pot and sautée the pumpkin pieces for a couple of minutes. Add salt.
Deglaze the pumpkin with coconut milk and water and bring it to a boil. Let it simmer for 20 – 30 minutes until the pumpkin pieces can be easily pricked with a fork.
With a hand mixer purée the pumpkin to the desired thickness. If the soup turns out to thick, just add some water. It's too thin? Try starch or some flour.
Season with curry, muscat and maple syrup and – if necessary – some more salt.
Fry the vegan merguez in a pan with some oil and cut it into small pieces.
Serve the soup in bowls and garnish with some pumpkin seed oil or balsamico and add the merguez on top.
More Comfort Food
Pin it for later