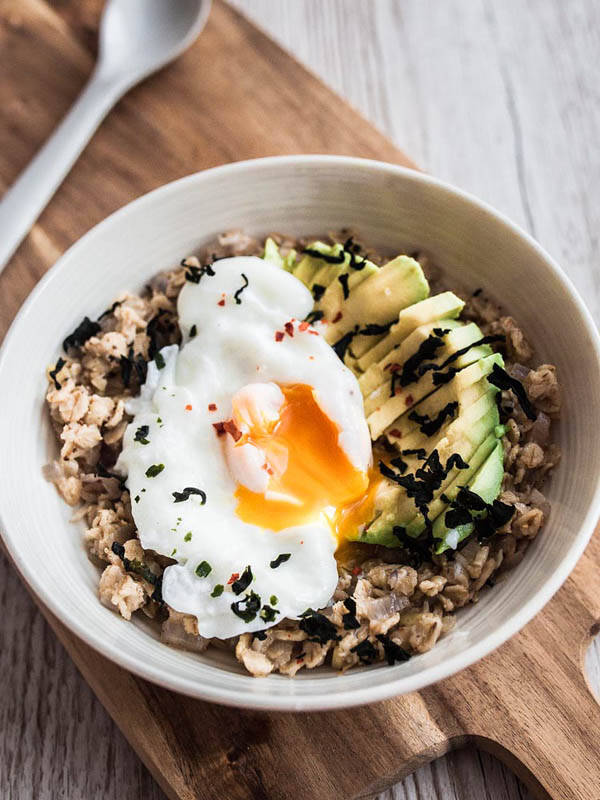 I'm a huge breakfast fan and oatmeal is definitely one of my go to dishes. Once autumn and winter are approaching I can't imagine a better breakfast than a bowl of hot, steaming oatmeal with warm fruits to start into the day. This recipe for a savory avocado oatmeal brings it to a whole new level – from the typical breakfast dish to a dish that can be eaten all day long.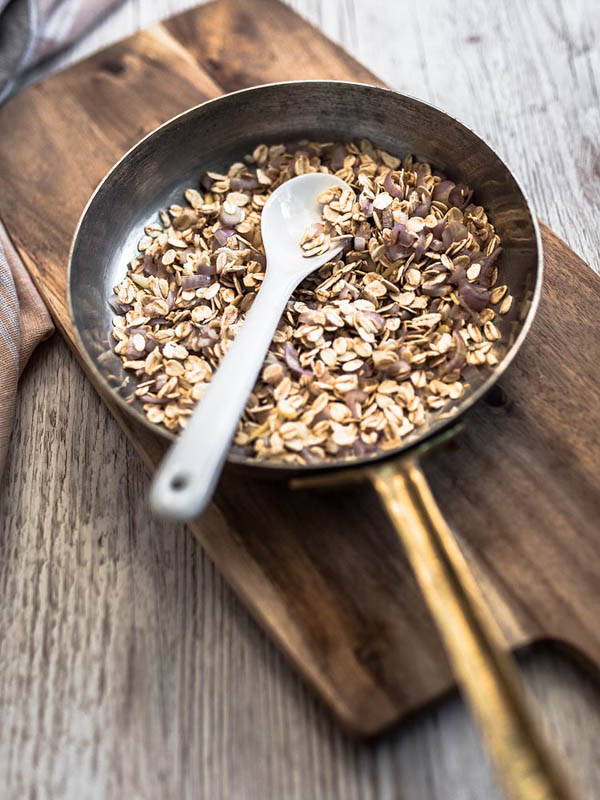 Just like risotto or pasta hearty oatmeal can be varied in many ways and is a quick, easy and stuffing meal. For my first attempt I tried one of my all-time favourite combinations – avocado and poached egg for the win. To make it even more fancy I added some roasted seaweed and red chili flakes. And there we have it, the deluxe breakfast / lunch / dinner dish.
Poached egg
If you like you can make scrambled or fried egg as a side to your avocado oatmeal, but seriously such a poached egg is something nice and special from time to time. And with the necessary tips and tricks at hand it's not even that difficult to make. I like preparing it and the softness of the yolk is incredible.
A little excursus:
Poached eggs are eggs that are gently boiled in simmering water.
How to poach an egg
fresh egg at room temperature
The eggs to poach should be as fresh as possible, otherwise the white of the egg won't coat around the yolk properly. Moreover it should be at room temperature as the boiling time will increase otherwise (note that eggs don't even have to be kept in the fridge anyway to begin with)
Vinegar
in the simmering water will help the white of the egg to become solid faster thus keeping the rest of the egg in shape.
The 'pouring technique'
firstly you crack the egg in a small boil before you pour it carefully in one flowing movement into the simmering water. You can also use a spoon for this step. Some also prefer to slightly stir the water before adding the egg to it, thus creating a little swirl that helps to keep the egg together.
Simmering water
at about 80°C the egg is boiled for 3-5 minutes
Surely poaching an egg takes a little practice and the correct boiling time depends on the water temperature as well as on the temperature and size of your eggs.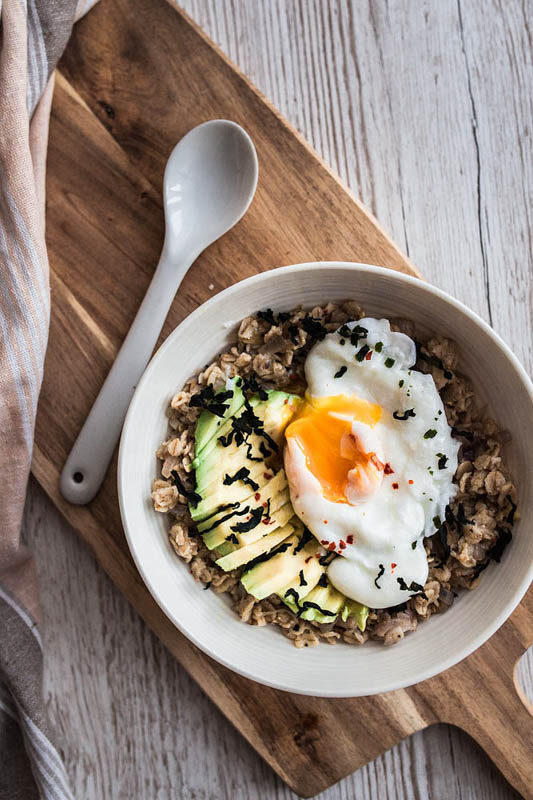 Savory oatmeal variations
If you're not too much of a fan of egg and avocado you might want to add some more solid ingredients to it. Why not fry some of your favourite veggies such as peppers, carrots or zucchinis and add some roasted nuts to it? Or how about some crispy fried tofu and a little spinach?
Meat lovers could fry some chicken with curry or boiled ham and melt cheese on top of it.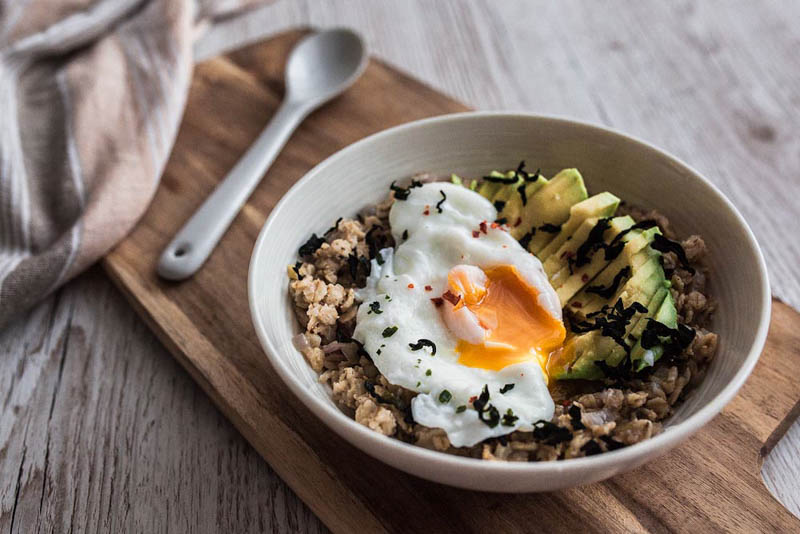 I'm definitely going to create more savory oatmeal recipes. Which ones would you like to see on this blog? Write it in the comments 🙂
Savory egg & avocado oatmeal
Author:
Sabrina Dietz / Purple Avocado
Portionen / Serves:
1 serving
Zutaten / Ingredients
FOR THE OATMEAL
3-4 tbsp oats
1 shallot
1 clove of garlic
1 piece of ginger
salt & pepper
approx. 200ml water
TOPPINGS
½ avocado
1 fresh egg at room temperature
not necessary but a nice addition
1 tsp roasted seaweed
chili flakes
Zubereitung / Instructions
porridge
Peel and mince the garlic, shallot and ginger. Add to a pan with oil and roast until golden. Add the oats and roast for a couple of minutes.
Deglaze it with water and under constant stirring bring it to a boil and let it simmer until soft and tender. Season with salt and pepper.
Poached egg
Fill a pot with approximately 5-8 cm with water. Bring it to a boil and let it simmer slightly.
Crack an egg into a small bowl carefully and make sure to not damage the yolk.
With a tablespoon let the egg sink carefully into the simmering water. The egg white will start to solidify around the yolk. Let the egg boil for about 3-5 minutes and take it out of the water carefully with a big spoon or a scoop.
Serve
Add the porridge to a bowl. Slice half the avocado and arrange it on the porridge.
Carefully a the poached egg on top and garnish it with chili flakes, salt and some roasted seaweed.
You might also like these breakfast ideas:
How to make porridge in the microwave (will work with savoury as good as with sweet porridge 😉
Savory French Toast with Mushroom and Cheese
Chanterelle sandwiches with scrambled eggs and cashew butter