Actually the next post planned for this week is a marvellous goulash recipe from the last weekend that I spent in Berlin. It also includes sweet potato.
But as I prepared a ridiculously delicious dinner for my boyfriend and me last night I had to share this with you first. Just so you have a basic idea of what's going to happen here today: We're talking spinach. And roasted sesame. And nuts – ground to a creamy, delicious sauce. Do I have your attention now?
Well, as usual the fridge was a bright and colourful conglomeration of old food that would go bad soon which meant that I was free to improvise and be spontaneous. I got some spinach that was on sale and as you can guess I bought quite a lot of it. Secondly I still have quite a lot of tofu lying around, from former times when I was working in an organic supermarket. Why not make some badass tofu today was my initial thought.
After a wonderful short trip to Berlin where I had an immensely tasty nut sauce dish from June (Food is taking over) and got inspired to create a dish circling all around nuts and it's creaminess.
What can I say? This recipe is a great addition to my series From my Fridge which is all about spontaneous, inspiring cooking without to many rules.
As I unfortunately forget to take photos of my spontaneous recipes there's so much I haven't or won't be able to show you. I really need to form a habit to take more photos of my daily food.
Spicy and salty sesame tofu gets combined with a slightly sour spinach salad and a sweet, full-bodied nut sauce. This dish is well rounded and quite exciting for the tongue (and already convinced my boyfriend and a fellow student höhö)
As always the measurements of my From my Fridge recipes are either quite vague or missing completely. Those recipes are meant for inspiration and you shouldn't be to precise and bigoted when cooking after them. I'm pretty sure you'll make the best out of your leftovers and it'll be super tasty!

Sesame Tofu with Nut Sauce and Spinach Salad
Author:
Sabrina Dietz / Purple Avocado
Zutaten / Ingredients
Sesame-Tofu
about 200 - 300 g Tofu
Salt + Pepper (or any spice mix of choice)
some sesame oil
roasted sesame
Terriyaki sauce
Spinach salad
a few hands full of fresh spinach
some rice vinegar
a dash of maple syrup
roasted sesame
a few cherry tomatoes
Nut sauce
half to one hand full of each:
walnuts
para nuts
pecan nuts
cashew seeds
almonds
some water
soy sauce
sesame oil
maple syrup
Zubereitung / Instructions
Tofu
Remove the tofu from the package and dry it a little with paper towels . Dice it and place it on a clean kitchen towel (or more paper towels) and put a cutting board or anything similarly heavy on top. Let the tofu sit like this for about an hour to get rid of all the excess water. Add those tofu dices into a bowl, add a tsp of oil and your spices of choice. Let it marinate while you prepare your other stuff.
Heat a pan and drizzle some salt on it to prevent your tofu from sticking to the pan. Fry the tofu golden brown from all sides and reduce the heat. Add a little terriyaki sauce and let it caramelize on the tofu. Drizzle the roasted sesame on top and stir it together.
Spinach salad
Wash the spinach with cold water and knead it thoroughly, ripping it into bite size pieces. Make sure to squeeze excess water out before adding it to a bowl in which you've already poured soy sauce, rice vinegar and a dash of maple sirup. You also want to add some more of the roasted sesame. Mix the spinach and the dressing with your hands - that'll work best.
Cut the tomatoes and add them to the salad.
Nut sauce
Add your favourite mix of nuts to a bowl and cover it in boiling water. Optimaly you let the nuts soak like this for several hours (if you have the time, otherwise you skip this step). After the soaking remove the water and rinse the nuts once more.
Add the nuts to a blender and grind them while adding some maple syrup, soy sauce and sesame oil. Add some water if needed to get a creamy texture. If you like it sweet add more maple syrup if you want it more subtle stick to the soy sauce.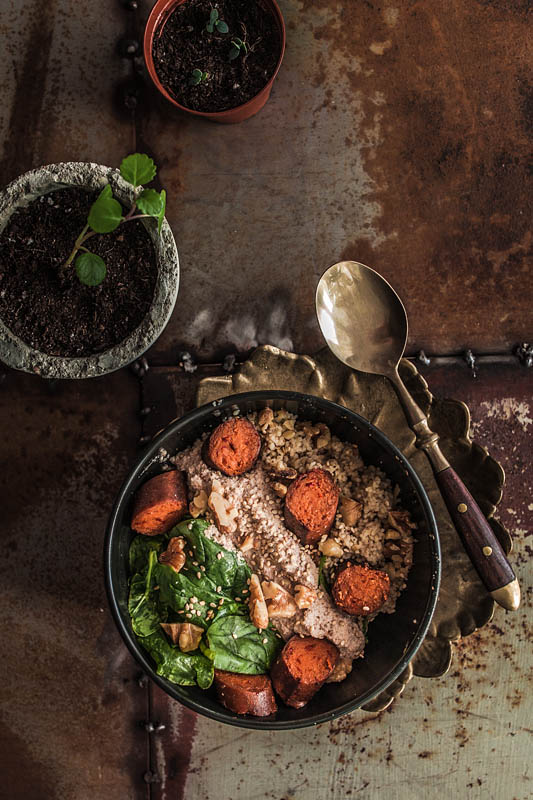 Today by the way I've made another variation of this recipe from my leftovers. I simply had some couscous (you don't need to do more than pouring boiling water on top – easiest grain ever) with the cold nut sauce and some vegan chorizo sausages. I can imagine smoked tofu would be splendid as well. I added the raw, washed unseasoned spinach for a little pop of colour and some freshness.