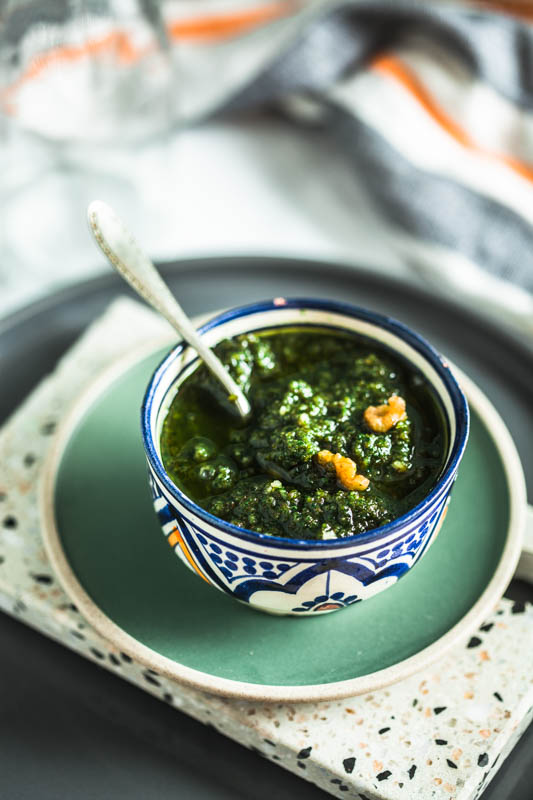 Okay guys. I've got something meatless for you once more, which will make you satisfied and happy without end. Today we're talking pesto – vegan pesto with walnuts and parsley to be precise, surrounded by a crisp sandwich. This is the low budget version of the classic pesto with pine seeds and Parmesan. According to my man this recipe is da bomb and I can only agree.
Pesto is the universal answer to all pasta questions (pesto – pasta – pasta – pesto – makes sense, doesn't it?). When you have neither the time nor the patience for a lot of kitchen action – simply cook pasta, add pesto. Boom. Done.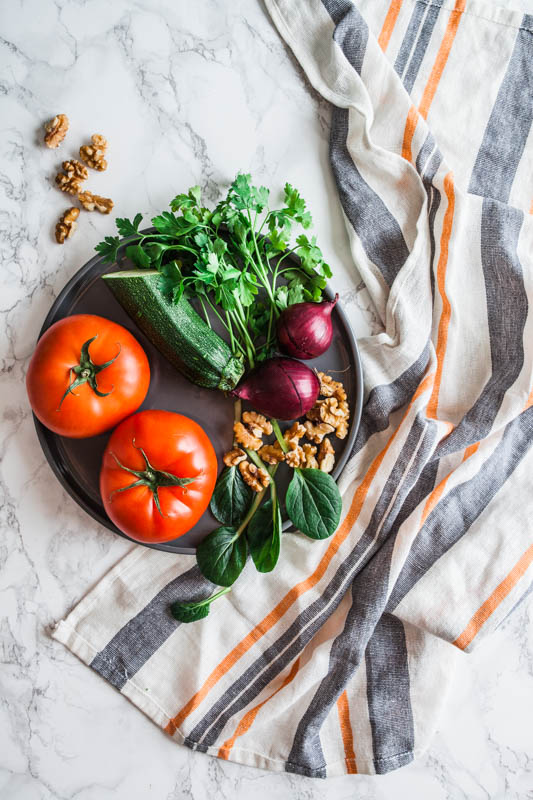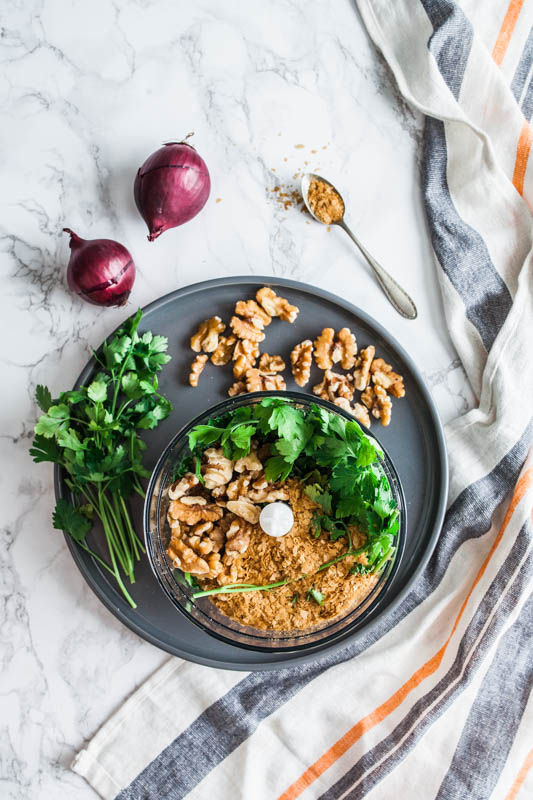 The man by the way didn't even know how to make pesto – let alone that it was that simple. Naturally the avocado had to give him some pesto lessons. He can now make a pesto at any time in case there's a food emergency.
Basically a classic pesto is made up of the following ingredients:
Pine seeds
Parmesan
Basil
Olive oil
Just add some salt, mix it thoroughly and you have the perfect pasta sauce, salad dressing or sandwich spread.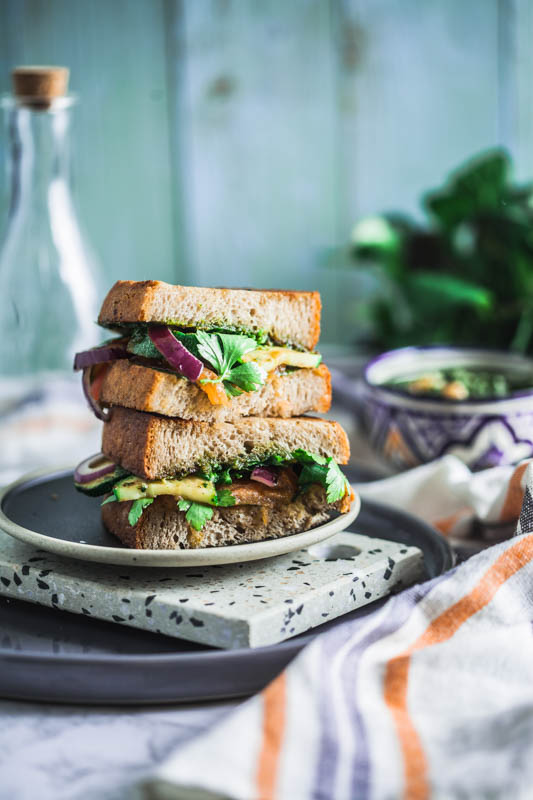 As pine seeds and parmesan don't always match the content of my wallet (and we don't want to get the store bought pesto) there are many ways to adjust this basic ingredient list:
pine seeds – instead of those – admittedly super delicious – seeds every other nut will do the job equally well. Walnuts, pecan nuts – or how about pumpkin or sunflower seeeds?
I personally loved walnuts and pecan nuts a lot.
Basil – well, not really expensive, but for a change you can basically try any other herb or ingredients such as rocket salad, kale, wild garlic or avocado.
Parmesan – sure, you won't be able to replace that unique, tangy taste but you will get tasty results with young gouda cheese or the like as well (don't judge me, that's how I use to deal with leftovers).
For all vegans and allergy sufferers there's a solution called 'Nutritional Yeast' (or yeast flakes).
Nutritional yeast makes everything better – at least if you define 'better' as 'cheesy'. Vegan pesto is therefore no challenge at all and as easily to prepare as classic pesto.
More ways to use nutritional yeast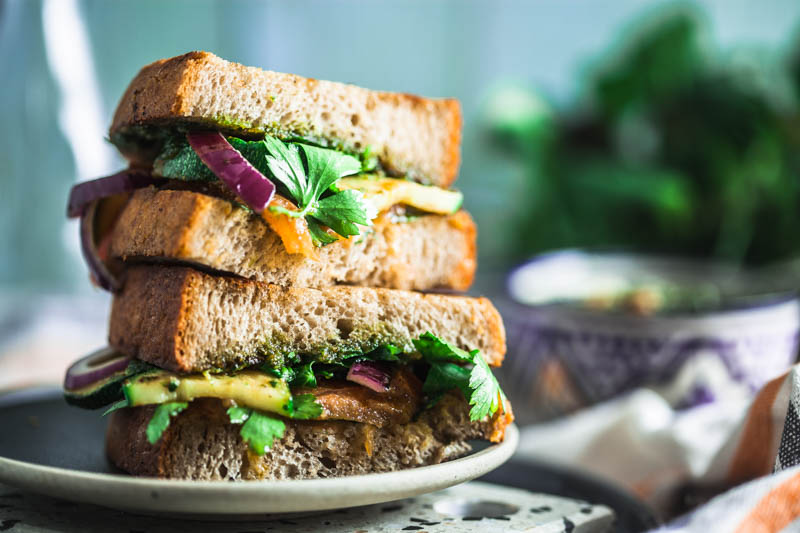 As I don't want to give you the walnut pesto recipe alone I've added a quick and easy recipe for a savoury sandwich. Roasted tomatoes, zucchini and onions, fresh spinach and – as a nice contrast to the slightly bitter pesto – creamy and sweet cashew butter. Seriously, try it!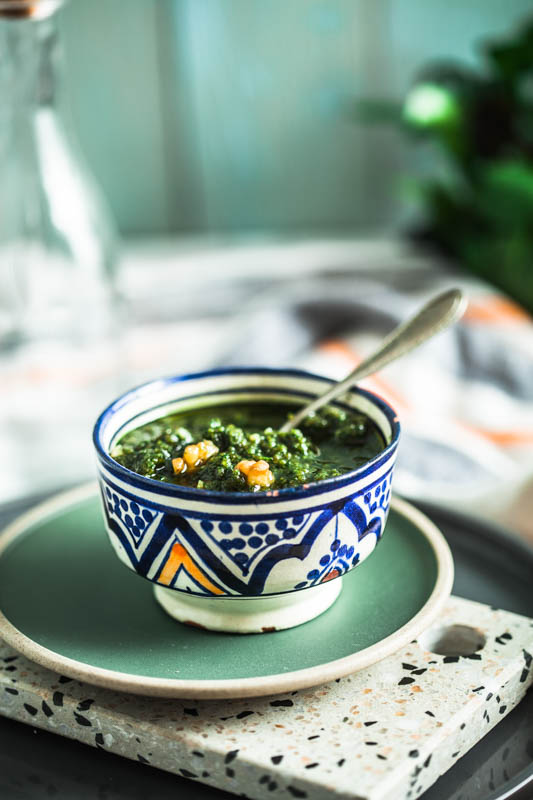 Vegan Pesto with Walnut and Parsley
Author:
Sabrina Dietz / Purple Avocado
Zutaten / Ingredients
PESTO
1 bunch / ~40g parsley
½ cup / ~ 60 – 70g walnuts
2-3 tbsp nutritional yeast
as required olive oil (~ 30 – 50ml)
salt to taste (½ tsp)
optional:
½ tsp sweetener such as agave syrup
SANDWICHES
1 garlic clove
4 thick slices of fresh bread
1 beef tomato
1 hand full of fresh spinach
~ 20g cashew butter (or almond butter) → recipe (basically anything sweet and creamy that gives a good contrast to the pesto will do fine – such as mayonnaise or the like)
½ red onion
½ zucchini / courgette
Zubereitung / Instructions
PESTO
Wash the parsley and add it as a whole whole to a high jar. Add walnuts, nutritional yeast, salt and some olive oil and mix everything until you have a creamy, soft mass. Add as much olive oil as needed to get the texture right and season to taste with more salt and yeast flakes if necessary.
SANDWICHES
Wash and slice the tomato and zucchini thinly. Salt from both sides and fry with some oil in a pan until nice and soft.
Remove the veggies and add the bread slices to the pan and fry them crisp and golden. Rub the inside with a garlic clove for that extra aroma.
Spread cashew butter on the lower slice and add some spinach leave on top. Spread it with tomato, zucchini and onions to your liking.
Coat the other slice of bread generously with your freshly made pesto and fold the sandwich together (and halve it if necessary).
Best served when still warm.
Pin it for later