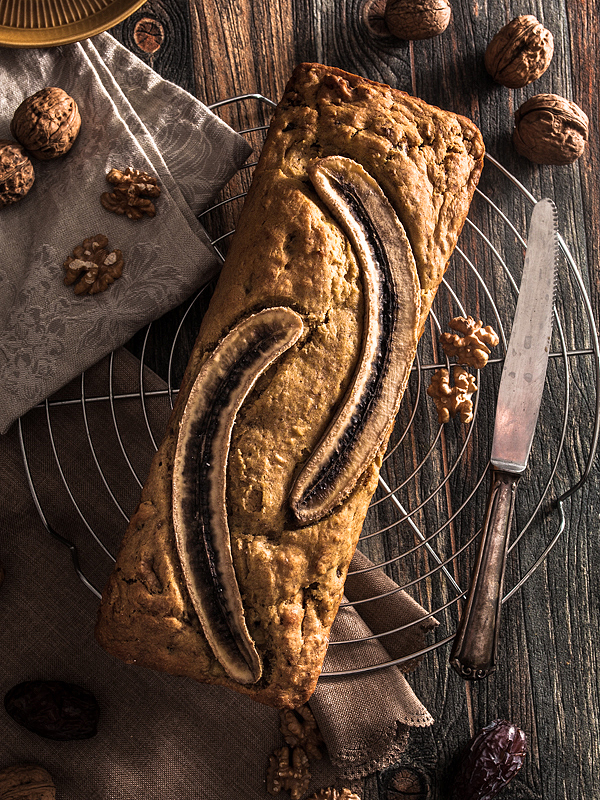 Happy New Year!
Having wallowed in gluttony for the last months it's probably time to consume salad and tea only for the upcoming weeks. It's time to glower at the box with white flour and refined sugar and banish them to the back row in the cabinet. In short – we're gonna detox all those nasty Christmas calories aways like there were no tomorrow.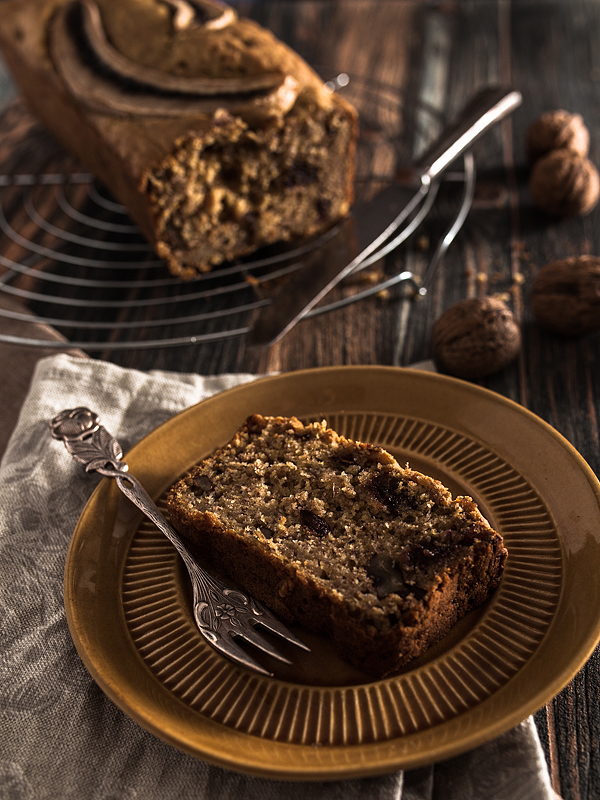 Good resolutions or banana bread?
Er, well, I'm not that badass and disciplined to be honest. I love carbs but carbs hate me. It's simple as that. And if I really start to quit carbs and sugar and all that nasty stuff let me at least enjoy a last bite of this pseudo-healthy banana bread to say goodbye to the fat winter time.
Other healthy stuff
3 Quick and Healthy Wrap Ideas
Chick Pea Salad with Curry Mustard Dressing
Avocado Salad with Tahini Dressing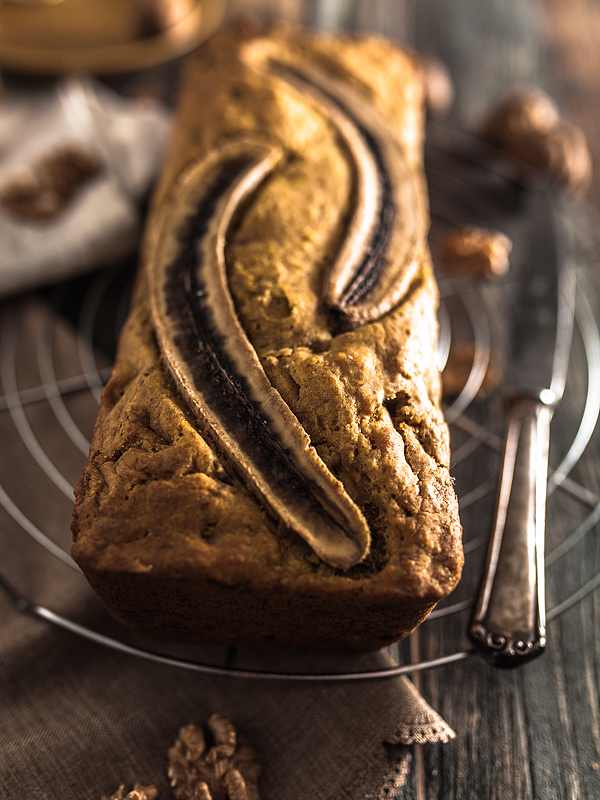 Why not both?
Actually my banana bread, which I've tried countless times already, doesn't even contain that much extra sugar. There's enough sweetness coming from the bananas and dates. I haven't tried it yet but I'm quite positive that this recipe will work without any added sugar as well. Once I've tried it I'll let you know. But even without adding the sugar this banana bread is a carb bomb for sure. But not everyone's metabolism is saving carbs like crazy and if you don't eat the whole thing in one and share instead you should be good 🙂
The term banana bread might be a little misleading by the way. Banana Cake would be a more fitting name. It's wonderfully fresh and juiy and soft and doesn't need any extra spreads. But you're still free to cover it with butter, jam, peanut butter or whatever comes to your mind. Just keep in mind that the pseudo-healthy touch will be gone then 😀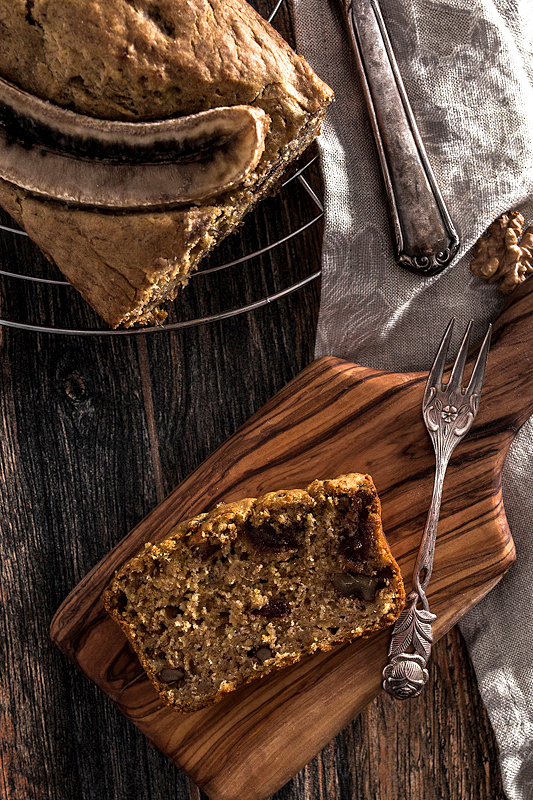 The queen of the dates
There's another important information before I give you the recipe. In order to get the soft, juicy and squishy result you should use the big and soft Medjool Dates. They are a game changer and the small, packed, hard dates are in no way comparable with them. Use them for give your banana bread the finishing touch.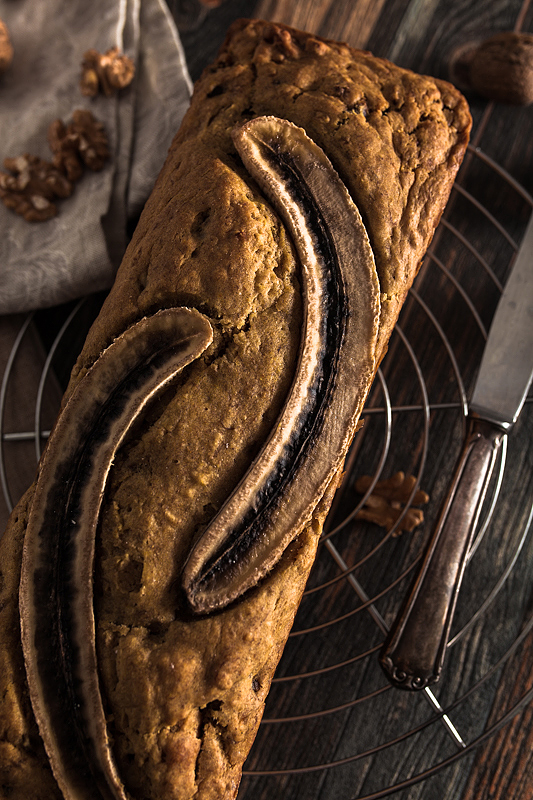 Banana Bread with Dates and Walnuts
Portionen / Serves:
for a 30cm loaf pan
Zutaten / Ingredients
200g margarine
2 tbsp cane sugar
4 eggs or egg substitute
3-4 overripe bananas (plus one for decoration purpose)


250g whole-grain flour
100g starch
ca. 5g natron / baking soda
6 tbsp vinegar


a hand full of walnuts
4-6 soft dates
Zubereitung / Instructions
Melt the margarine in the microwave and mix together with the eggs / egg substitute and the cane sugar. Peel the bananas and squish them with a fork (or your hands) to a mash. Add to the mixture.
Sieve the flour once and mix with the starch and natron / baking soda.
Add the flour-starch mix and the vinegar to the rest of the dough and stir it all together. Cut the date into small pieces and along with the walnuts fold it in the dough.
Preheat the oven to 180°C.
Add the dough to a greased loaf pan (25 - 30cm). Half a banana lengthways and slightly press them on the dough.
Bake the banana bread for 45-50 Minutes. With a spit of wood test if the dough is already good.
Take the loaf pan out of the oven and let it cool for a while before dropping it out of the pan.
More from the dark side
Brownie Cheesecake from Ramona, the photographing, travelling Diabetic
Pin it for later