Now that I have reviewed the Ethno Cookbook and equipped you with a savory wild rice patty recipe  it's high time for something sweet, don't you think? Oh yeah! So every year when the wild berry season begins there's no stopping me. While my fruit intake is rather poorly during the winter season – apples and tangerines are just not my thing – I could spent my whole salary in the summer months on fruit, especially on wild berries.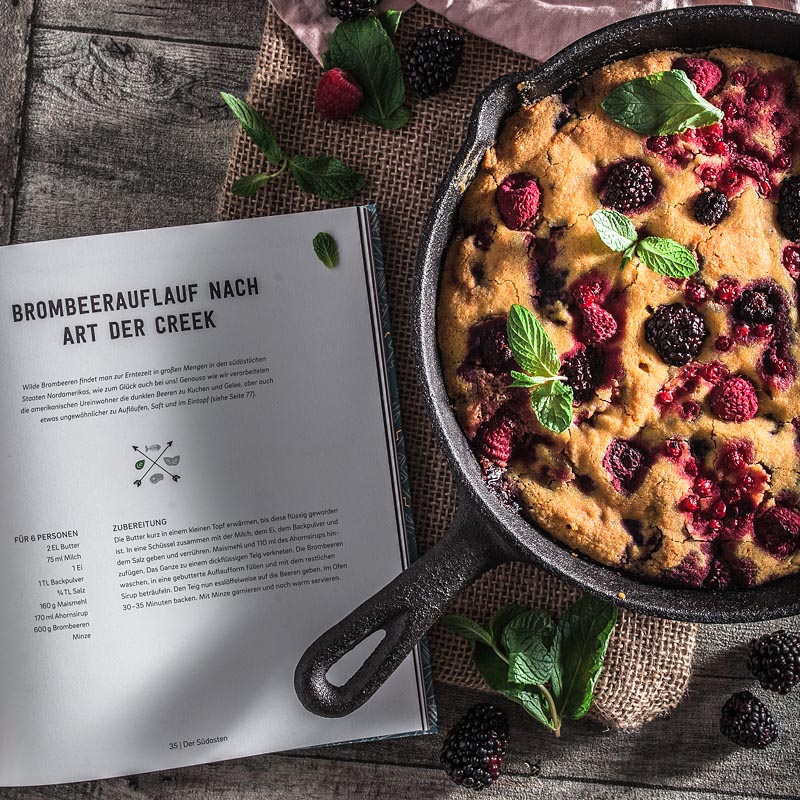 I love the sour kind of berries, black berries and redcurrants the most. Although the taste is on essential reason, there's also an emotional component why I love wild berries (and berry cake) so much. Berries taste like childhood. Back in the days in my grandparents garden, my brother, my cousin and I always picked all kinds of berries, red currants, raspberries, blackberries or strawberries directly from the bushes. I'm still being carried back to those warm summer days of my childhood when I'm eating a truss of redcurrents. Those days when we see-sawed so high that our grandma couldn't watch, when we played hide and seek and sailed on the hammock that was our ship in the wide ocean. Which food make you go all nostalgic?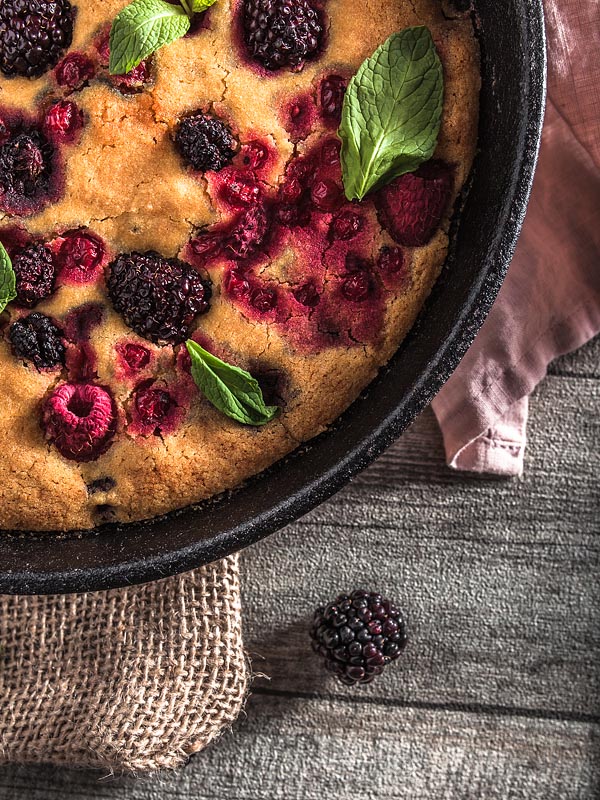 So for this particular emotional reason I decided to try this recipe from the book. In native America the blackberry was domestic as well and found its way into many different meals, both, sweet and hearty. I've adjusted the recipe for a wild berry cake slightly from the original to make it vegan. I replaced the egg with vinegar and natron (/ baking soda). I also used three kinds of berries instead of blackberries only. Apart from that I kept the recipe unchanged.
I made it for colleagues already by the way and was even asked for the recipe already.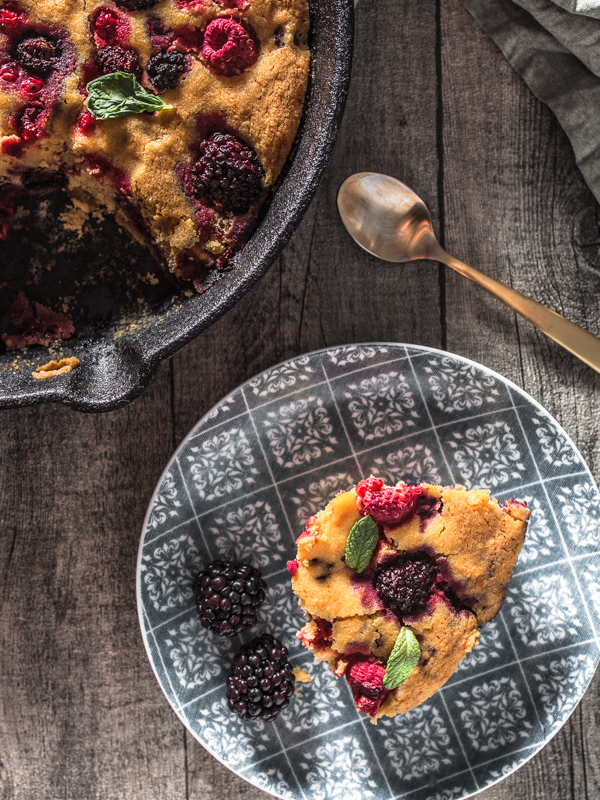 Vegan Berry Cake
Author:
freely adapted from the Ethno Cookbook
Portionen / Serves:
1 casserole dish, 6-8 servings
Zutaten / Ingredients
2 tbsp margarine
75 ml plant milk (eg Rice oder Almond)
1 tbsp vinegar
1 tbsp baking soda / natron
¼ tsp salt
160 g corn flour
170 ml maple syrup
200 g blackberries*
200 g raspberries*
200 g redcurrants*
some fresh mint leaves
*if you don't have any fresh produce you can definitely go for frozen berries
Zubereitung / Instructions
Melt the margarine in a pot or the microwave. With the milk, vinegar, baking soda / natron and salt add it to a bowl and stir it together.
Add the corn flour and 110ml of the maple syrup and knead it to a viscous dough.
Rinse the berries under cold water (if you go for frozen berries take them out when you start with this recipe and let them thaw out). Take a casserole / baking dish and grease it properly. Spread the berries in the dish evenly. Pour the remaining maple syrup on top of the berries.
With a tablespoon add the dough evenly on top of the berrys.
Bake the berry cake in the preheated oven at 180°C for about 30 - 35 minutes. If necessary use a tooth pick to check if the cake is already done.
Garnish the cake with fresh mint leaves and serve when still warm.