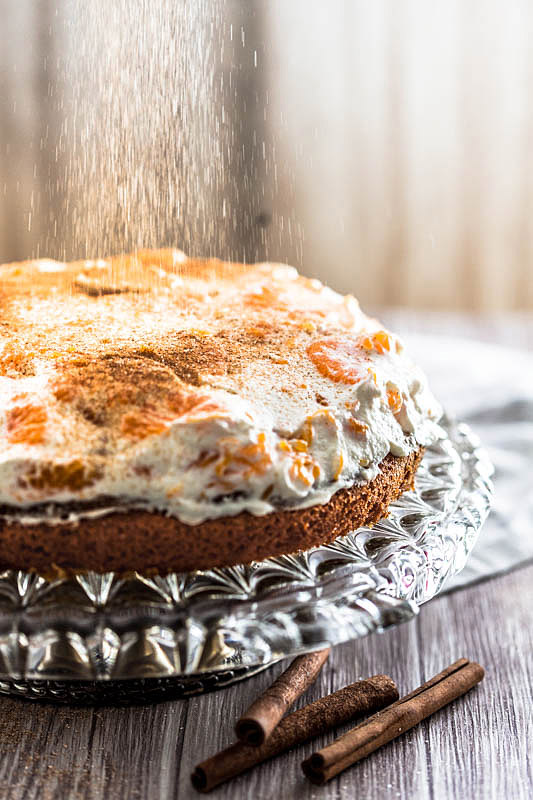 Some cakes accompany your whole life. Just like this fanta cake with mandarins and sour cream which couldn't be missing at any childhood birthday party ever. Next to my all time favourite fanta cake my grandma also had to bake my second favourite cake called 'Eat-till-you-go-nuts' a very heavy cake with vanilla pudding, chocolate and caramelized nuts – have you ever heard of it? What were your most loved childhood birthday cakes?
But why is it called Fanta cake?
This recipe is originally from a Dr. Oetker baking book and they brazenly named their cake after this infamous and globally known lemonade brand. Instead of simply naming it Orange-Lemonade-Cake. Seems legit, right? Fanta Cake just rolls off the tongue so easily.
The Fanta (or any other orange lemonade) is added to the cake base and makes it perfectly juicy, soft and fluffy. One cunny reader might now ask legitimately why not use sparkling water instead as a sugar-less and brand-neutral solution. But then it wouldn't be Fanta cake anymore – D'uh!
This recipe is not healthy!
Oh no! A cake recipe with white flour, endless amounts of sugar and ON TOP of all that sugary lemonade. A cake with a layer of sugared mandarins, heavy sour cream and even more whipping cream. To cap it all off it get's literally drowned in cinnamon and more sugar. Booh!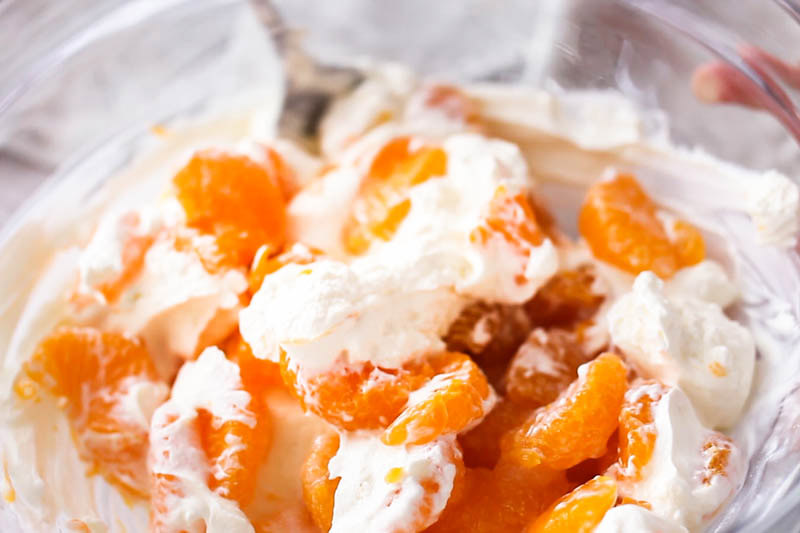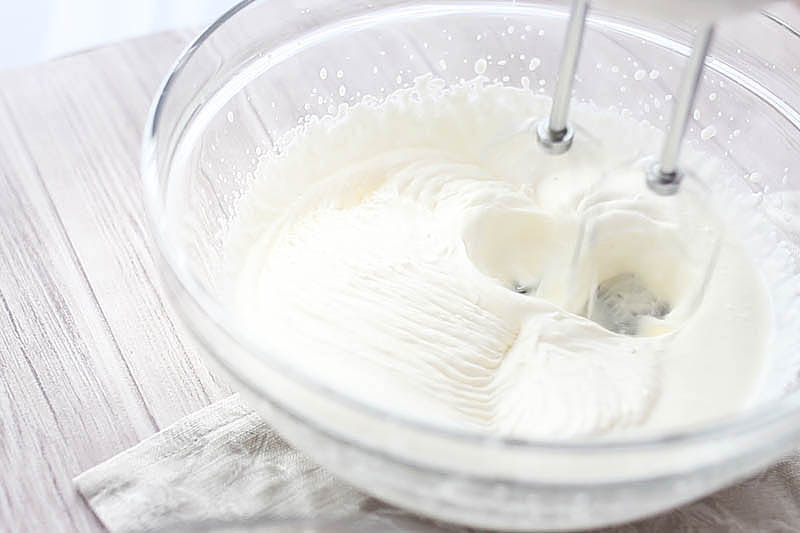 Disclaimer: This is not a Clean-Eating "I only eat 2 pomelos a day" diet blog.
Don't get me wrong, I LOVE healthy and nutritious cooking, but only stick to it 80-90% of the time. The other 10-20% are snack attacks, midnight-party-foods or consciously submitting to cravings just for the sake of treating oneself. (because yolo and stuff… you know)
And for this reason, for more reality on Purple Avocado, I have written this unhealthy, non-veganised recipe which I grew up with (literally, considering it was my birthday cake).
So – since you won't put this cake on your daily diet, you should be fine peeps.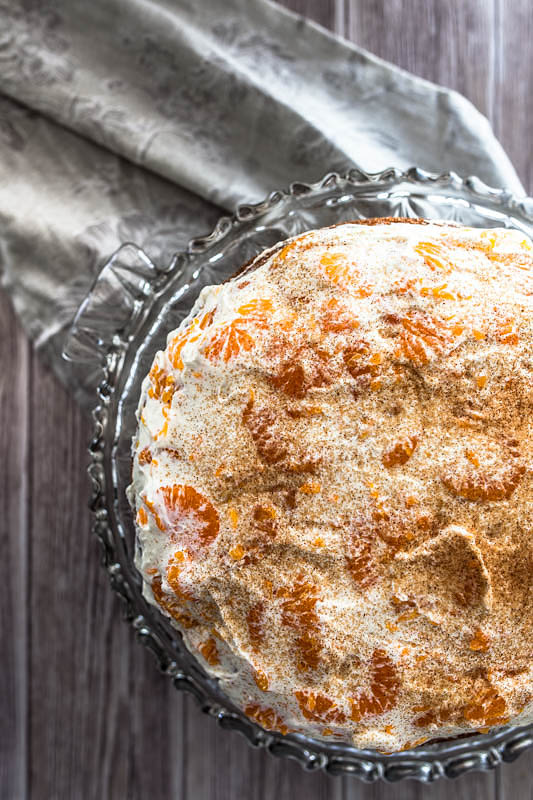 Fanta Cake in a springform pan or a baking tin
It's fairly easy to convert this recipe to different sizes. The original recipe is intended for a 26 cm (10 inch) round baking pan. My mom confirmed that you simply have to double the ingredients if you want to make a whole baking tin (which are as big as your oven).
For all other sizes and shapes you'll find plenty of helpful resources via Google.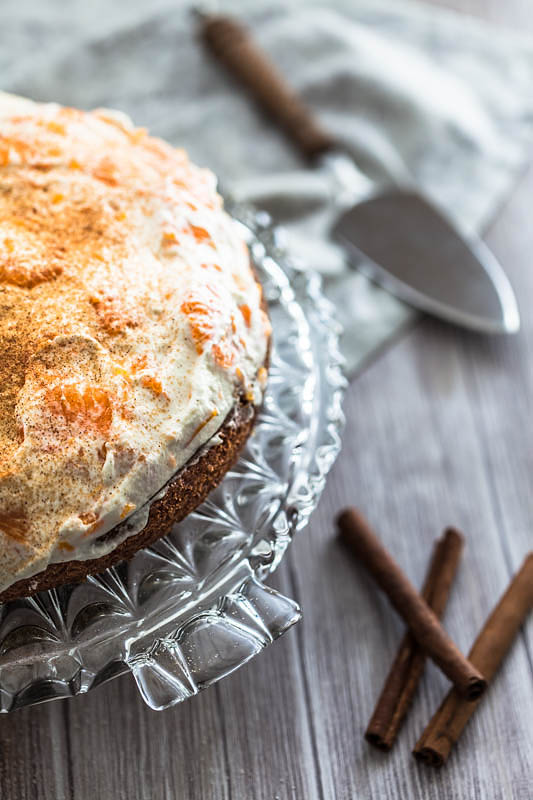 Fanta Cake with mandarins and sour cream
As this is a German recipe the Cup measurements are estimates.
Author:
Sabrina Dietz / Purple Avocado
Portionen / Serves:
for a 26cm / 10 inch baking pan (double the ingredients for a huge baking tin)
Zutaten / Ingredients
CAKE BASE
2 eggs
125g sugar (2/3 cups)
1 pack vanilla sugar (or pure vanilla to taste)
60ml oil (1/4 cup)
75ml Fanta or other Orange Lemonade (1/4 cup + 1tbsp)
125g flour (1 cup)
2 tsp baking soda / natrium
some margarine for the baking dish
CREAM-MANDARIN-LAYER
1 can of mandarins
300ml whipping cream
3 pcks vanilla sugar (or ordinary sugar mixed with some vanilla to taste)
200g sour cream (1 cup - a little less in fact)
optional: 2 packs cream stiffener
cinnamon and sugar mixed (to sprinkle)
BAKING TIME
ca. 25 minutes (test with a skewer)
upper-/lower heat: 180°C / 356°F
Gas stove: 2-3
Zubereitung / Instructions
Preheat the oven to 180°C / 256°F
BASE
Add eggs, sugar and vanilla to a bowl and whisk it up. Add oil and fanta and continue whisking it until foamy.
Mix flour and baking powder together and bit by bit mix it under the dough.
Grease your baking tin with some margarine and add the dough to it evenly.
Bake the cake base for about 25 minutes (test with a skewer) the baking time may vary depending on the size of your baking tin, so always make sure to check from time to time with the skewer.
CREAM LAYER
Whisk the whipping with vanilla sugar (and optionally cream stiffener) for about 5 minutes until stiff.
Add the mandarins through a strainer and let them drain. Mix them together with the sour cream.
Add the whipped cream to the mix and gently fold it in.
Spread the cream evenly on your (cold) cake base and sprinkle it with the cinnamon-sugar mix.
Anmerkungen / Notes
You can store this cake for 1-2 days in the fridge.
Want more cake?
A click on the photos will bring you directly to the recipes