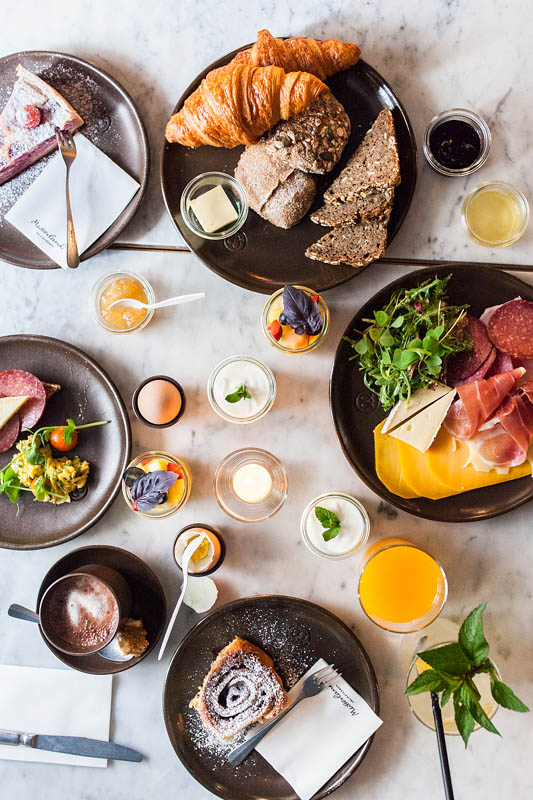 With breakfast being the most important meal of the day, we can't skip it in the Restaurant Guide Hamburg. If you're looking for a place to have a high quality breakfast you should definitely check out Cöllns Mutterland.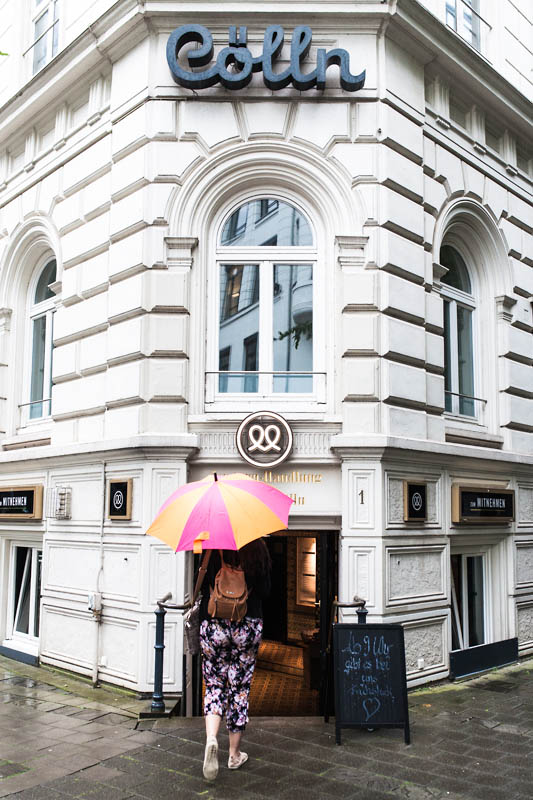 Here you can find a good selection of homemade cakes, bread and other baked goods, freshly pressed orange juice, delicious homemade lemonade and the best cinnamon buns, aka 'Franzbrötchen' that I've ever eaten and which has spoilt me until the end of time. No more cheap, basic Franzbrötchen for Sabrina.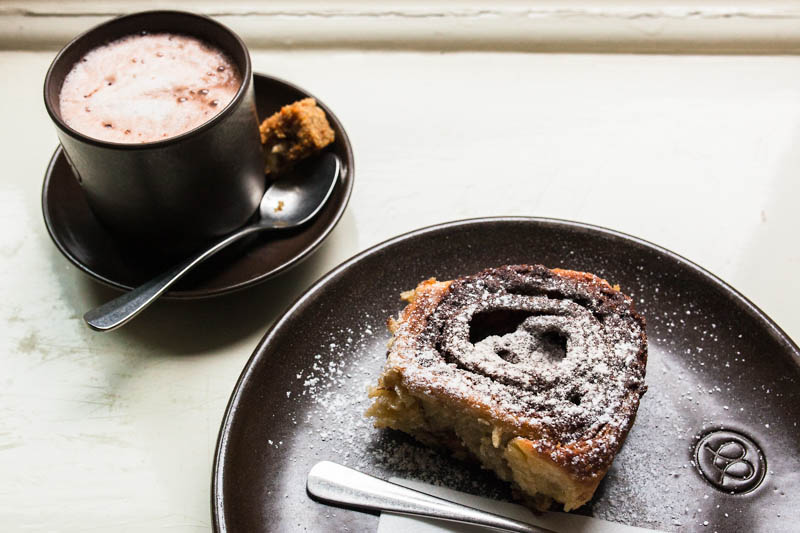 Do you like cinnamon? I love it and there simply can't be 'too much cinnamon'.
The Mutterland managed to fulfill my high expectations and spoiled us with the best cinnamon bun in existence. It is soft, juicy, buttery, fluffy and cinnamon-y! Careful, you might want to eat it each and every day. The very middle was so full of cinnamon it almost slipped towards the bitter taste. Almost.
But I'm losing myself in a puff piece of this charming and graceflul pastry. Let's continue and see what else the Mutterland has to offer.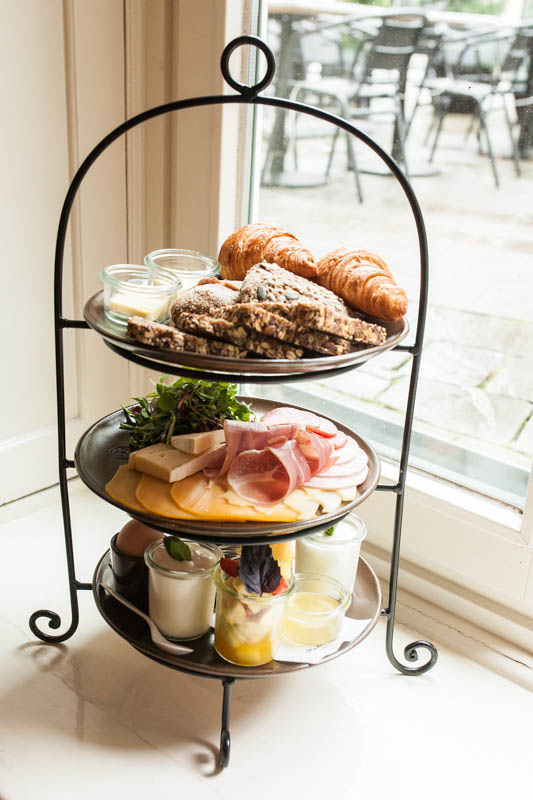 There is for example an equally delicious raspberry rhubarb cake that Jenny ordered. Fruity, slightly sour and soft and creamy. Just have a look at the buffet full of delicious cakes and decide spontaneously. Since this sponsored blogger visit I've occassionaly dropped in to get myself a cinnamon bun for to go.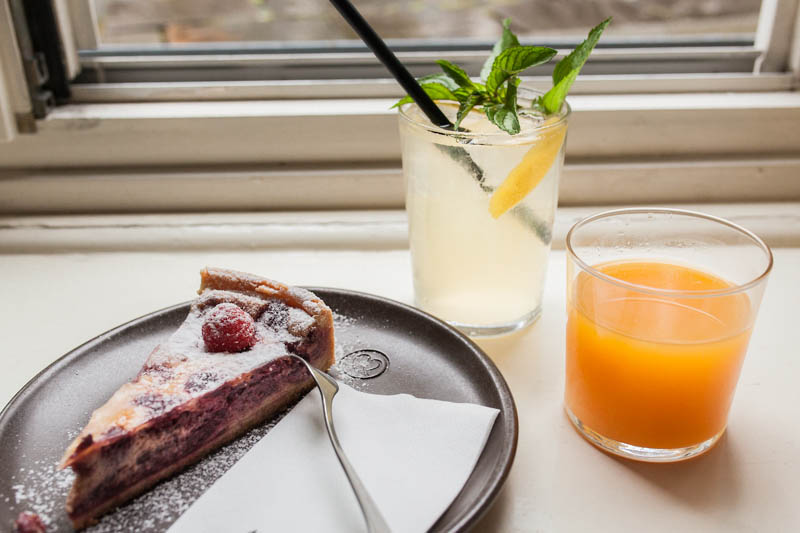 That day we decided to test the 'breakfast for two' which was served on a beautiful etagere. We got a croissant each, rolls and fresh bread as well as cold cuts, cheese and a delicious, nutty rocket salad and two homemade jams, honey, boiled eggs, yogurt and fruits.
The egg could have been a bit softer to my taste, the cold cuts were good, especially the 'beer ham'. My favourite from this platter was the homemade jam.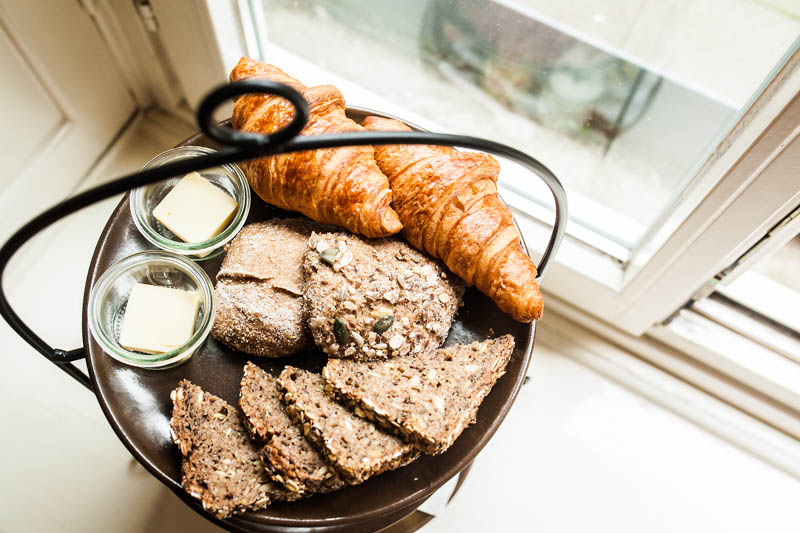 Additonally we ordered some scrambled egg with herbs and tomatoes which was served with some fresh bread and butter. If you're just stopping for a quick snack and want to keep it a little more healthy I can recommend the 'Bircher Müsli', with fruits. I tried this one at another visit.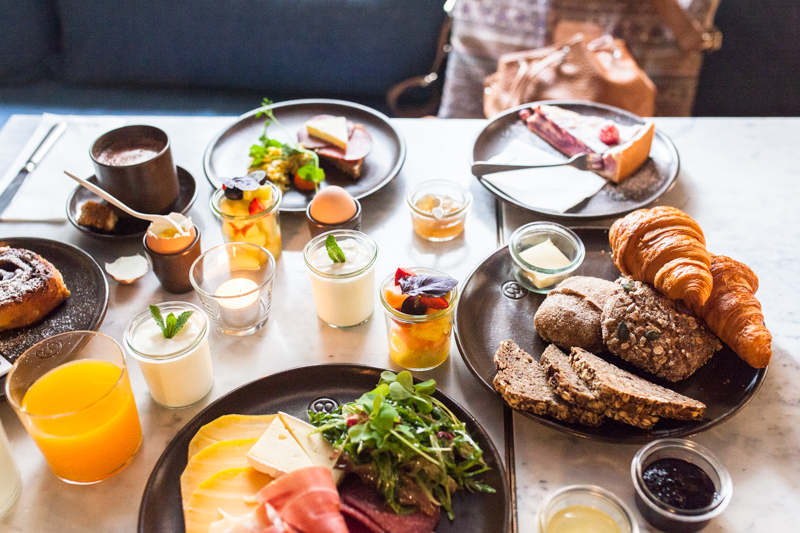 Certainly you can't savour all this deliciousness without a proper drink. So we tried the freshly pressed orange juice (fantastic!), homemade lemonade (dang that's good!) and a hot cinnamon chocolate. The chocolate was strong and chocolatey, not too sweet. To my taste I would have expected a little more cinnamon, but well, it must have been all in the cinnamon bun 😉
In sum: Mutterland
At the Cölln's Mutterland you can enjoy high quality breakfast let it be sweet, savoury or healthy.
Prices
Scrambled egg with herbs and tomatoes 6,40€
Breakfast for two 29,90€
Hot chocolate specialities 3,60€
Or have a look at the Menu (German only)
My recommendations
In case you missed it – Try the "Franzbrötchen"
lemonade
Website Cöllns Mutterland
Brodschrangen 1-5
20457 Hamburg
* A big thanks to Cöllns Mutterland for providing us with a free meal. However, this post represents my own opinion and wasn't recompensed else wise.
More from the Food Guide Hamburg
Zum Pinnen für später:
Pin it for later: