The first hike of my short trip to the Berchtesgadener Land lead me to Ramsau on a round trip to the lake Hintersee and through a magic forest. As an amateur hiker without any outstanding experience and less endurance than I actually planned to have, I always fear to over strain myself with goals set too high. Naturally the hike shouldn't be to easy , but getting into dangerous situations (my brain is quite capable of imagining very vivid and realistic incidents) shouldn't happen either.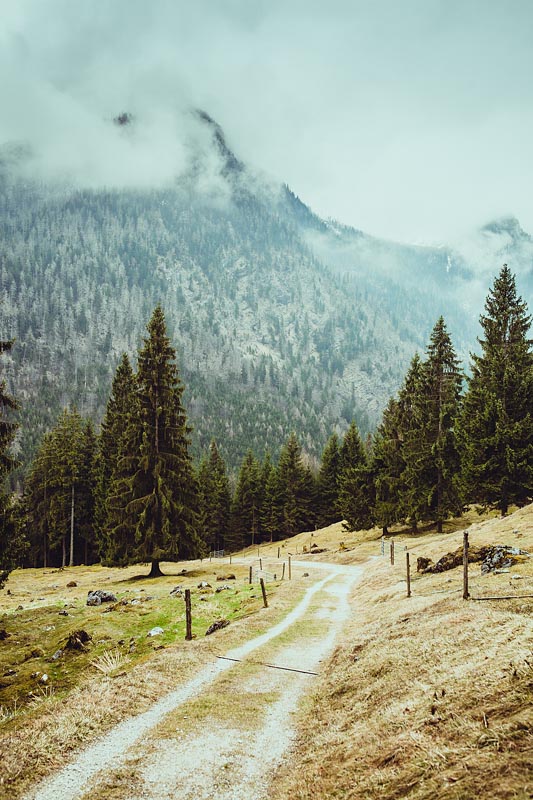 So I grabbed one of those hiking guides for beginners and started to mark those hikes that sounded manageable for me. Surely a mountain hike to the Watzmann would have been a little to much for the first day.
In the end I decided to go on a hiking round trip in Ramsau. Only 600 meters elevation climb, therefore a 15 km march. Most of the climb happens right at the beginning of the hike. So once you reach the amazing outlook down towards the lake Hintersee you've managed the hardest part. From that moment on you can basically concentrate on the beautiful nature only.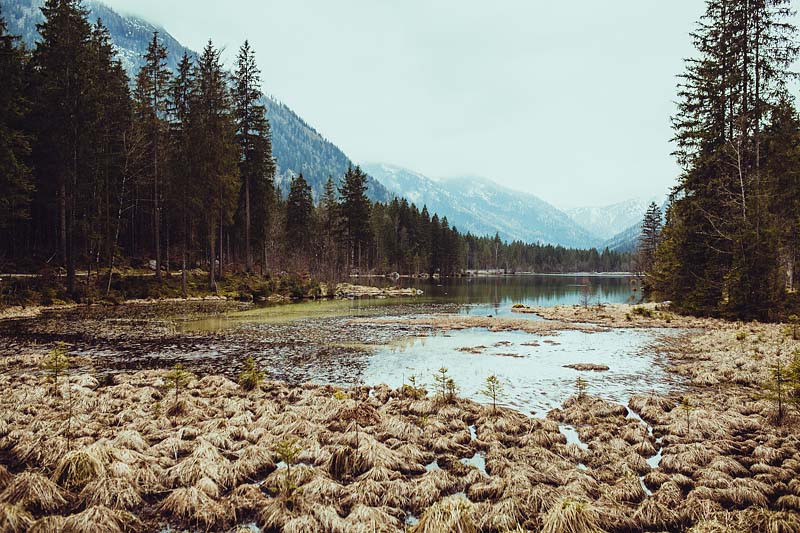 The hiking trail starts at the 'Wimbachbrücke' (Wimbach Bridge) in Ramsau from where you follow the signs to 'Wimbachklamm' or 'Wimbachgries'. If you like you can hike along the Wimbachklamm for a little fee. As it was to dangerous due to falling rocks when I was visiting I couldn't check if it is worth the money. I simply started the regular trail along the 'Schattseitweg' to the lake Hintersee.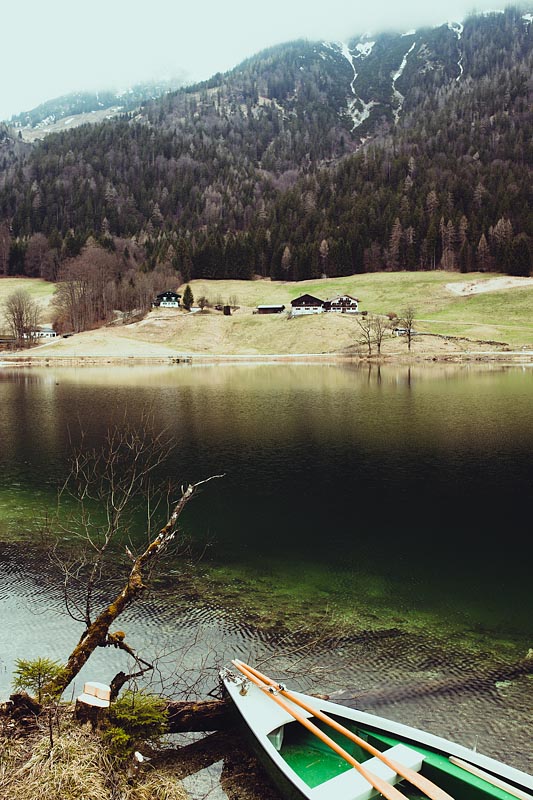 Once you've reached your destination, the lake Hintersee, I'd recommed a longer stay for a lunch break, a walk to the loo and taking lots and lots of photos. The Hintersee is super picturesque and offers many photo motives. I started surrounding the lake from the street side and therefore reached the toilets first. Next to a lovely café I had my lunch break and continued to further surround the lake. On your way back you will walk through the 'Zauberwald' (Magic forest), following the river Ramsauer Ache to the Town Ramsau. From there you follow the signs back to the 'Wimbachbrücke'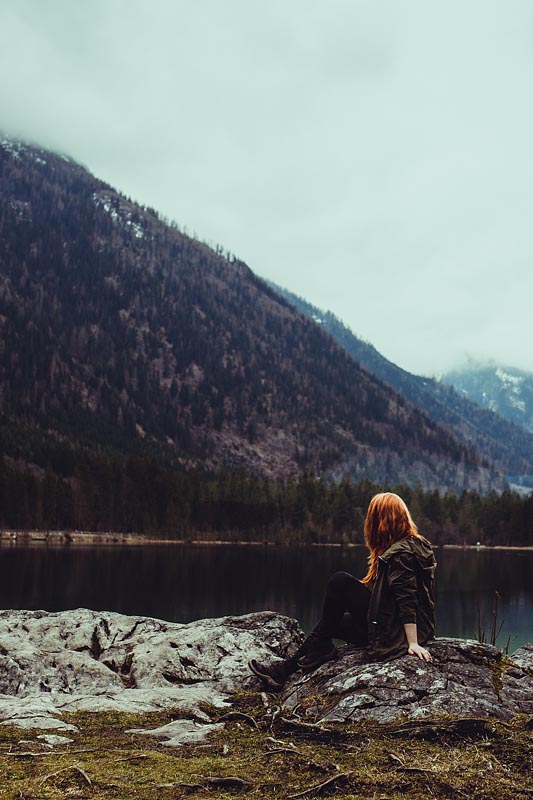 The return path was rather unspectacular, at least during the off season, as all restaurants, cafés and bars you're passing in Ramsau are closed. If you're coming here during the season you might want to stop for a drink or a huge dinner plate.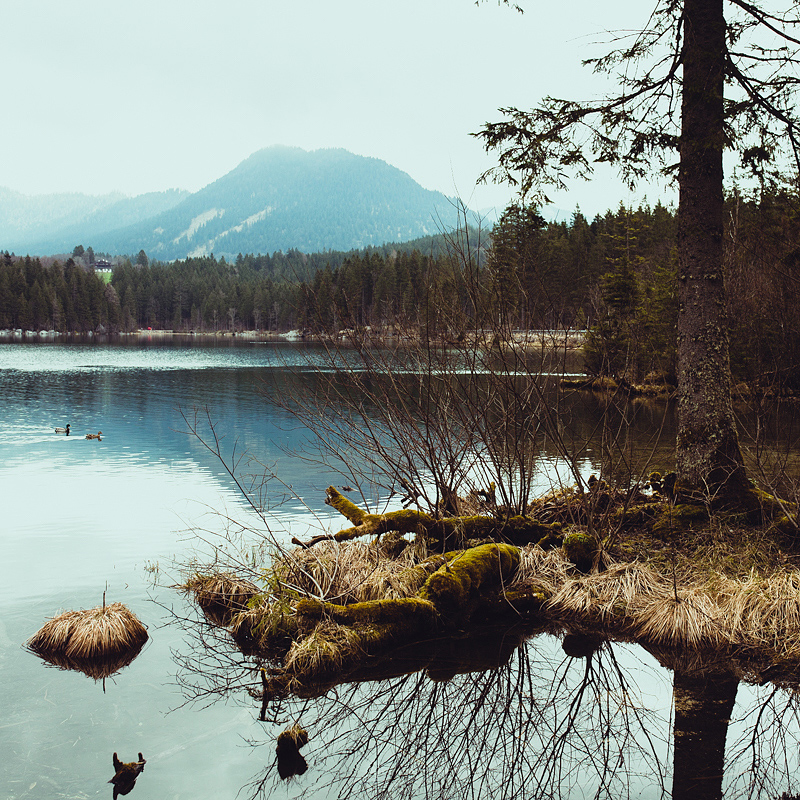 The paths are well marked and even for those of us who are mentally challenged when it comes to finding directions easy to get along.
Though my sports routine was definitely suffering during the last months I was perfectly capable of mastering the steep paths. If you're looking for a hiking trail to get into hiking this one is a great choice.
And as I've taken zillions of photos despite the thick fog here are some more impressions 🙂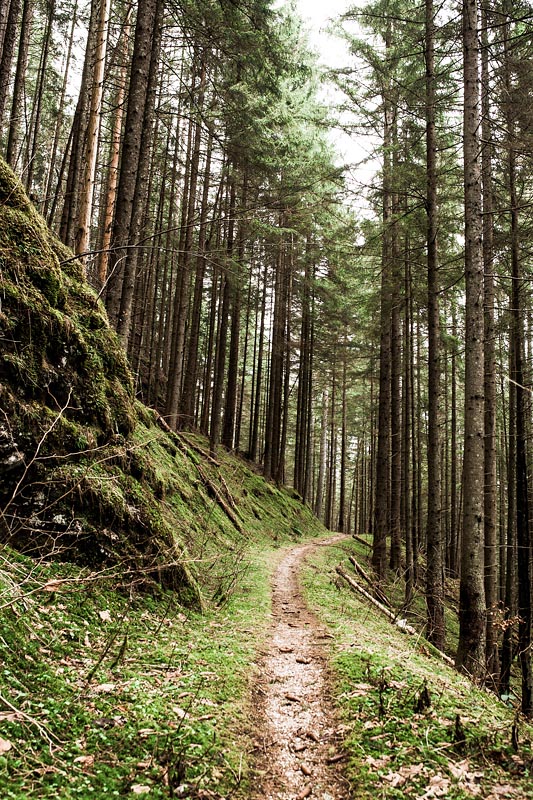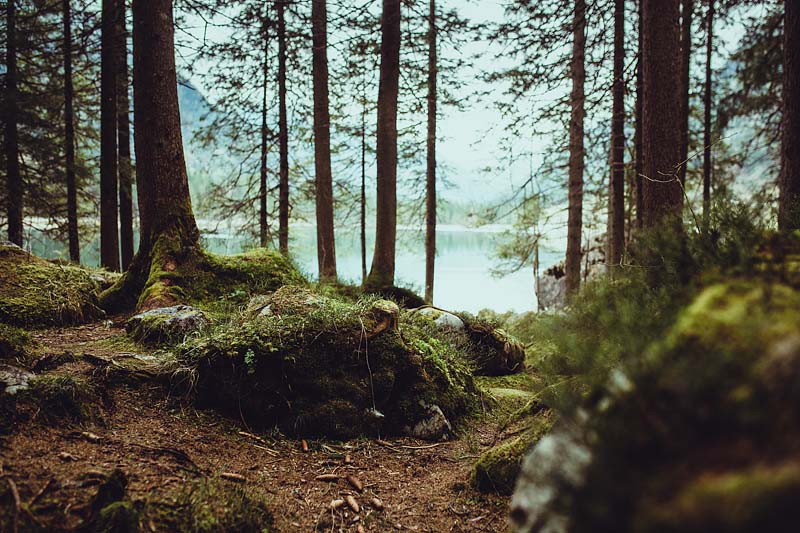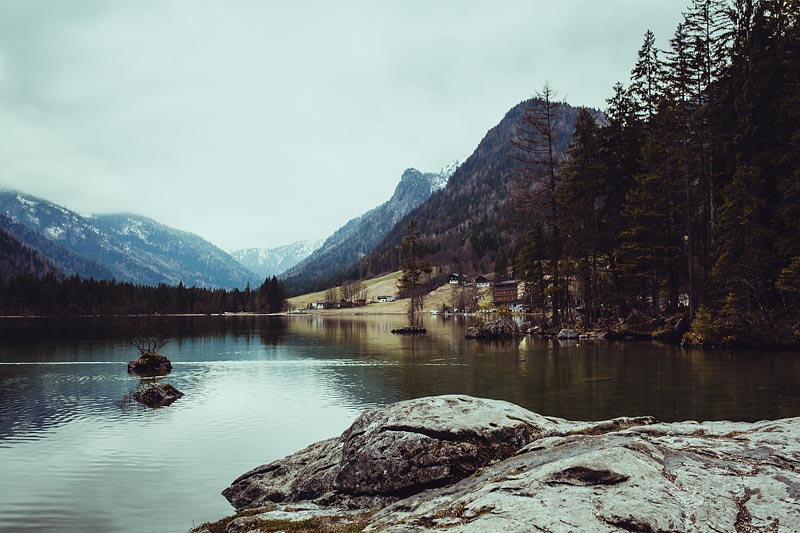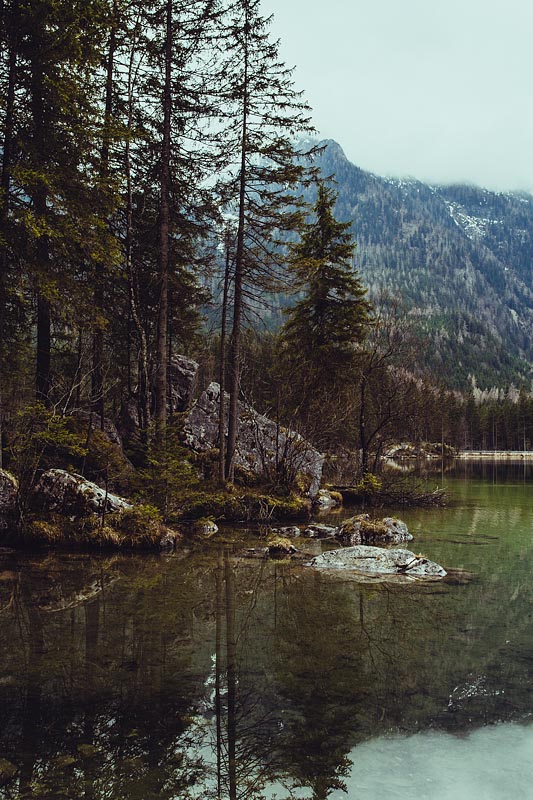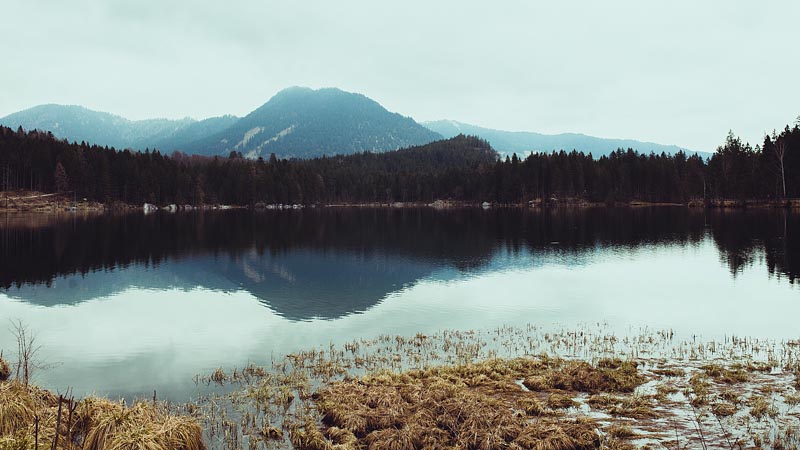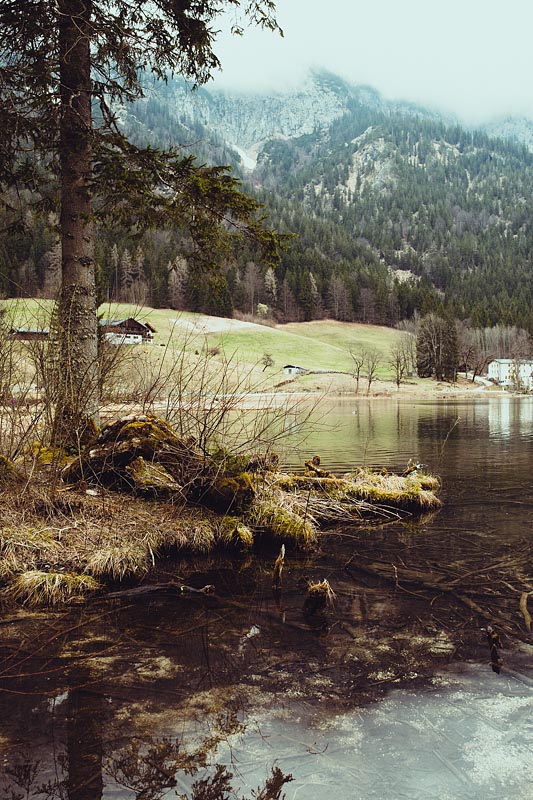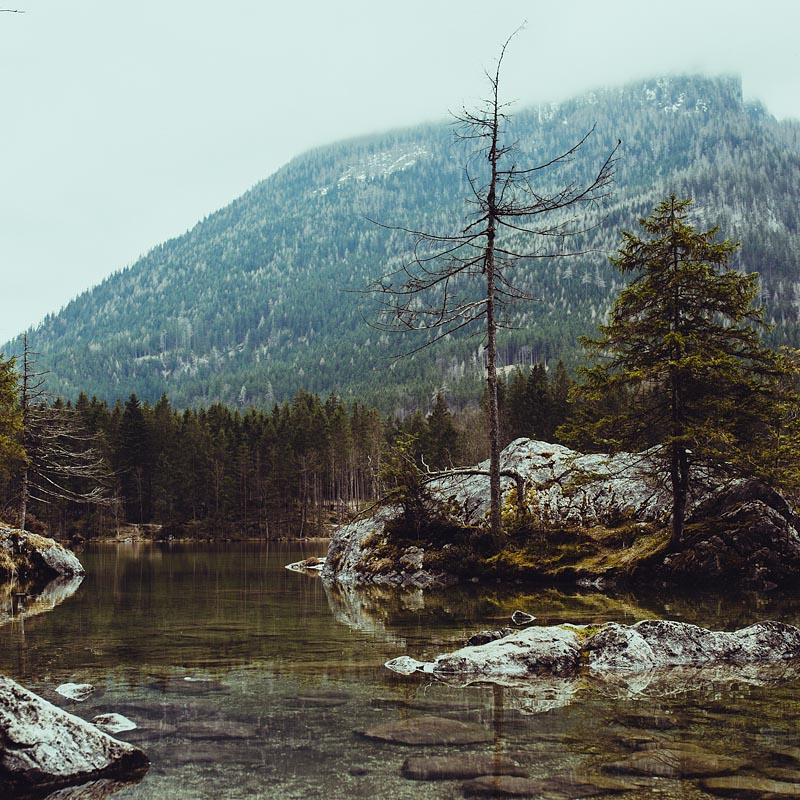 Pin it for later