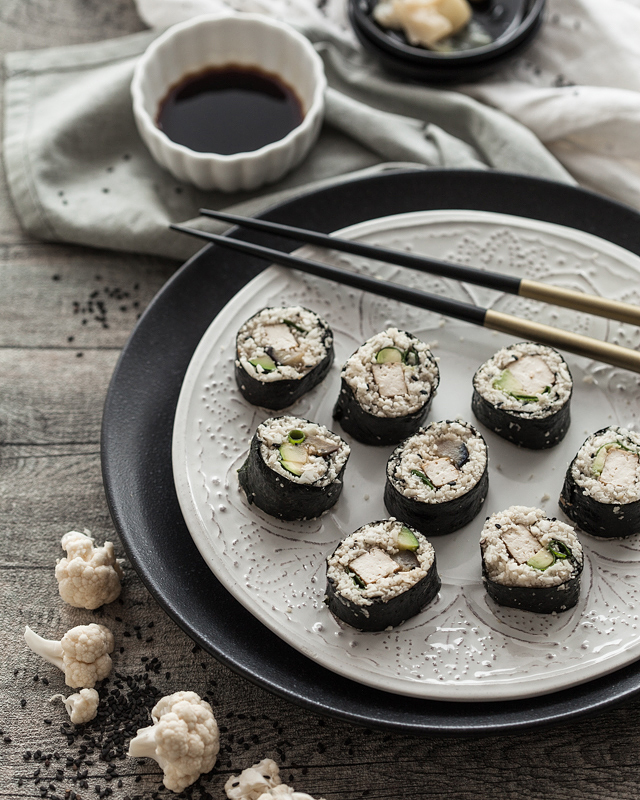 There are only a few vegetables that I dislike as much as cauliflower. Cauliflower is the sorry excuse for a boring, tasteless version of brokkoli. Cauliflower is the trite side dish to potatoes and roast. No, cauliflower and I will never become best friends. But there is one thing cauliflower is pretty good at – becoming the low-carb alternative to my ordinary sushi rice.
But enough dissing the poor cauliflower. Let's move on to cauliflower sushi instead. Cauliflower Rice is  a fantastically convincing alternative to rice not only on appearance. Rolled up as cauliflower sushi it tastes surprisingly like rice. The calories and carbohydrates differ though and it won't fill you as much as rice, meaning you can eat a lot more of it without feeling guilty. It's also rather quickly made, given that you have a food processor. Otherwise you have to start a kitchen workout with a grater but I think that just adds up to the extremely healthy vibe this recipe spreads.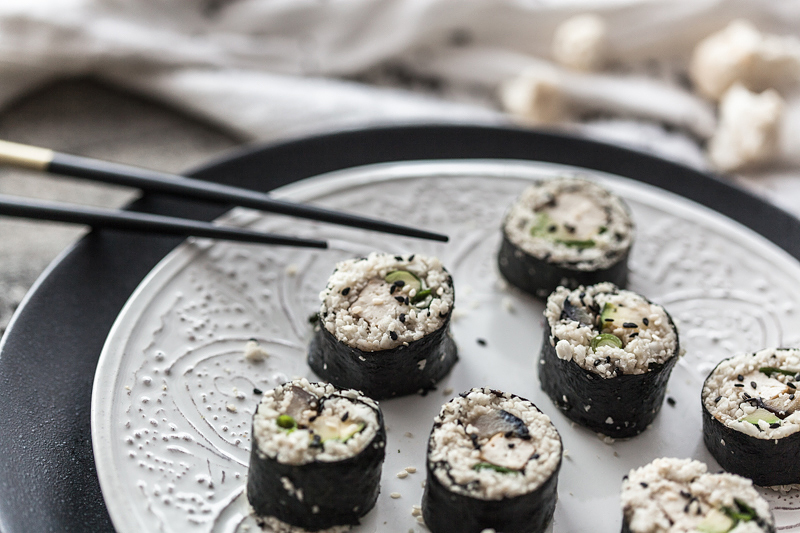 This recipe will be solely explaining how to make the cauliflower rice. It's totally up to you how you fill it up. For my cauliflower sushi I had fried tofu, egg plant and zucchini along with some spring onion and sesame seeds. I almost always add them to my sushi. If you want to know how to properly fry your tofu, i've got some other recipes for you:
[Simple Crunchy Tofu]
[Tofu in Mustard Sauce]
Cauliflower Sushi Basic Recipe
Zutaten / Ingredients
1 cauliflower
1-2 tsp rice vinegar
½ tsp salt
½ tsp sugar
1 tbsp Tahin, sesame paste (optional)
Frying oil (eg. Sunflower or coconut oil)
Zubereitung / Instructions
Remove the stem of the cauliflower and cut the cauliflower into small pieces. Rinse them off with water. Mince it either in a food processor or use a grater. The consistency should be fine, rice-like without large chunks in it.
Wrap the cauliflower rice into a towel or squeeze it in your hands to get rid of all the excess water.
Heat oil in a pan and fry the cauliflower rice for approximately 5 minutes until it has a light brownish / golden colour while constantly stirring. Mix the tahini under if desired. Repeat this step with all your cauliflower rice.
Add the rice to a bowl to let it cool down. Mix rice vinegar, salt and sugar together and add it to the bowl. Stir it carefully until it's evenly spread.
Once the cauliflower rice is completely cool you can handle it just like ordinary rice. I wouldn't recommend to make inside-out rolls though as the cauliflower rice isn't sticky enough for it.