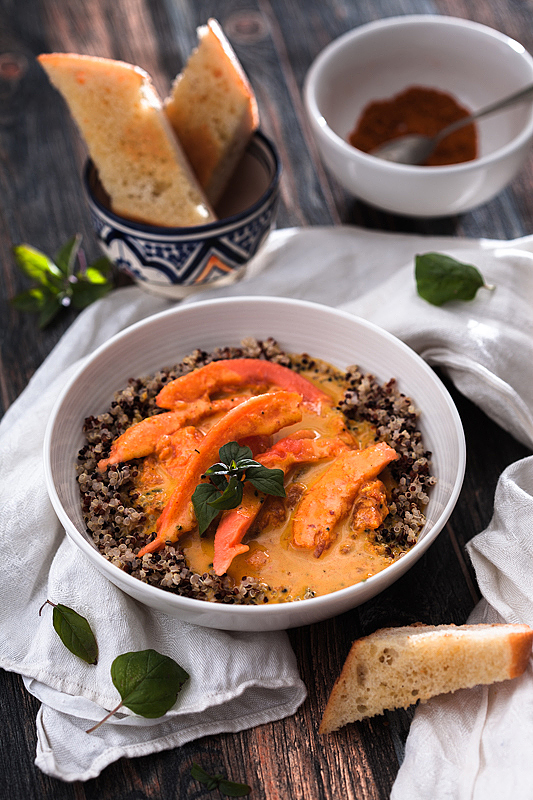 Hi guys!
Sun kisses from Fuerteventura! While you're reading this, I'm probably laying at the pool doing nothing. Or I'm on a road trip across the island. No matter what, I'm enjoying myself immensely on a newly to explore place in this little world 🙂
Travelling is my dearest passion amongst cooking and photography and I'm surely coming home with lots and lots of photos, which leads to the question: Are you interested in travel posts? I think I'd enjoy writing about my past trips and sharing the adventure with you on my blog.
Apart from travelling there's also some other exciting photo sessions in progress, all of them having more or less to do with food. So stay tuned and watch this blog flourish and grow <3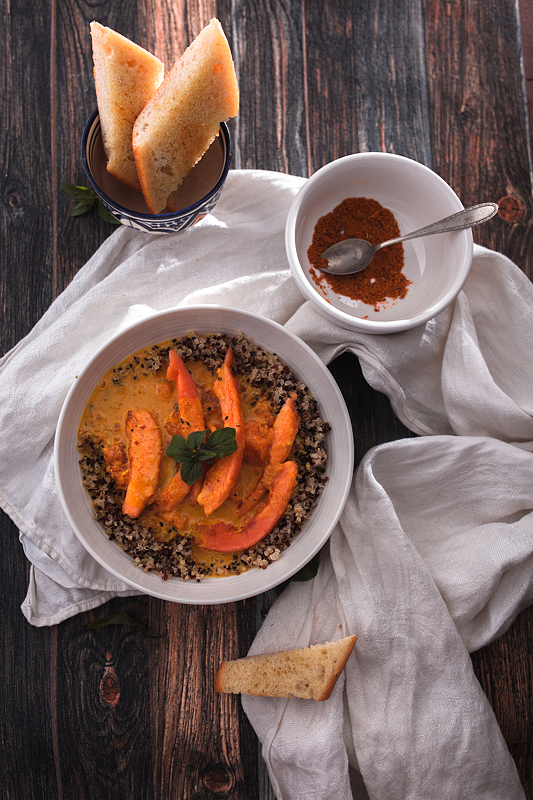 But let's talk about this papaya curry now, which I've prepared for you, so you won't have to go through this week without a new recipe.
It's another quick recipe, however not as quick as last weeks Couscous with Spinach, or the Wraps. But nevertheless an uncomplicated food with extraordinary strikes.
The fruity papaya supported by quinoa tricolore and creamy coconut milk.
When I prepare myself a curry, I usually do it spontaneously with the ingredients I still have at home. So if you don't happen to have access to papaya, or you simply don't like it, you can naturally replace it with other tropical fruits. I can imagine that mango and pineapple would taste amazing as well.
If you feel like some fruit won't stuff you sufficiently, you could also add some chicken.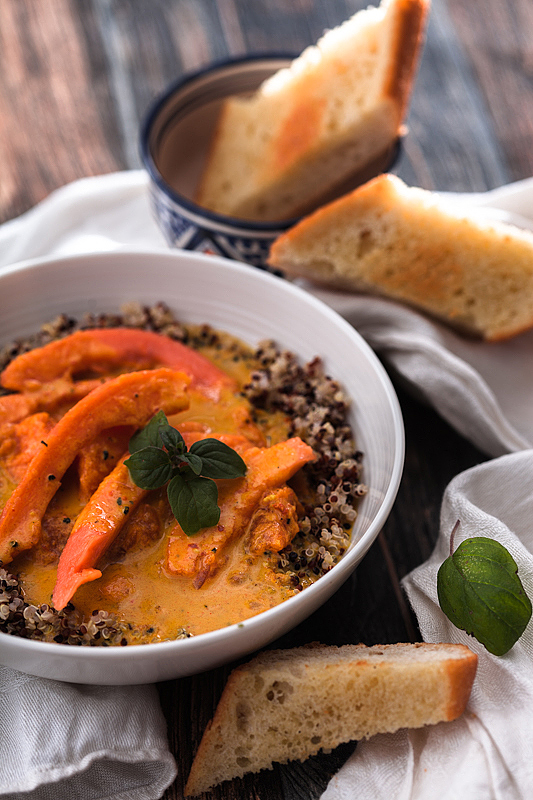 The flavouring for my papaya curry consists of 10 different spices, which I mixed randomly chose wisley. I didn't have any curry spice left, so I made my own mixture and I'm happy I did, because it tastes amazing.
The special thing about this papaya curry is by the way, that I used the seeds to make papaya pepper. Those seeds are god damn healthy and you should not throw them away. You simply remove them with a spoon, throw them in a sieve, rinse them and squish them between your hands to remove the majority of their thin, slimy skins. After that you let them dry on your window sill. Or you are a lazy ass motherfucker and simply roast them in the oven at 100°C for approximately 20 minutes. Then you can use the papaya seeds just as ordinary pepper. Try it!
Papaya Curry with Coconut Milk and Quinoa
An uncomplicated, fruity papaya curry with coconut milk and quinoa
Portionen / Serves:
1-2 Bowls
Zutaten / Ingredients
200-250 ml coconut milk
150 g quinoa (tricolore)
1 medium sized papaya (don't throw away the seeds)
Spice Mix
½ tsp chili flakes
1 tsp ground ginger
1 tsp turmeric
1 tsp paprika, sweet
1 tsp paprika, spicy
1 tsp cumin
1 tsp oregano
½ tsp papaya seeds, dried
½ tsp brown sugar
1 tsp (saffron) salt
Zubereitung / Instructions
Preheat the oven to 100° C.
Cut the papaya in half, remove the seeds and place them in a sieve. Rinse the seeds and squish them in your hands to remove the majority of the skin. Place the seeds on a baking sheet and roast them in the oven for about 10-15 minutes.
Scoop the papaya flesh out with a spoon and cut it into slices.
Rinse the quinoa and cook it with 250 ml of salted water for 10 minutes. Drain off the water and set aside.
Add the coconut to a pot and bring it to a boil.
For the spice mix add all the spices to a mortar and stir them together, including the papaya seeds.
When the coconut is boiling turn down the heat and add the spice mix. Stir it and bring it to a boil again. Add the papaya lastly and let it simmer for another 5 minutes.
Serve the curry in a bowl with the quinoa and enjoy.