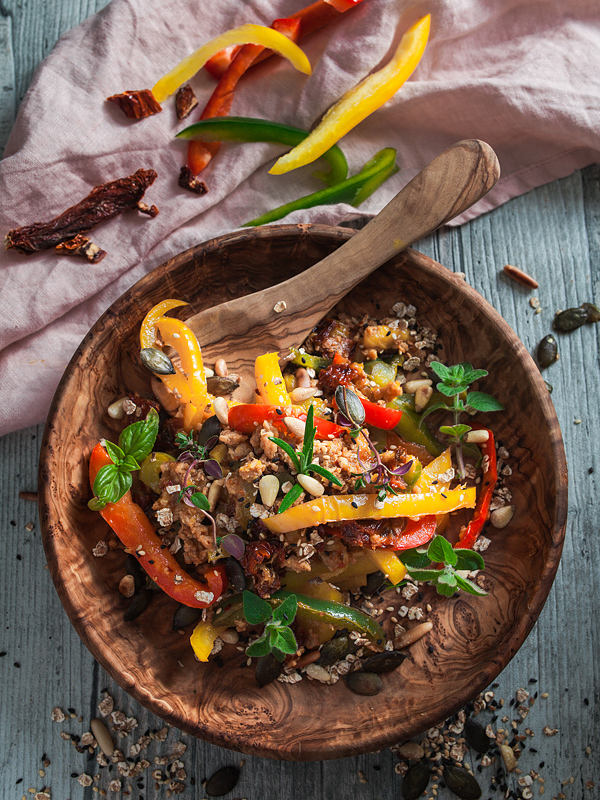 I had a realisation. Today was food revolution day and I was watching all those amazing chefs around the world creating healthy and fun recipes.They were so simple yet delicious and I realised that lately I'm concentrating too much on how I can make the most creative and awesome recipes in order to be able to compete with those hundreds of thousands of other food blogs. I'm stressing myself out to make the best recipes and take perfect photos.
Sometimes – in favour for SEO and driving traffic to my blog I forget what actually counts:
Cooking should be fun and easy. Learning to work with ingredients, being playful with them and combining them in many different ways, that's what it's about and that is the message I want to deliver on my blog.
I feel like I was a bit off focus, even though I honestly love all the recipes that are on my page right now. I just pressurised myself way too much when creating new content and that has to stop immediately.
The Food Revolution is a movement started by Jamie Oliver that focuses on healthy and nutritious food for everyone. I'm a huge Jamie Oliver fan since he started cooking in schools all over the UK and when he sued McDonalds he became my personal hero. Naturally it was no question that I would join the food revolution. Today I was watching several cooks from all different countries cooking live on Facebook. It was very inspiring and eye opening. Anybody, no matter what skills or budget they have, can cook healthy!
So today I have a recipe for you that was spontaneously created from the stuff I had at home. I tried to make it as healthy as possible, added seeds and grains for a marvellous source of good fats, included some soya granules for the proteins and of course veggies and fruit as well as lots of spices and herbs.
I had no idea how it would turn out, but as you see uploaded it to my blog which means that I felt quite successful and have the feeling that you might like it too. The point about this recipe is to show you the simplicity of healthy food. If you don't have one or the other ingredient at home, try a different one. Be playful and inventive and don't worry too much about the outcome. You will get to know which ingredients go well together and which don't.

Jamies Food Revolution inspired grilled Peppers
A playful and creative little recipe that should not be taken too insular. Replace ingredients that you don't have at home or don't like with others that you think might work. Don't worry too much and have fun.
Portionen / Serves:
1 bowl
Zutaten / Ingredients
Pan Mix
Peppers in red, yellow and green, sliced
half a mango, diced
a piece of ginger, minced
some dried tomatoes, diced
some soya granules, soaked in water for 5-10 minutes
Seeds and Grains
Pine seeds
Pumpkin seeds
Sesame seeds in white and black
Oat flakes
Herbs and Spices
Fresh oregano, rosemary, thyme and basil
Cumin
Paprika sweet and spicy
Chili flakes
Coriander
Salt
Zubereitung / Instructions
Heat up a pan and roast the seeds and grains first. Once they're crunchy and golden put them aside
Drain the soya granule off the excess water, add oil to the pan and fry the soya granules. Add salt, cumin, paprika, coriander and chili flakes and mix throughly.
Add the peppers, dried tomatoes and ginger and fry for a while.
Add the mango and fry until it gets soft and squishy.
Spread your pan mix on a plate, drizzle the seeds and grains on top and garnish with the fresh herbs to taste.
Oh yeah, sometimes it's so easy. Have a great weekend everybody!