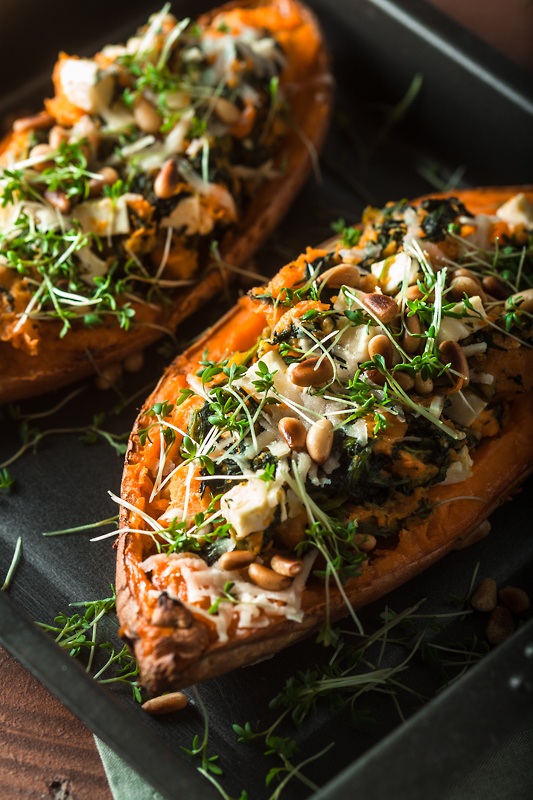 I have a thing for stuffed vegetable, let it be egg plant, zucchini, peppers and even mushrooms. It is such a convenient, comforting food that satisfies even the meat lovers (well, sometimes we fill it with ground pork, but even without it, they are happy… I guess). Being also a huge fan of sweet potatoes it surprised me that I haven't stuffed them yet. So far I had mashed sweet potatoes, sweet potato sushi, baked sweet potato, sweet potato soup, sweet potato curry and sweet potato fries (I'm literally feeling like Bubba from Forrest Gump right now). No stuffed sweet potato. Until now. When I did my grocery shopping and came across some very giant representatives of their kind something in my head clicked and I had this great epiphany of a beautifully stuffed sweet potato with spinach, feta cheese and pine seeds. Just perfect.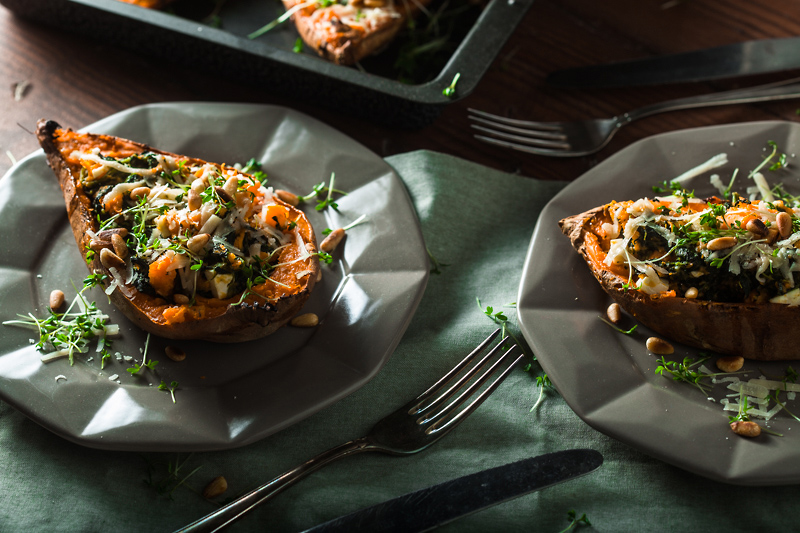 Stuffed Sweet Potato
Without any further delay I grabbed the biggest, most beautiful sweet potatoes, got my other shit done and started to craft in the kitchen. Unfortunately I underestimated the time, the sweet potatoes would need to be cooked completely. It took ages even though I poked holes with a fork into them. After an hour or so I had the brilliant idea to cut them into half which actually helped (should have thought about that earlier). The rest was quite quick and simple, which is why I would declare this recipe as fairly easy and quick nevertheless. The stuffed sweet potato bakes on its own and you can pursue other businesses during this process.
*Update 14.07.17: Gazillions of stuffed sweet potatoes later I've adjusted and optimized the recipe quite a bit and thus also reduced the cooking time 🙂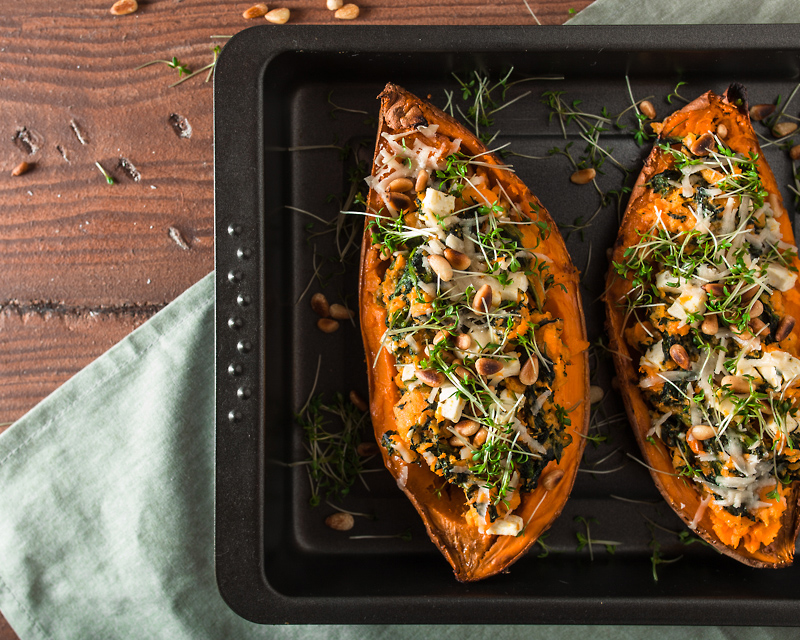 Stuffed Sweet Potato with spinach and feta
The measurements are simply an estimate or a guideline for you. It depends on the size of the potatoes and on your skills to stuff them up as much as you can.
Portionen / Serves:
1-2 servings
Zutaten / Ingredients
for the potatoes
2 big sweet potatoes
salt & pepper
for the stuffing
about 50g feta cheese
20-30g pine seeds
grated parmesan
cress
for the spinach
2 hands full of fresh or frozen leaf spinach
2-3 tbsp grated parmesan
1-2 tsp cream cheese (optional)
Zubereitung / Instructions
Preheat the oven to 200°C (392°F) and cover a baking tray with parchment paper
Wash and dry the sweet potatoes. Halve them and cut into them roughly with a knife to reduce the cooking time.
Depending on the size it may take from 40 - 60 minutes to cook them. You want them nice and tender. If unsure prick them with a fork. If you can pull it out easily the potato should be fine.
While the potatoes are cooking heat a pot on your stove and add spinach with a little water (or oil) to it. Add parmesan, cream cheese and stir all the ingredients together. Season with salt & pepper to taste. Put the pot aside.
Once the sweet potatoes are cooked take them out of the oven Take a spoon and scoop them out.
Add the sweet potato mass and the feta cheese to the spinach and mix it all together.
Now spread this stuffing equally into your four halves and top it with some more grated parmesan.
Put the potatoes into the oven for another 10 - 15 minutes until the cheese is molten.
During this time you can heat a small pan and roast some pines seeds.
Take the sweet potatoes out, serve them on a plate and top them with cress and pine seeds.
More Sweet Potato Recipes
Pin it for later