Healthy Quinoa Sushi
There's already quite a number of sushi recipes on this blog and yet I haven't shared with you one of my most favourite creations, like seriously? Let's catchup on this right now, eh? After all it's also a combination I usually make for sushi newbies as it's surprisingly suitable for the mass and everybody liked it so far.
When I invite friends for cooking together chances are high they will be asking for sushi. I became quite the infamous sushi person by now. In order to keep the continued sushi rolling exciting for me as well I love to experiment with lots of different combinations. Especially when it comes to the ordinary sushi rice I like to swap it for other ingredients. This quinoa sushi e.g. has a nutty taste and a grainier texture than the basic rice sushi and comes up with other great superfood trumps. Lots of proteins, fibre, minerals – but whom am I telling this? The amazing advantages of quinoa should already be known widely.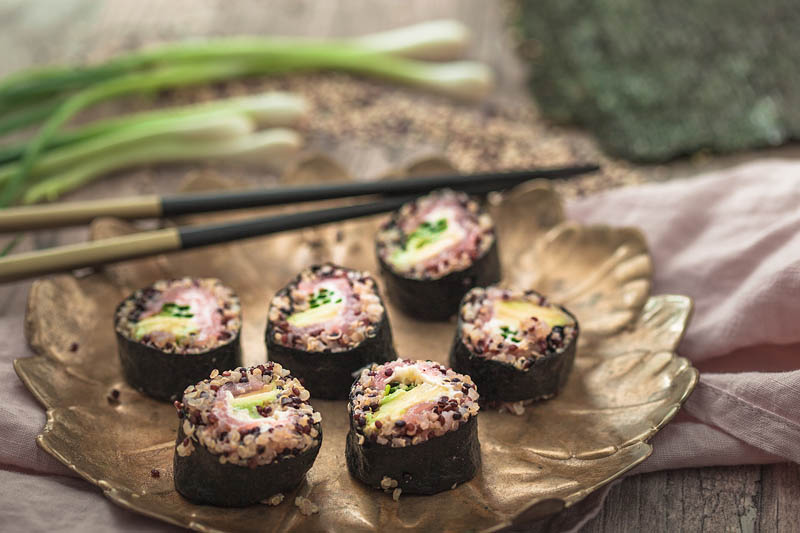 So let's move on to the filling that was loved by all my friends so far. The ordinary smoked salmon plays is the central ingredient, along with creamy avocado. It seriously doesn't have to be expensive raw fish for your sushi. Smoked salmon tastes great either. We don't need to reach the high standards of traditional, time-honoured sushi restaurants at our home kitchen. No, we are playful and curious and simply try out whatever we like. Avocado and salmon are even better when combined with herbal cream cheese which makes your sushi super creamy and juicy. In order to get a little more diversity in texture we're adding a fresh spring onion for the crispness. That's all you need for the perfect beginner sushi.

Quinoa Sushi mit Avocado und Lachs
Sushi doesn't necessarily mean raw fish and rice. How about quinoa instead of rice and some creamy avocado, cream cheese, crip spring onion and smoked salmon for a change?
Portionen / Serves:
1-2 servings
Zutaten / Ingredients
about 100 - 150g Quinoa Tricolore per person
herbal cream cheese
spring onion
avocado
nori sheet
~ 2 tbsp rice vinegar
some salt & sugar
Zubereitung / Instructions
Rinse the quinoa thoroughly with cold water and add it to a pot with the double amount of water and bring it to a boil. Turn down the heat and let it cook for about 15 minutes. The quinoa is done when the skin slightly peels off. Drain off the water and add the quinoa to a flat bowl.
Mix rice vinegar with about ½ tsp of salt and sugar and stir it under the quinoa. Bevor you begin to roll your sushi the quinoa has to cool down completely. Nori leaves don't like heat and rip apart.
Wash the spring onions and split it into thirds. Halve the avocado, remove the seed and cut stripes into it. Scoop it out with a spoon and put the avocado stripes aside.
Place a nori sheet on your sushi mat and spread the quinoa evenly on it, leaving out about a cm on the top and bottom.
Cut a slice of smoked salmon into stripes and place it in the middle of the nori sheet. Spread a layer of cream cheese on top. Add the avocado and spring onion.
Hold the filling in form with your fingers and roll it together. If the nori doesn't hold by it self wet the edge slightly with water.
Press the roll together firmly - but soulfully.
Cut into bite-size pieces.
Quinoa sushi goes well with soy sauce, wasabi and pickled ginger.
Pin it for later: