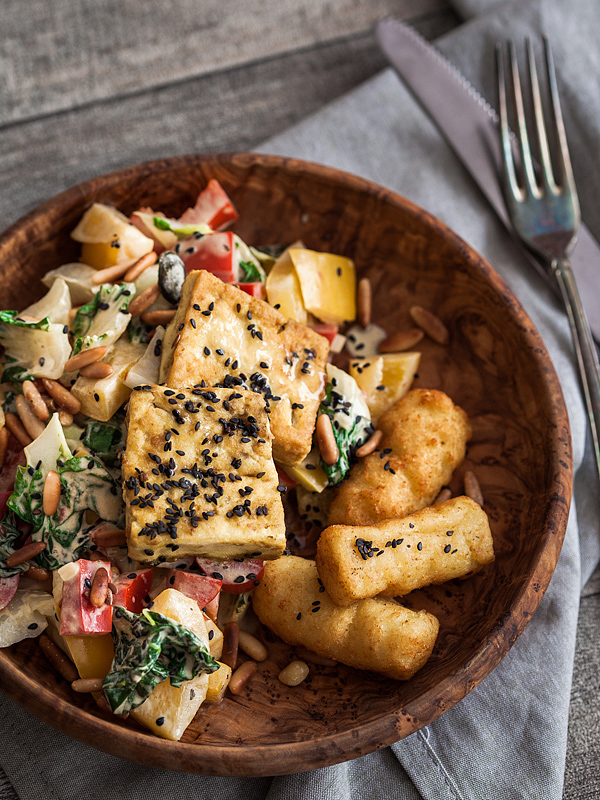 Well then, do you have some tofu left even after after my latest two recipes, Tofu Gnocchi Bowl and Crunchy Tofu? Here's some good news for you. There's more to come as I ADORE tofu and its variety. How about some 'germanised' tofu with lovely fried vegetables in a mustard sauce? And don't forget the potato croquettes that I found in the depths of my freezer. That day I was really desperate to get some carbs as I was craving them so badly! Those croquettes came to my rescue and I don't regret anything. The tofu and the veggies however make a great dish just for themselves and should satisfy you fully even without the fried carbs of doom.
The vegetables I used for this dish were some mini pak choi's that were left from the spinach pak choi salad and a red and yellow pepper that I saved from the trash, as they both had little dents in them and couldn't be sold to customers in the market anymore. So I took care of them *hugs*
Fried vegetables and crunchy tofu with mustard sauce
The combination of mustard sauce and tofu might sound weird in the beginning but as I love mustard very much I simply had to try this combination and I was not disappointed. The dish is again topped with black sesame and some roasted pine seeds. You don't want to go without those healthy fats nuts and seeds offer you. And you also don't want to miss the taste of course. So here's how you do it:

Fried Vegetables and crunchy Tofu with Mustard Sauce
Portionen / Serves:
one serving
Zutaten / Ingredients
for the vegetables in mustard sauce
1-2 peppers
1 mini pak choi


~ 50 - 80 ml soy cream or the like
1 tsp mustard
1 clove of garlic, minced
1 piece of ginger, minced
salt, parsley, basil, cumin to taste
some sambal or the like
some pine seeds
for the tofu in mustard marinade
~ 1cm thick tofu slices



~ 2 tbsp soy sauce
1 tsp mustard
1 clove of garlic, minced
1 piece of ginger, minced
1 tbsp rice vinegar
1 tbsp sesame oil
black sesame
Zubereitung / Instructions
I prepared the veggies and the tofu each in a separate pan. It's just easier that way as the tofu can fully soak in the mustard marinade like that.

Vegetables in mustard sauce
Start with dicing the vegetables and mincing the garlic and ginger.
Mix soy cream, mustard, salt, parsley, basil, cumin, sambal, garlic and ginger in a bowl and add some water if it's too thick (keep in mind that your sauce will thicken quite heavily; you can always add more cream or water to adjust the thickness)
Add oil to a heated pan and fry your vegetables until al dente.
Pour the sauce into the pan and let it simmer until it thickened a bit.
Fry some pine seeds in a pan and garnish your vegetables with them.
Tofu in mustard marinade
Mix the soy sauce, mustard, garlic, ginger, rice vinegar and sesame oil in a bowl and add some water (too much soy sauce will make your dish too salty, so you want to add water to neutralize it and to have more liquid)
To make the tofu as crunchy as possible press it between two paper towel covered cutting boards for about 20 minutes to drain it from excess water.
Heat oil in a pan and bake the tofu in it until it's golden brown from both sides.
Turn the heat down to a low setting and add the marinade (sesame oil burns rather quickly, so make sure the pan is not too hot anymore).
Let it boil down for a while until the tofu has absorbed most of the sauce.
Sprinkle with sesame and serve immediately.
The project
From my Fridge
is an attempt towards a more sustainable lifestyle that aims at the reduction of food waste, more creativity when dealing with leftover food and a raised awareness for the usage of our resources.
It shall serve you as a source of inspiration and motivation to love your leftovers and create amazing dishes with them. Find more recipes here:
From my Fridge