Mezze – a variety of little goodies are the perfect snack for hot summer days and basically everyone who's struggling with decisions. Ela is of the same opinion which is why she prepared a handful of those little snacks for my series "Food from Friends"
My project 'Food from Friends' leads me to places where I meet friends (and potential ones) and together we prepare a delicious meal. Ela from Transglobal Pan Party has been living the Blogger Life a little longer than me already and she's the first blogger that I knew virtually first before I had the pleasure of meeting her in reality.
I basically overran her, asking if I could photograph her, when she cooks and if she had a couch to crash on – surprisingly she agreed!
After a little stop in Leipzig (coming soon) and paying Ramona in Nuremberg a visit I travelled to Munich and met Ela. Only a blogger could come up with that idea – letting a stranger into your room and even cooking for her.
Once you had a look at her blog, you might understand why I was so eager to meet Ela. She has a huge collection of recipes and travel reports where you want to rummage through for hours.
Ela's travels often lead her to Asia, especially the south eastern part but also Europe is quite favoured by her. Ela admits to me that though she loves travelling a lot sponsored tours are often packed with activities and can be quite stressful. When Ela truly wants to relax and rest she prefers to stay at home.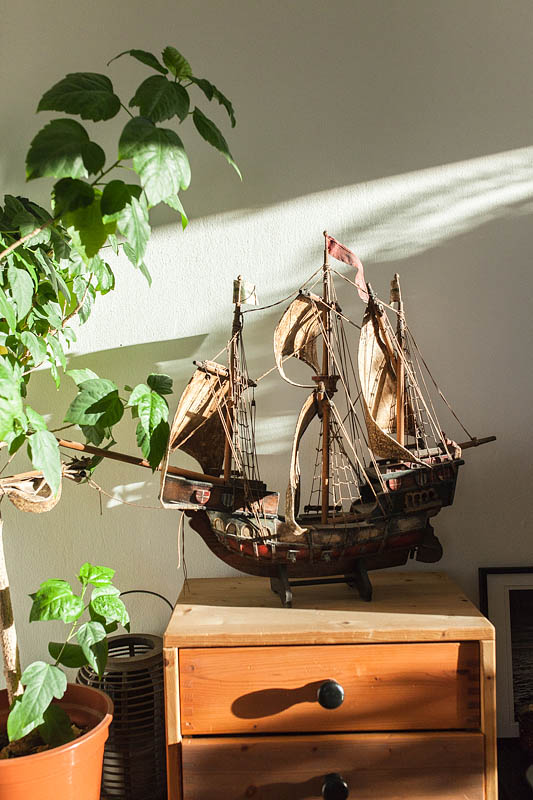 Whale-Rescuer
Next to her travels and the blogging activity Ela works full-time for the non-profit organisation Whale and Dolphin Conservation (WDC), thus committing herself fully for the rescue of these big sea dwellers.
This year her work included press relations at La Gomera where, amongst other things, she attended a responsible whale watching tour (written in German, but nice pictures 🙂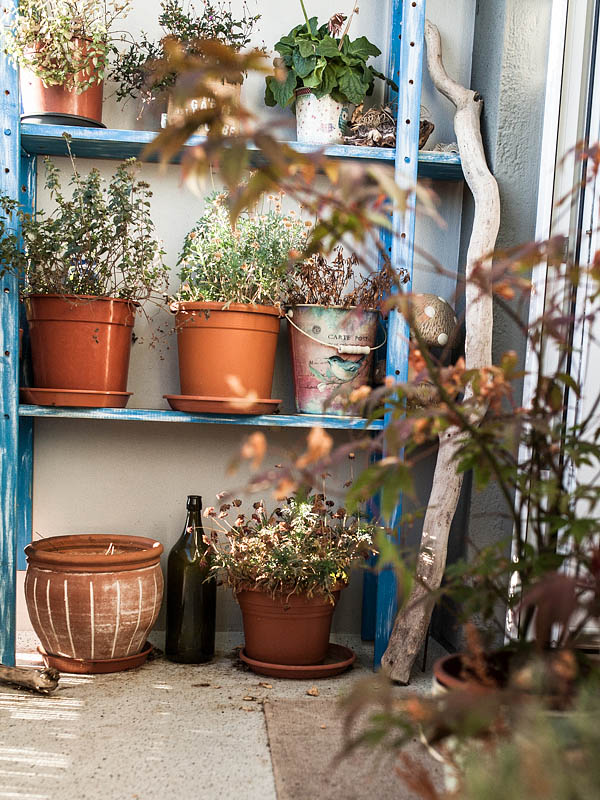 Recipes from the world
Ela's recipes are vegetarian, very much inspired by her travels and get their special twist mostly by interesting spices and exotic ingredients she brought home as souvenirs. I love her creative and various salad ideas as well as her Risottos.  But there's certainly enough material for your sweet tooth as well. I am a huge fan and love scrolling through her recipe register for inspiration.
You can follow Ela on one of her Social Media Accounts if you like:
But let's get back to our cozy little meet up.
Ela prepared a couple of vegetarian snacks that combined different tastes and textures. I love that! Creamy camembert met sweet figs and honey, tomato hummus, warm bread fresh from the oven, fruity orange carpaccio with spicy rose pepper and a vinegary bean salad with green beans and kidney beans.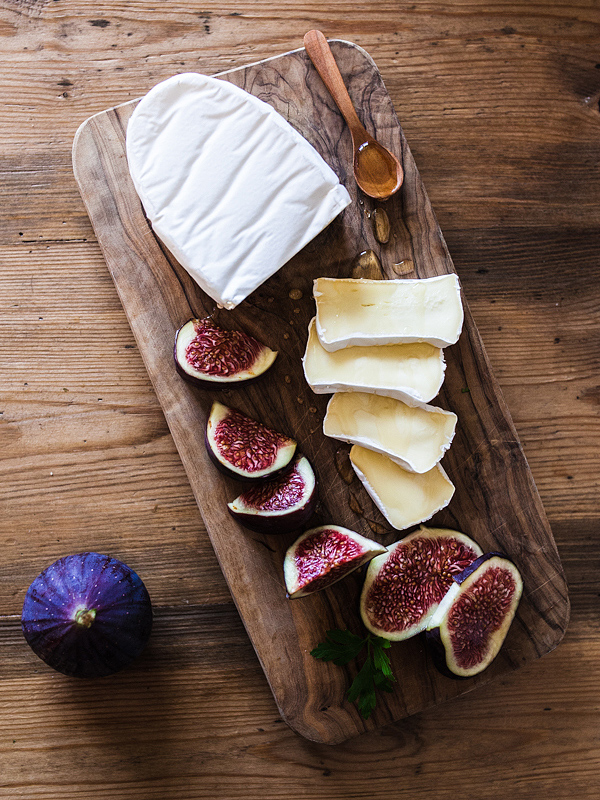 My mood always lightens up when I sit in front of such a full table. Sharing food creates a warm and familiar atmosphere and was the perfect base for Ela and me to get to know each other and chat effortlessly.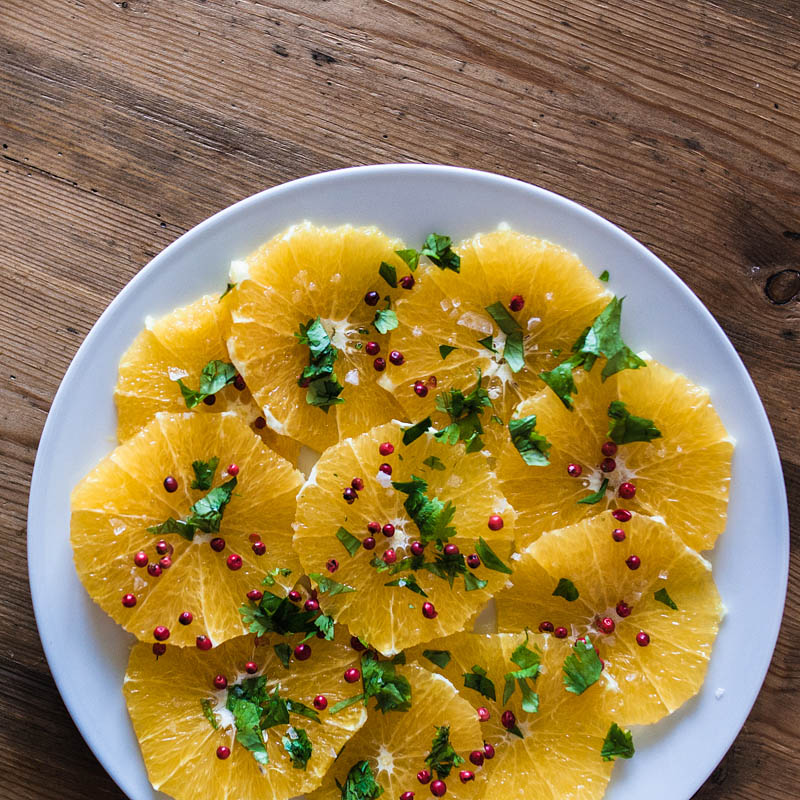 Ela's living space was equally warm and welcoming, carefully arranged with lovely details and souvenirs from her travels.  Unsurprisingly her cabinet full of food props – bowls, wooden boards, lovely cutlery made my heart skip a beat.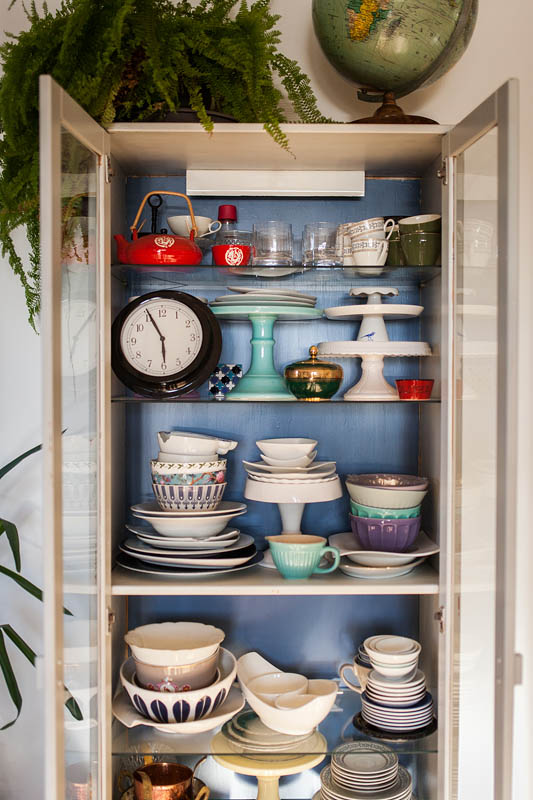 Recipes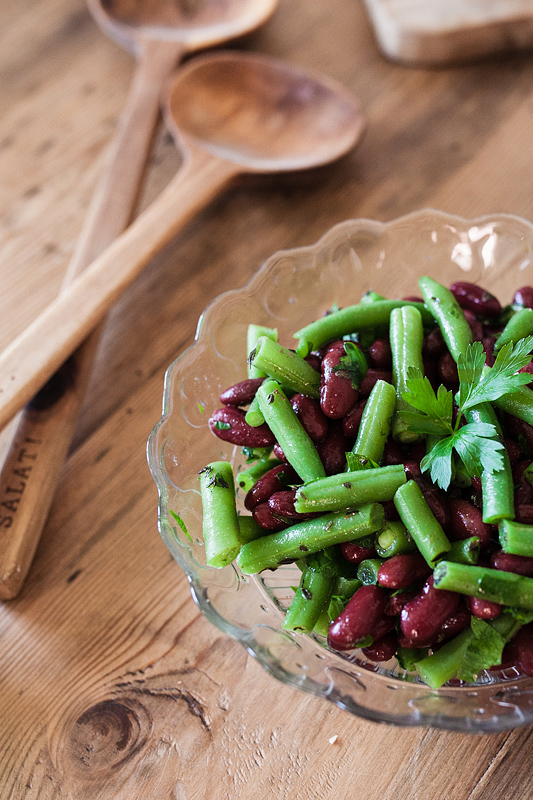 Homemade Tomato Hummus Recipe
Tomato Hummus
Zutaten / Ingredients
1 can chickpeas (about 400g)
1 garlic clove
6-10 dried tomatoes in oil
1 pinch of Piment d'Espelette or paprika
olive oil
½ lemon
salt
Zubereitung / Instructions
Rinse the chickpeas thoroughly until the water is clear and free from any foam.
Mince the garlic and with the chickpeas, tomatos and a little water add it to a mixer and blend it until creamy.
Season with salt, olive oil, piment d'Espelette and lemon juice to taste.
Refreshing Orange carpaccio with red pepper
Orange Carpaccio
Zutaten / Ingredients
1 – 2 big oranges
1 – 2 tbsp olive oil
fleur de sel
rose / red pepper berries
fresh coriander
Zubereitung / Instructions
Cut the top and bottom of the orange so that it can stand freely.
With a sharp knife cut off the skin, including the white, leaving only the orange pulp.
Cut the peeled orange into thin slices and lay them on a plate.
Garnish with olive oil, fleur de sel and the red / rose pepper. Lastly mince the coriander and spread it on top.
Fits perfectly in the row