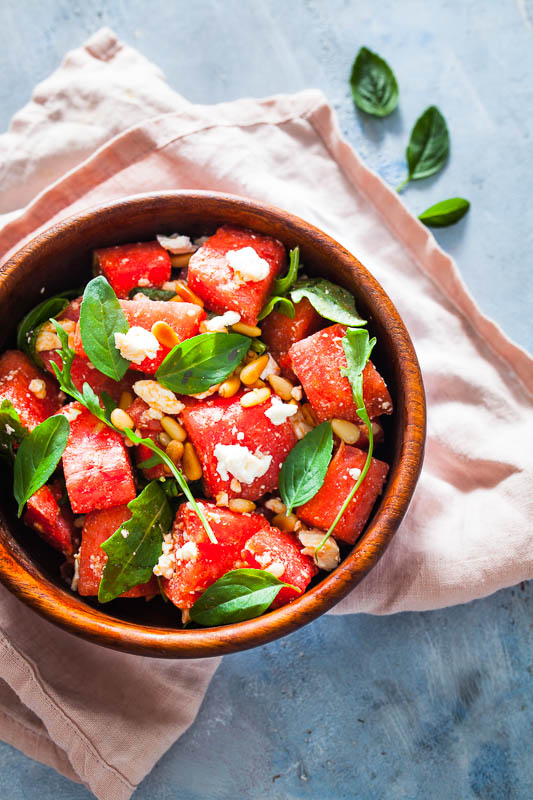 Guuuuys – this spring is giving us a little pretaste of summer (and many a day makes me want to just relax and do nothing). When the temperatures are rising and the air becomes so humid that you even start sweating when not moving at all my stomach stops to work properly. It can't process hot, heavy and fatty food anymore. I'm craving fresh fruit and vegetables like a crazy person. So let's start the summer salad season a little early with this refreshing feta watermelon basil salad!

Finding the right ingredients for a satisfying summer salad
When I posted the recipe for the Sweet Potato & Nectarine Salad I also gave you some advice on how to compose the perfect salad in general. Say no to lousy, pathetic greek salads from the takeaway next door. Let's make salads vibrant, colourful and satisfying – even for meat eaters.
When composing a salad we want to make sure that it has soft as well as crispy components, a protein rich ingredient (to sate us), good and healthy fats (from oil, avocado or nuts) and, if you like, some lovely carbs as well.
To create the ultimate experience for our taste buds  we want to add a wide range of different flavours, think sweet, salty, sour (bitter and umami). Especially the acidic part gets left out often, while actually putting the final touches to any dish.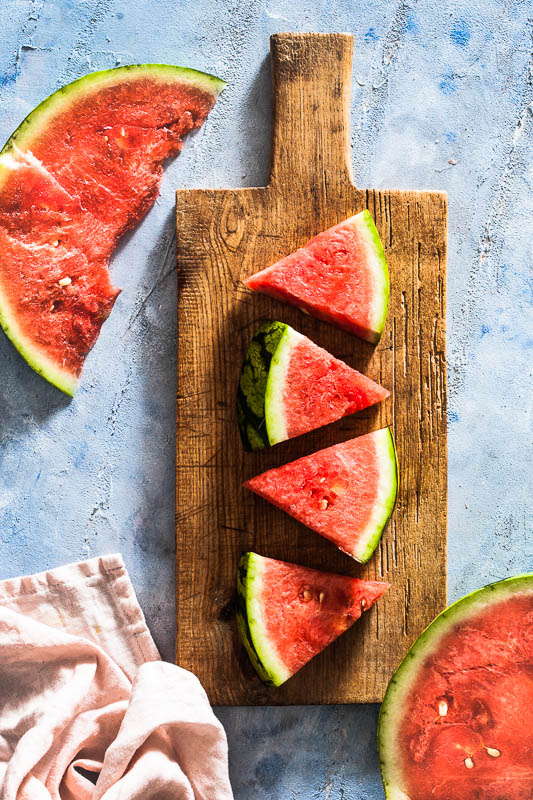 More Summer Salads on Purple Avocado: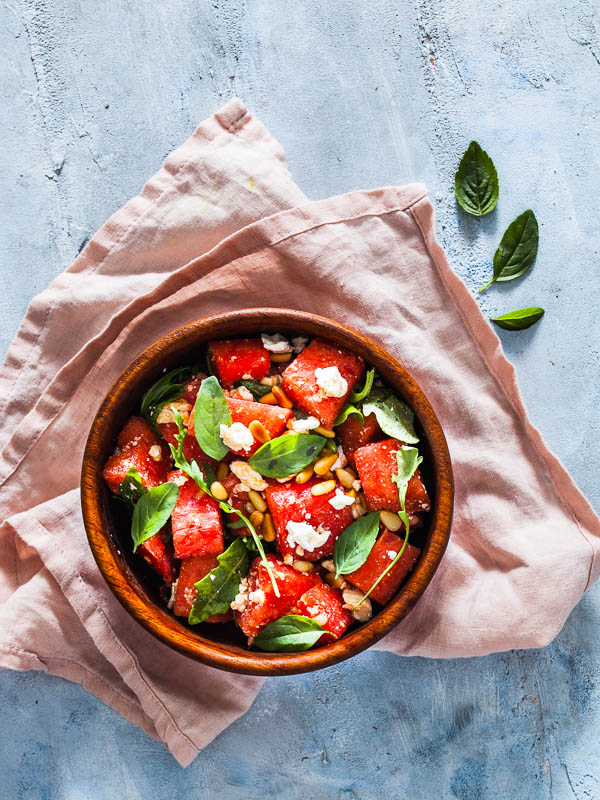 For the summer we're craving something lighter. This is why watermelon is the perfect ingredient for a salad. A melon cheese salad is the perfect companion on hot days and fits perfectly to any summer activity.
These are the ingredients:
watermelon – for the sweet freshness.
feta cheese – not just a rich protein source but also a creamy and salty addition
basil and arugula – some greens should never be missing. Arugula has a beautiful nutty taste, while basil is quite fresh and mediterranean
pine nuts – I love those nuts just too much. They give our salad texture and are full of healthy fats.
olive oil – another great source for good fats. I love the unique taste of olive oil and add it to basically every salad I make (don't be afraid of fats).
balsamic vinegar – the desperately needed touch of acid usually comes from vinegar or lemon juice. I love how the balsamic vinegar made this melon salad just so much rounder.

Veganize it!
As I provenly have many vegan readers I'm almost automatically thinking about dairy-free options while developping a recipe. So here are two very delicious options to make this watermelon basil salad vegan – without any loss in taste.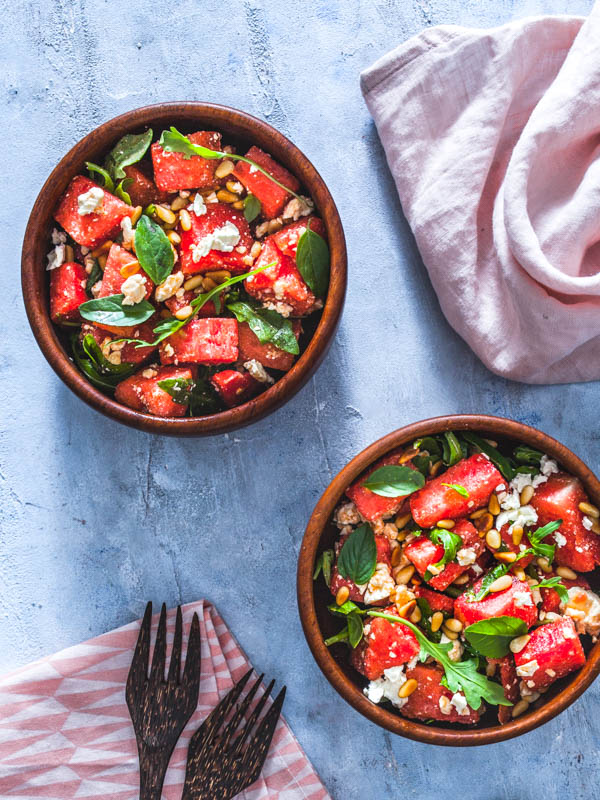 Say Feto, not Feta
Have you ever heard of fermented tofu? This special kind of tofu comes very close to the flavour of feta. I love to dice and then fry it in the pan until golden and crisp (and it tastes perfect in basically any salad). So far I found fermented tofu only in organic supermarkets and all my trust goes – as usual – towards the brand Taifun (unpaid ad, since I love this shit).
Not a fan of tofu? After the shooting, when I wanted to put the leftovers into the fridge my jumbo jar of olives caught my attention (I have a weakness for black olives) and I had to pour a handfull into the salad.
Black Olives (preferably without stone) are a perfect substitute for feta cheese – they are salty, umami and therefore the perfect match for the sweet and juicy watermelon.
If you want to stay away from dairy go for the olives. They also look very pretty in the salad.
Feta Watermelon Basil Salad
a refreshing summer salad with feta, watermelon, basil, arugula and pine nuts
Author:
Sabrina Dietz / Purple Avocado
Typ:
Salad, Starter, Side
Cuisine:
Vegetarian, Vegan
Portionen / Serves:
2 servings (as main)
Zutaten / Ingredients
ca. 700g / ½ a watermelon
150 - 200g (1 Pack) of Feta cheese
50g (1 hand full) arugula
1 bunch of basil
50g (1/3 - ½ cup) roasted pine nuts
3-4 tbsp olive oil
1-2 tbsp balsamic vinegar
VEGANIZE IT!
Instead of feta cheese:
1 pack of fermented tofu (slightly roasted in a pan)
or
a hand full of black olives (without stone)
Zubereitung / Instructions
Half the melon and remove the green, hard shell. Dice the red pulp into thumb-sized pieces and add it to a bowl. Depending on the melon and your taste you might need to remove the seeds with a spoon.
Dice the feta cheese or crumble it with your hands.
Wash the arugula and basil. Tear the basil to bits roughly and add everything to the bowl.
Roast the pine nuts in a hot pan without oil for a couple of minutes until golden. Keep your eyes glued to the nuts since they burn quite easily.
The 'dressing' will be prepared in the bowl. Simply add a generous dash of olive oil and about 1-2 tablespoons of balsamic vinegar to the bowl and stir carefully.
Let the salad chill in the fridge for about an hour (it's best enjoyed when cold).
Serve the pine seeds on top of the salad or mix them under the salad in advance.