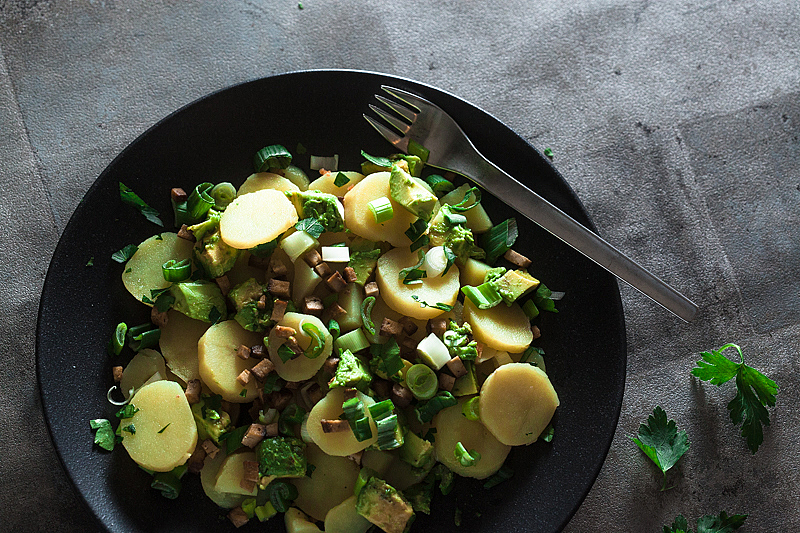 Okay, let's be honest. When it comes to Germans and salad, we're quite one weird nation. Being called the sausage nation by our dear austrian neighbours it's only logical that we add meat even to a healthy dish such as a salad. When Germans start their BBQ season (which could already be around January / February, because fuck cold, we can always grill) you can discover creations such as noodle salads with fatty mayonnaise, potato salads with bacon and sausage or at least some cheese&ham drizzled over a mixed salad. And then again there is this weird thing called 'meat salad' which is basically a spread for your bread consisting of meat and mayonnaise and sometimes some pickles. Don't get me wrong. Being a German I have to admit that 'meat salad' is quite awesome, however, I find the term salad used for this food quite misleading. It makes you think what you're eating is actually healthy.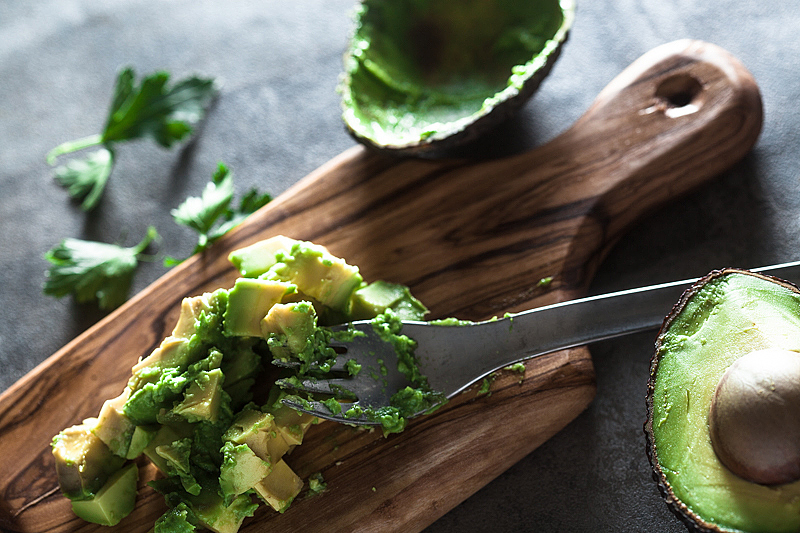 But let's get back to one of the typical German BBQ salads. Potato salad. Potato salad is quite a German dish. Lots of families eat it on Christmas Eve with wieners for example. And hell, there's so so many different ways to prepare a potato salad. The regional differences are quite huge. My mom makes a tasty mayonnaise potato salad (quite a northern German recipe), with bologna, apples, pickles and egg, while my grandma's version with bacon and an oil and vinegar dressing has more of a southern German touch. And since my dad cannot eat eggs any more, there's my variation with smoked tofu and avocado. This vegan potato salad fully convinced my family at our last barbecue. And thanks to the avocado and tofu this salad comes in much healthier than the traditional dish.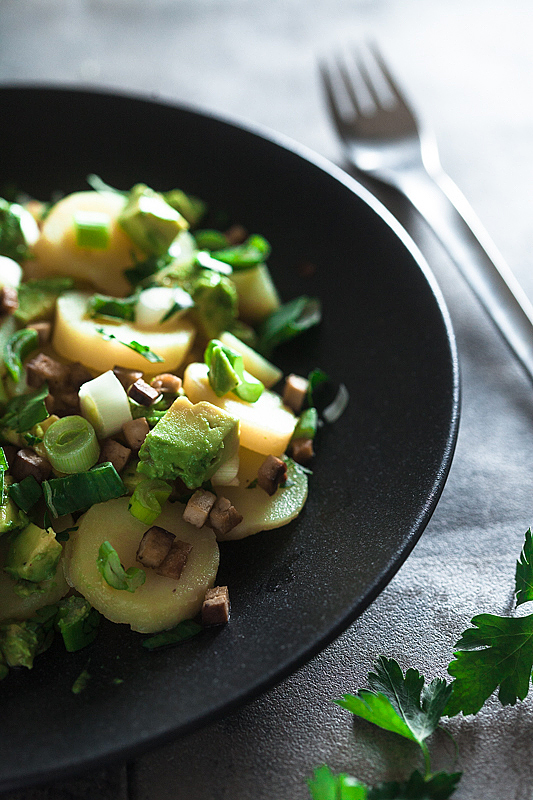 The ingredients can be varied greatly, actually, depending on what you just feel like. Pickles are a great addition and the scallions can be substituted with onions or shallots. However, there's some ingredients that you shouldn't leave out. Kala Namak (a sulphuric salt) combined with avocado makes up the whole egg-aroma. You get Kala Namak at organic markets, health stores or vegan supermarkets (and of course in the internet, if everything else fails), it's quite affordable and basically can't expire. Apart from that, you can give your smoked tofu an even more smokey taste by seasoning it with smoked salt.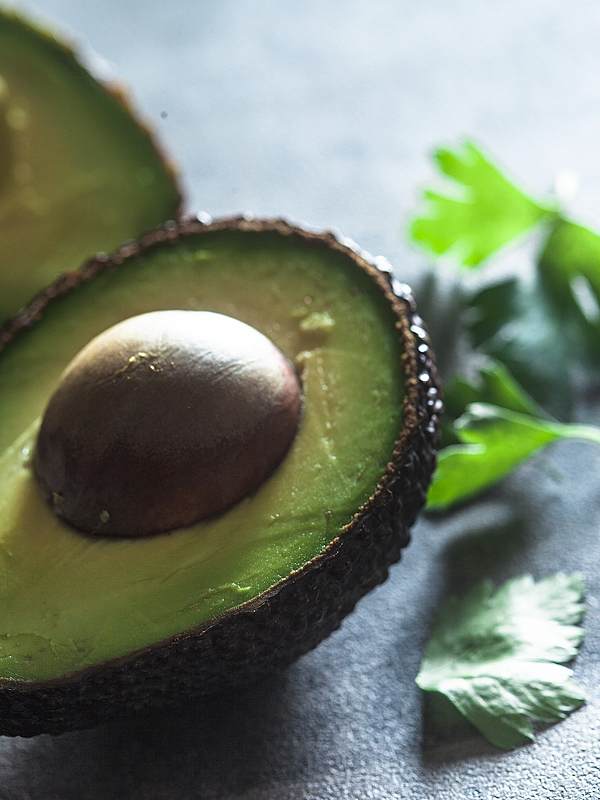 Give it a try and surprise your friends with a vegan dish, that doesn't really taste typically vegan.

Vegan Potato Salad
Vegan potato salad as a savory side for barbecue, schnitzel or sausages. Thanks to the avocado with Kala Namak and smoked tofu you don't have to go without the egg and bacon aroma. The healthy fats in the avocado and the protein-rich tofu are another advantage of this potato salad.
Author:
Sabrina Dietz / Purple Avocado
Typ:
Salad, Starters, Sides
Cuisine:
Vegetarian, Vegan
Portionen / Serves:
for approx. 4 people
Zutaten / Ingredients
Salad ingredients
750g potatoes (waxy)
2 avocados
1 pack smoked tofu (ca. 200g)
1-2 Scallions
Kala Namak
smoked salt
For the dressing
250ml vegetable broth
some vinegar
salt, pepper
optional
apple
pickles
shallots/ onions instead of scallions
Zubereitung / Instructions
Wash the potatoes and cook them in a pot with salt water for 15 - 20 minutes. Drain off the water, let the potatoes cool down, peel and dice them.
Bring 250ml water to a boil. Add 1 tsp vegetable broth to a container and pour the water over it. Stir it until the broth solved completely. Pour the broth over the diced potatoes and let it cool.
Dice the smoked tofu finely and fry it with some oil in a pan until crisp. Season with salt (or smoked salt) to taste and put it aside.
Cut the avocados in half and remove the stone. Slice the flesh diagonally and horizontally and scoop it out with a spoon (the easiest and fastest way to dice your avocado). Put it into a bowl, add some Kala Namak and stir it very carefully.
Dice the scallions.
Add all ingredients to a bowl and stir it carefully. The avocado will dissolve into the broth a bit, the longer you let the salad marinade. It'll make your dressing creamier, but it might also look less pretty. Some lemon juice or vinegar will make your avocado stay fresh and green.
WANT MORE SALAD INSPIRATION?