Sometimes you make a recipe draft and fall in love with it right from the beginning. This just happened to me with this garlic fried penne pasta with olives, dried tomatoes, capers, walnuts and fresh rocket salad. My bf Grimm announced this dish as his new favourite food right away. And I have to admit as well that I've recooked this recipe quite on a regular basis as it is so quick and easy to make and most ingredients can be stored in bulk in your pantry.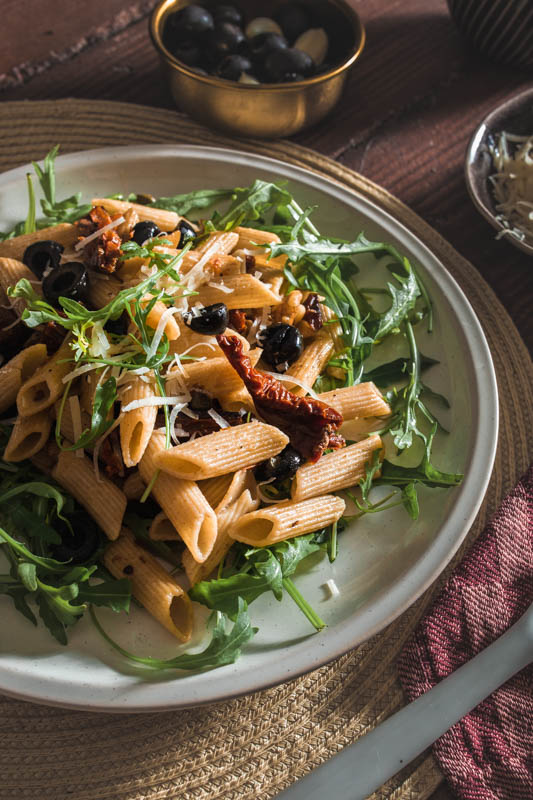 This pasta dish consists of very basic and simple ingredients. And while we don't like basic bitches, our recipe surely benefits from the simplicity.
Garlic – because of reasons. Do I really need to say more?
Olives – I prefer the black ones. For the Italian flair
dried tomatoes (in oil) – fruity and oily these should be taken over fresh tomatoes (at least for this recipe)
capers – tiny and sour. A great acidic source and a nice alternative to vinegar and lemon juice
walnuts – roast them if you find the time and leisure for it. They give our recipe texture and a bitter component.
rocket salad – for the colour and freshness. Also you just can't go without that lovely nutty taste
grated parmesan – no pasta dish is complete without parmesan (and there are even vegan alternatives out there)
This dish also makes a great salad! Check out my other comforting salad recipes: Warm aubergine & courgette salad, Watermelon Feta Salad, Sweet Potato Nectarine Salad, Chickpea Salad, Homemade Mezze, Curry Gnocchi Salad, Avocado Salad with Tahini Dressing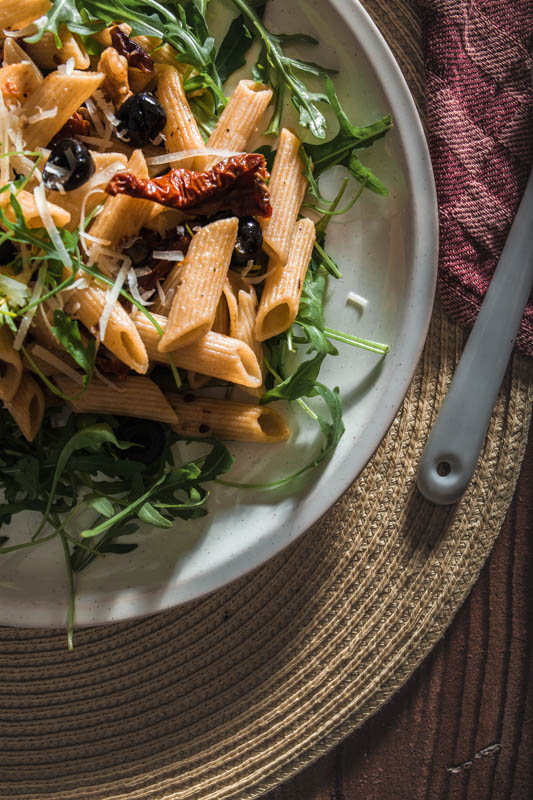 The beauty of our new favourite food is that you can buy the ingredients in bulk and keep them like forever in your pantry. Solely the rocket needs to be bought fresh.
Also I've only roughly calculated the measurements as you should add anything you like in quantities you like. I basically have emptied the jar I bought.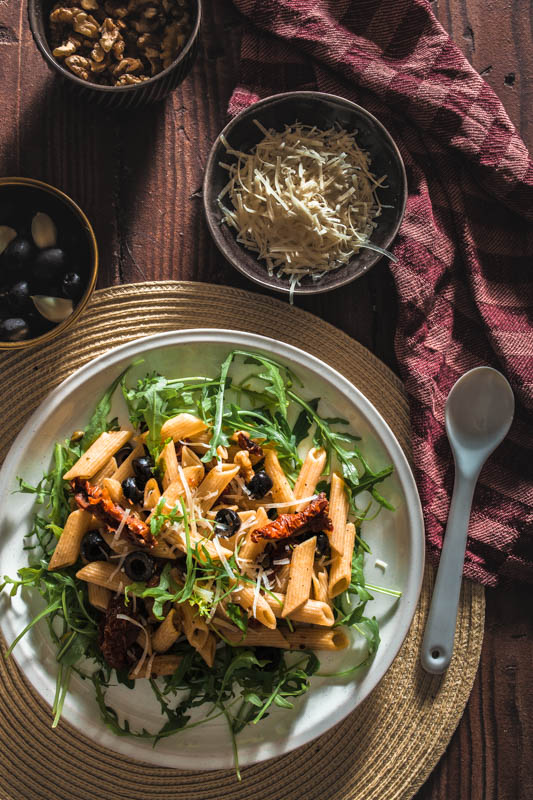 Pasta with garlic olives, dried tomatoes, capers, walnuts and rocket
Author:
Sabrina Dietz / Purple Avocado
Cuisine:
Italian, vegetarian
Portionen / Serves:
for 2 hungry fellows
Zutaten / Ingredients
ca. 250g penne pasta (or rigatoni, fussili, makkaroni... anything you like)
good oil for frying
1-2 garlic cloves
1 jar of (black) olives (about 150g)
1 jar of capers (about 100g)
½ jar of dried tomatoes in oil (about 100 – 150g)
1 hand full of walnuts
100g rocket salad (3-4 hands full)
optional: Parmesan
Zubereitung / Instructions
Cook the pasta in boiling salt water for 10 – 20 minutes (until they reach your preferred texture).
Note: The pasta should never wait for the sauce. But, as the other ingredients are prepared very quickly and only need to be heated up in the pan you can start boiling the pasta right away.
Peel and mince the garlic. Fry it glassy in a pan with good oil on medium heat.
In the meantime drain the olives and capers and spread the tomatoes on a paper towel to get rid of excess oil.
Halve the olives and cut the tomatooes into thin stripes. Add both to the garlic in the pan.
As soon as the pasta is al dente you can drain it and add it to the pan as well, along with the capers.
SERVE
On a plate or in a bowl spread a bed of rocket. Add the pasta on top. Crush the walnuts with your hands and drizzle them over the pasta. Finish of with a layer of grated parmesan.
Anmerkungen / Notes
If you like you can add some olve oil and salt to the rocket
More delicious Pasta Ideas
Pin if for later