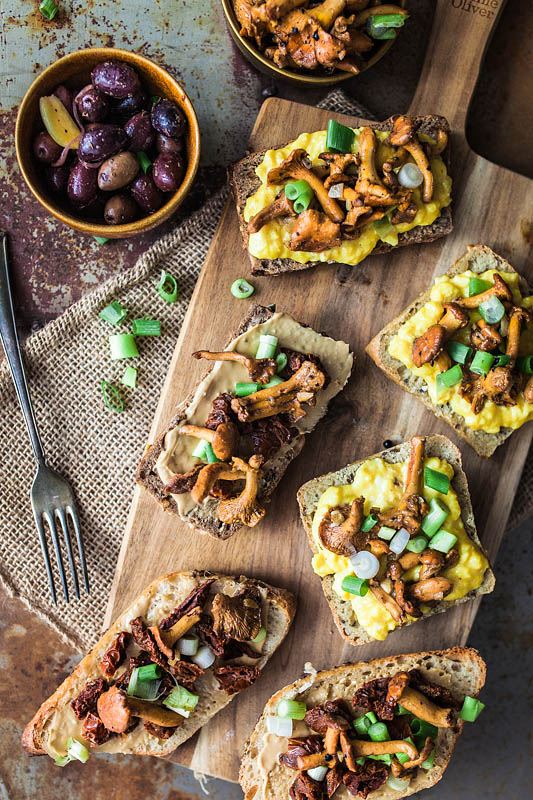 What was that again? The best dishes are created out of desperation and improvisation. At least that's the case for me. Those chanterelle & scrambled egg sandwiches wouldn't exist had I done my groceries deliberately. 
If you happen to promise your hungry man some soft and creamy dope scrambled egg with fresh chanterelles, you should make sure that you have all the ingredients at hand. Best in an appropriate quantity. And especially if you plan to prepare that meal on a Sunday.
For the weekend I left Hambug and visited bf and friends in Dortmund. Logically I didn't buy too much for this short stay. At the supermarket I was absolutely excited to get my first fresh chanterelles of the year (finally the mushroom season is there! I was so looking forward to it) which I planned to serve with soft and creamy scrambled egg. The closed egg box in my fridge did not raise any suspiscion and being a naïve kiddo from time to time I expected the box to be filled to the rim with eggs.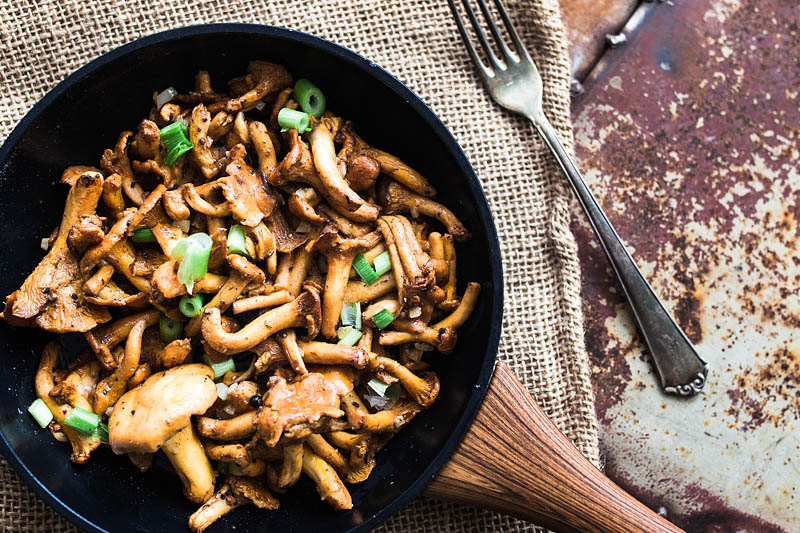 Well, fuck logic, naturally this box was almost empty. And three eggs and some tiny chanterelles (okay, 500g) can't satisfy the needs of two severe food lovers. So improvisation was key, after I've tried to get my hands on some eggs. An impossible task on a Sunday in Dortmund. So I checked what the remains of my fridge, freezer and supply cabinet could do and got some fresh buns from the bakery. (my bf got two buns with cheese for the first hunger, and for me, to be able to cook in calm and peace 😉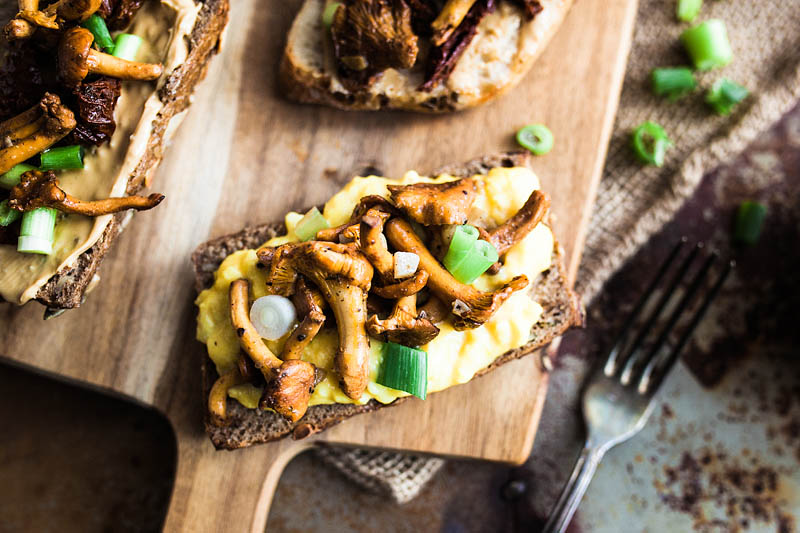 For this recipe I'm using my beloved cashew butter again. Furthermore I added some dried tomatoes in oil which I have always at home, olives from my last shooting and fresh spring onions as well as garlic. This combination gives us a nice range of salty, sweet and umami and soft, crisp and creamy again.
When it comes to the preparation of scrambled egg I've upped my game immensely after watching a video from Gordon Ramsay. Soft (but not too soft), creamy and and intense taste of yolk. My bf is equally satisfied with this egg and I prepare it that way ever since.
Basically these chanterelle and scrambled egg sandwiches are quite easy and quickly to make and worth every minute it takes. The cleaning of the chanterelles is the most time consuming and I'm thankful for any tip on how to speed up this process.
Chanterelle & Scrambled Egg Sandwiches
Portionen / Serves:
2 servings
Zutaten / Ingredients
3 buns or 4-6 slices of whole grain bread of choice
300 – 400g chanterelles
2 garlic cloves
3 eggs
3-4 dried tomatoes in oil
3 spring onions
some cashew butter
pepper and salt
optional:
Zubereitung / Instructions
Clean the chanterelles carefully with a brush or paper towel. Mince the garlic and add it to a pan with some oil. Heat it up slowly.
Once the garlic was fried for 1-2 minutes add the chanterelles and fry them for about 5 minutes until golden yet firm to the bite.
Turn the heat down and season to taste with salt and pepper. Slice the spring onions and add them to the chanterelles..
In a second pan crack the eggs and whisk them with a fork. Turn on the stove and heat the eggs slowly and gently so that the egg does not stick at the pan. Don't stop stirring until you have a homogenous, soft and creamy texture. Remove the pan from the heat and keep on stirring for a while before adding a little salt.
Serving it nicely
Halve the buns and spread cashew butter on three, scrambled eggs on the other halves. Lay the dried tomatoes on a kitchen towel to get rid of the excess oil. Cut them into thin stripes and spread them on the buns, as well as the chanterelles and spring onions. Serve with the remaining chanterelles and some olives.
More hearty breakfast and brunch recipes
Pin it for later