How to make boss ass breakfast bowls
If you follow me on Instagram you might have noticed a slight breakfast obsession, especially for breakfast bowls with oatmeal and other warm grain mashes. And in all honesty – if I had to chose one meal to eat for the rest of my life, it wouldn't be lunch or dinner.
A good, delicious breakfast is my essential start into a good day. It wasn't always like that, there were times when a toast with Nutella and a hot chocolate or a bowl or sugary cereals were all that I wanted. Unsurprisingly it merely kept me full for a maximum of 1-2 hours.
In the last years I slowly started to develop a healthy breakfast routine, that keeps me full and satisfied for hours and isn't as time consuming as it might look. Here's a little guide on how you can develop healthier habits and always have the right foods at home to make a healthy breakfast bowl every day without much hassle

Stuff you should have always at home for a healthy breakfast routine
In order to always be able to make a healthy breakfast bowl even when you ran out of fresh fruit and vegetables there's some basic foods that are very durable and still mostly unprocessed and nutrient packed
Grains
such as oats, spelt, wheat, barley, chia
I usually get mine in big packs of 1-2 kg. The market where I get those supplies even offers grinding them for free, which is great as I don't have a flour mill at home. A big pack of spelt e.g. costs only 5 € and will last you for months which makes it much cheaper than buying little packs of mostly processed, ready-to-eat oatmeal mixes.
I also like to add chia to my porridge. It took me a year or so to finally find a way I like chia seeds. I never liked the slimy chia seeds though I tried many, many chia pudding recipes. It's just not my taste.
But adding them to a warm porridge is just great. No over night storing in the fridge, no slimy texture.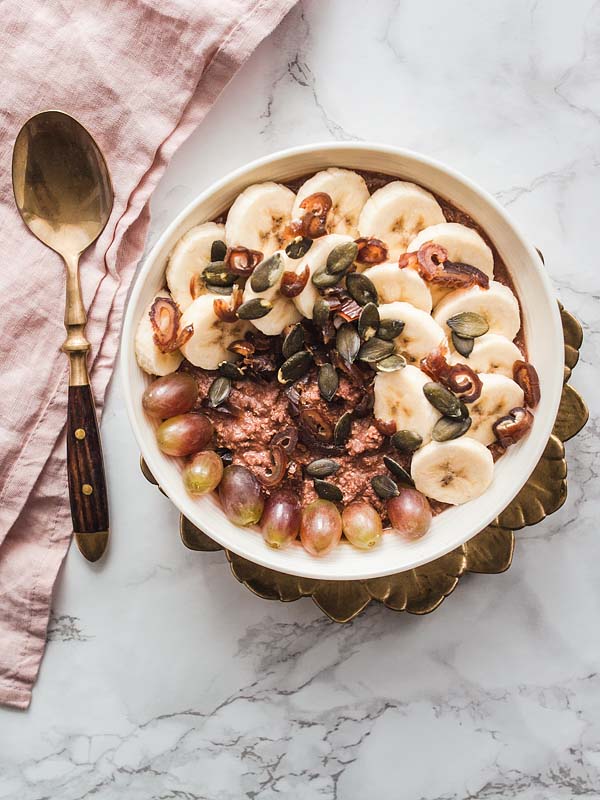 Plant milk
I prefer almond milk as it has the last amount of sugar compared to other store bought plant milks. As I usually sweeten my breakfast bowls with dates and bananas I don't need that extra sugar in oat, rice or soy milk from the processing. Yet, if you want some diversity you can surely try different kinds of milk. I am madly in love with almond-coconut or rice-coconut milk. You might also want to try vanilla or chocolate options or go a bit more luxurious with macadamia milk.
If you're not a milkl person and can't finish a whole container of milk on your own, there's two options:
Make your own plant milk in lower quantities
Simply use water for your porridge. Boiling oats in water has basically the same effect as making oat milk. So don't worry and enjoy you 'water' porridge.
Nuts and seeds
Healthy fats and proteins – do I have to say more? Nuts supply you with the good kind of fat and essential amino acids, so you should not be afraid of the relatively high calories but throw those little bastards onto your breakfast bowl like there is no tomorrow.
My all time favourites that I have ALWAYS at home:
Almonds, cashews, sunflower seeds, pumpkin seeds and para nuts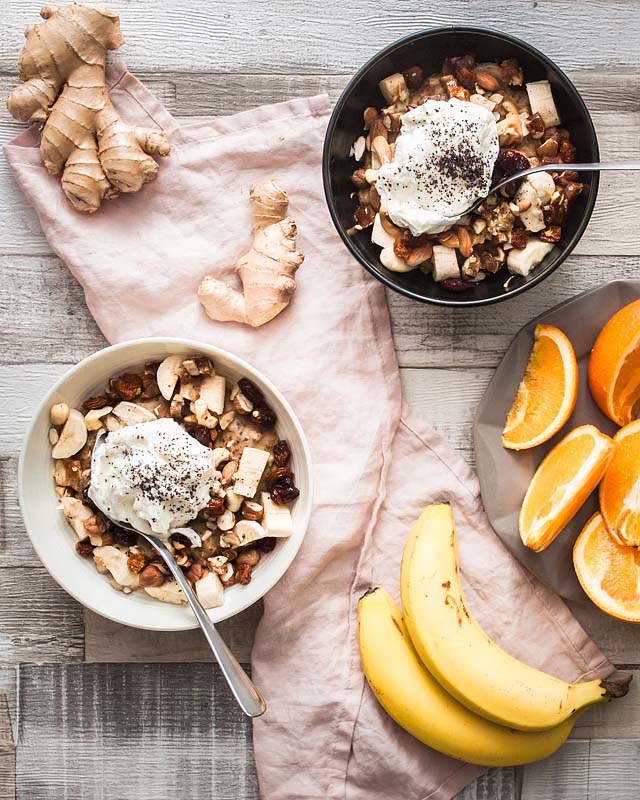 Dried fruits
If you're as unorganised as I, you will have mornings when there are not fresh fruits at all at home. Instead of leaving the house BEFORE breakfast (what crazy person does that anyway?) you are a clever human and always have some dried fruits at home for your extra portion vitamins.
Surely your breakfast will look better with some sexy banana slices stacked in semi circles on top, but we're talking about a balanced and healthy diet, so you're going to pull those ugly little dried cranberries out or your cabinet and throw them into your bowl!
My all time favourites of dried fruits:
Physalis (you really gotta try them, they are bomb)
Mulberries
Banana chips
Dates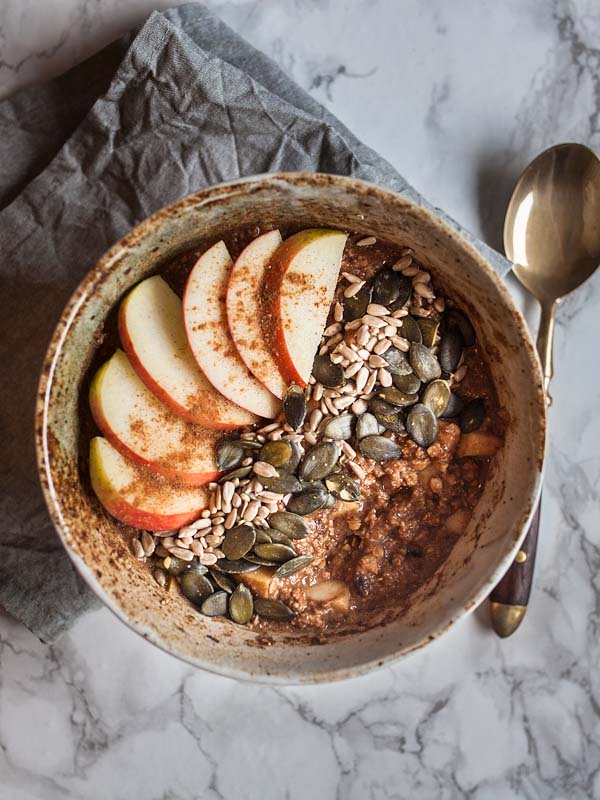 So if you make sure to always have those four essentials – cereals, milk, nuts, dried fruits – at home you're always ready to make a boss ass breakfast.
And remember:
Don't keep food in your house that you don't want in your tummy.

Basic Recipe for porridge / oatmeal
Portionen / Serves:
1serving
Zutaten / Ingredients
200 – 250 ml plant milk (or water)
2 tbsp ground wheat / spelt / oats
1 tbsp chia seeds
1 banana
4-5 dates
optional: sweetener like agave syrup, honey, maple syrup or date syrup
Topping
a handful of your favourite nuts, seeds and dried fruits
Zubereitung / Instructions
Toss the milk, grain, chia seed and one mashed banana and some chopped dates into a pot and set the stove to medium heat.
Stir all the ingredients together and slowly bring it to a boil. Stir it from time to time to prevent it from burning.
Once the oatmeal is boiling turn down the heat and leave it for another 1-2 minutes on the stove while stil stirring.
In case case the porridge is too solid, add some more milk or water and bring it to a boil again. Is it too liquid? A spoon full of grain will help.
Serve the warm porridge in a bowl and add your favourite selection of nuts, seeds, fresh and dried fruits on top.