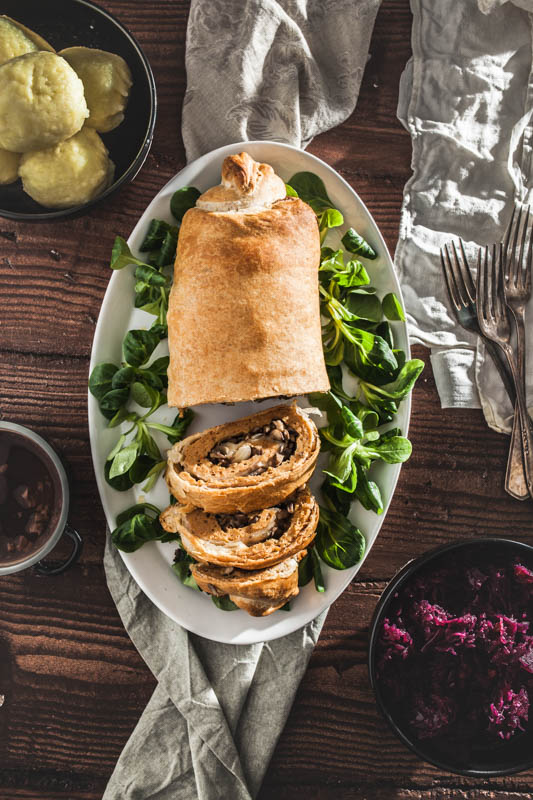 Well then, are you enjoying a tranquil, stress-free Christmas season? Me neither.
Work, present preparations and many other duties collide with the Christmas anticipation. There's only Christmas in my kitchen currently and that's only because I have a blog to fill and feel like I have to.
A vegan Christmas Roast? Yes please!
I haven't given you a proper vegan Christmas recipe yet.  There's a simple reason to that:
I'm driving home for Christmas and being fed by my parents. So I was never accorded the honour of hosting a perfect Christmas dinner. Let alone a vegan one. My family is a gathering of meat lovers. And so am I from time to time.
On Christmas Eve we're eating salmon and smoked eel on toast and a cheese platter in the end. On Christmas day we usually have a bunny roast and the last day of gluttony is celebrated in a restaurant – usually Greek.
But as I am a Blogger and as I love the variety of the vegan cuisine I asked myself "What if I were to host a fantastic Christmas dinner?" For the vegans I would certainly not want to serve potatoes and gravy only.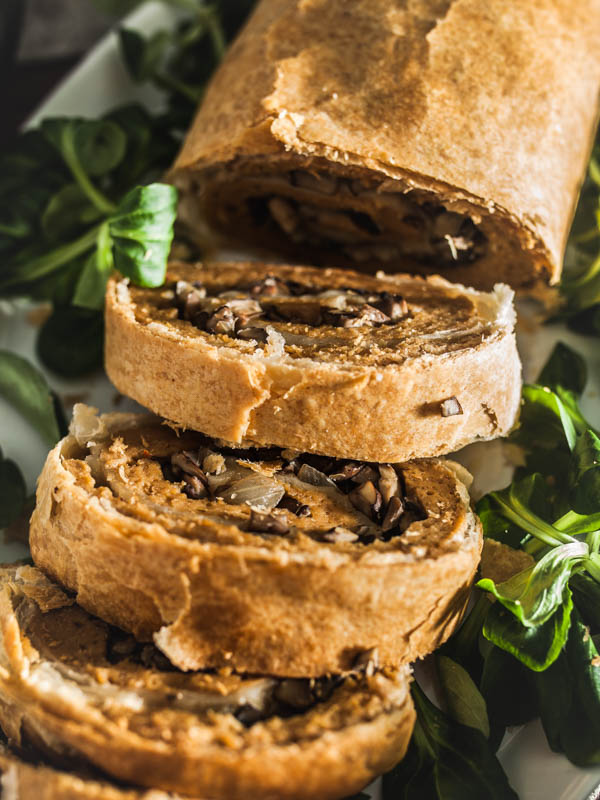 Vegan holiday roast recipe for absolute Beginners
A vegan Christmas roast has been on my to-cook-list for a while and now I can finally tick it off. I've had a pack of wheat gluten in my supply cabinet for a couple of weeks now, without really having an idea what to cook nor feeling curageous enough to even try.
I'm not kidding you, I've never prepared seitan before. This recipe succeeded at first try! So it's definitely suitable for absolute beginners.
As for the taste you cannot compare this vegan roast with proper meat but rather a stuffed meat loaf. The stuffing made from mushrooms makes it nice and juicy, the puff pastry crust makes it perfectly crisp on the outside.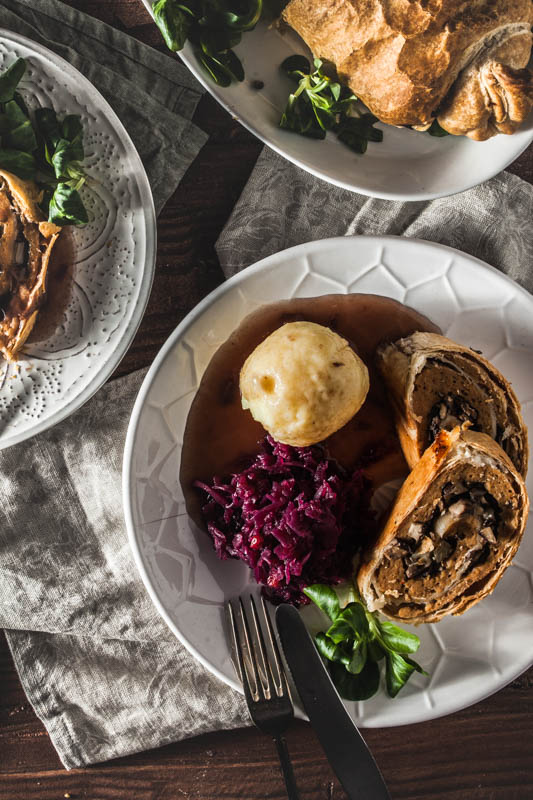 The basic recipe for seitan roast from the oven
Honour to whom honour is due
My basic recipe is from the  Vegetarierforum, I'm sorry it's in German only.
The original recipe intends to stuff the roast with bread. For my taste that's a bit to bread-heavy. However, the basic recipe is simply awesome. In my version I merely left out the lemon and added mustard instead.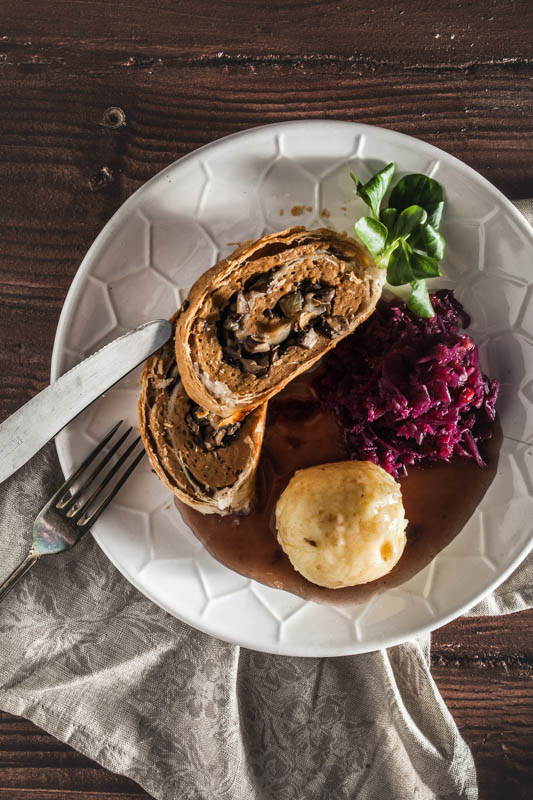 Vegan roast with mushroom stuffing and puff pastry crust
I stuffed my seitan roast with mushrooms, onion and garlic. I love to add mushrooms to meatless dishes as they add a lovely umami and aromatic taste. Also we want to add lots of garlic. In the end it's just our relatives who have to endure the smell 😀
Ultimately I wrapped the roast in puff pastry. I don't have to say much more, do it? A beautifully crunchy, flaky layer of warm deliciousness that keeps the roast juicy on the inside. Pure awesomeness.
Quick, easy, inexpensive
Another great thing about this seitan roast is that it's ridiculously easy to make. So even if you're a cooking / vegan / seitan beginner, you will manage. The dough is ready in approx. 10 minutes. We're going to use store bought puff pastry. And even when it comes to the sides dishes you can decide wether to fully prepare it yourself or to buy it ready to serve. I can fully understand if someone might not feel prepared enough to coordinate a roast, potato dumpling, red cabbage and gravy at the same time. So do it as you please and enjoy your Christmas dinner to the fullest 🙂
Apart from that I almost forgot to mention how cheap this Christmas recipe really is. For all the ingredients (sides included) I paid less than 20€. The perfect meal if you're on a budget.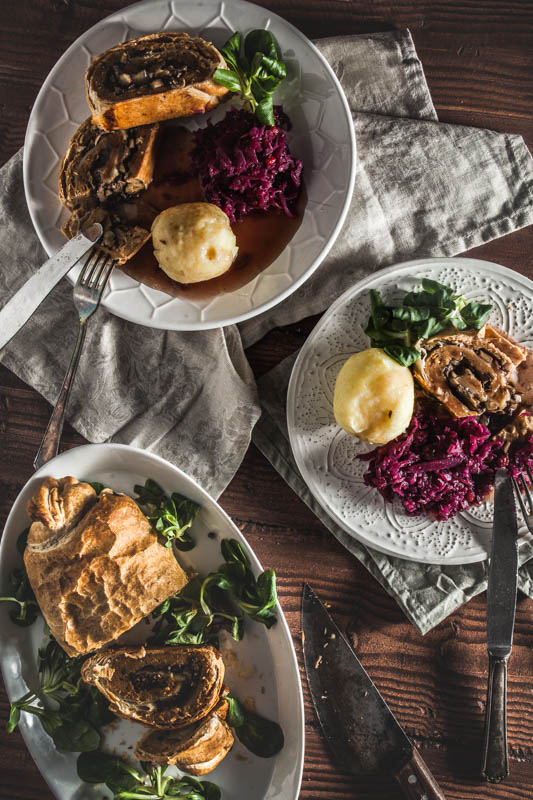 Even more vegan holiday recipes
to complete the vegan Christmas menu
Vegan starters
Avocado salad with tahini dressing
Vegan sides and mains
Mashed sweet potatoes with garlic
Oven roasted carrots with sesame dressing
Vegan Christmas desserts
Peanut mousse au chocolat with aquafaba
Chocolate mousse with silken tofu
Raspberry coconut mousse (3 ingredients)
Bananabread with nuts and dates
preferably served with a Cameron's Kick, a Wild Berry Punch or some German mulled wine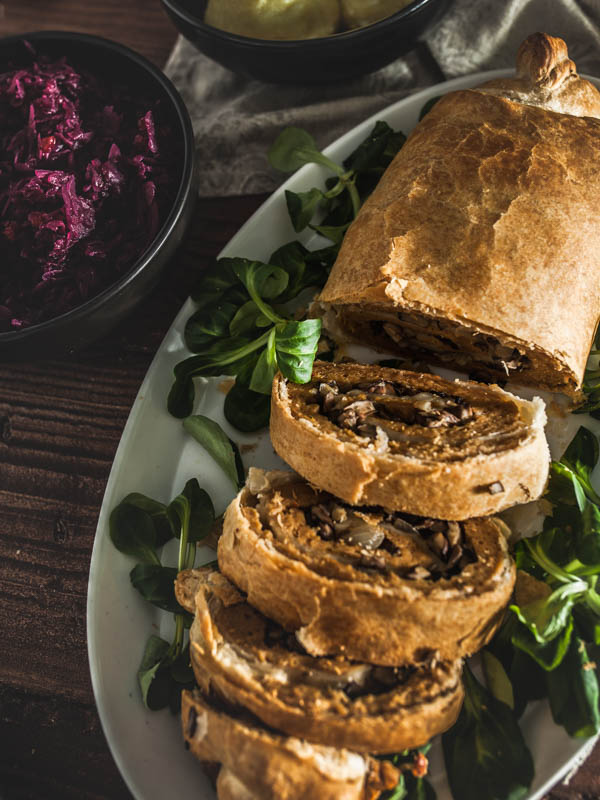 Stuffed seitan roast in puff pastry
A vegan seitan roast in puff pastry stuffed with mushroom. For an uncomplicated yet delicious vegan christmas. You might like this side as well:
Mashed garlicky sweet potatoes
Author:
Sabrina Dietz / Purple Avocado
Cuisine:
Vegetarian, Vegan
Portionen / Serves:
approx. 4 servings
Zutaten / Ingredients
FOR THE ROAST
175g wheat gluten*
30g yeast flakes*
1 clove of garlic
1 tsp tomato paste
70ml Soy sauce
125ml vegetable broth
2 tsp mustard
FOR THE STUFFING
1 pack of fresh puff pastryWHAT
300-400g Champignons (Option for mushroom haters - how about zucchini?)
1 small onion
1 clove of garlic
a pinch of salt
some oil and plant milk
Zubereitung / Instructions
SEITAN MIX
Mix the wheat gluten with the yeast flakes. Peel and mince (or press) the garlic and add it as well.
Stir together tomato paste, soy sauce, vegetable broth and mustard. Add it to the seitan mixture and with a spoon stir it until you get a solid dough. Continue kneading it with your hands for a while, form a ball and put it aside.
STUFFING
Clean the mushrooms and mince them. Peel the onion and garlic and dice them finely as well.
Heat oil in a pan and sauté the onions before adding in the mushrooms and garlic and frying it for another 5-10 minutes. Salt lightly.
Preheat the ofen to 190° lower/upper heat (170° air circulation).
Roll out the puff pastry and place the seitan dough on top.
With a rolling pin toll out the dough thinly on the puff pastry. You should leave some space in the front and the back (just like you do with Sushi). It doesn't have to be perfect.
Spread the fried onions on the seitan dough evenly.
Now we're rolling.
Fold the dough up on the sights to prevent the stuffing from falling out.
Now we're rolling the dough up, still taking care of the sides being closed.
Lastly we're brushing the dough with some oil and plant milk to prevent it from drying and bake it in the oven for 50-55 minutes.
This recipe is my baby and I'm quite proud of it, meaning I'd be delighted to hear your feedback. Did everything work out as it should? Which problems did occur? Is the baking time appropriate? And did you like it? As always you can also leave your feedback and photos on
Facebook
🙂
---
Info & Transparency | Links marked with an *asterisk are so called affiliate-links! If you buy a product via this link you support me and my work on this blog with a small commission. Obviously this won't cost you a cent more, but I see it as an appreciation for my work. I will only recommend products and services, which I use myself and with which I am fully satisfied.