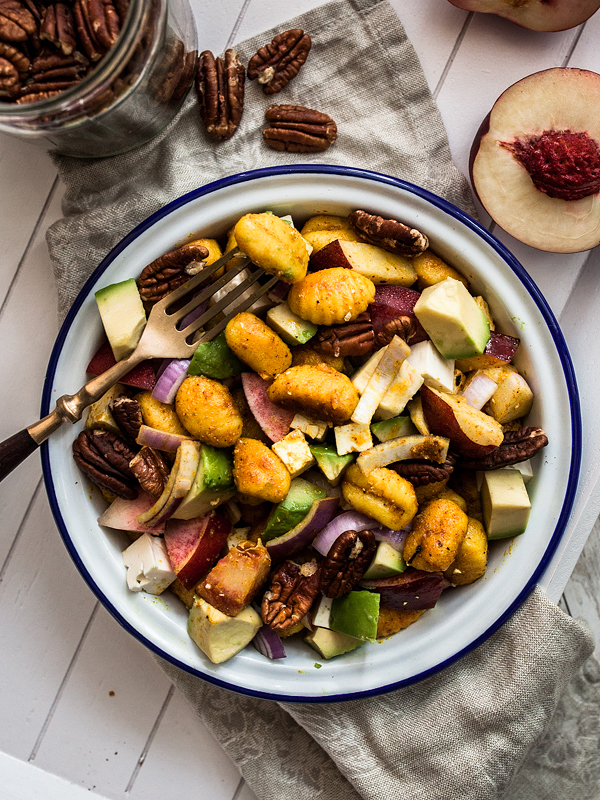 Let's keep our salad game up for a while as it is strong this summer. Next project: Salad Deluxe. With carbs carbs carbs. It's getting a little hot in the kitchen as we're turning on our stove as well. But for this curry gnocchi salad with nectarines, feta cheese, roasted pecan nuts and creamy avocado, it's worth the little sweating.
I have to admit that I love gnocchi a lot, even the cheap convenience food ones from the supermarket (#regretnothing). I really love the soft and gooey texture and find gnocchi the perfect base for various dishes. You can combine them so diversely and they are prepared easily as well as quickly.
My perfect lazy ass solution.
This time we even spare the time of making a sauce. Instead we're making a delicious, fruity, savoury and seriously stuffing salad. For this we're roasting the gnocchi in the pan until golden and crispy. The remaining ingredients, nectarines, feta cheese, roasted pecan nuts and creamy avocado are diced quickly and added to the bowl as well. Stir it well and you're done.
No one has ever claimed that cooking was straining and time consuming 😉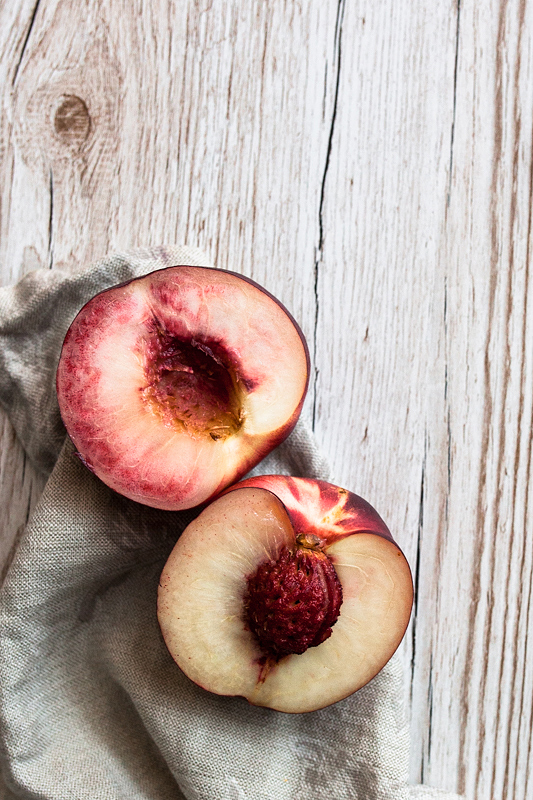 Alternative Facts Ingredients
What makes this salad so incredibly satisfying is the combination of different tastes and textures, salty and sweet, creamy and crisp, soft and solid (have a look at the sweet potato salad for more tipps on how to make the perfect salad). Certainly you can mix and match the given ingredients however you like. My recommendation though is to keep the mix of textures and tastes more or less as in the original recipe.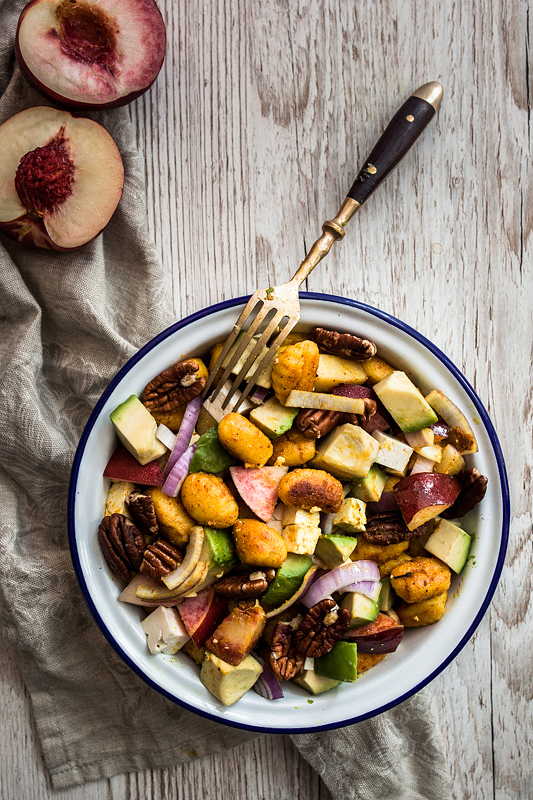 Nectarines e.g. could be substituted with apples, mandarines or pineapple. Instead of pecan nuts you might want to use walnuts, pine seeds or roasted peanuts.
If you want to keep your salad vegan, you will love smoked tofu or fermented tofu, which, if you roast it in the pan, has a similar taste and texture as feta cheese.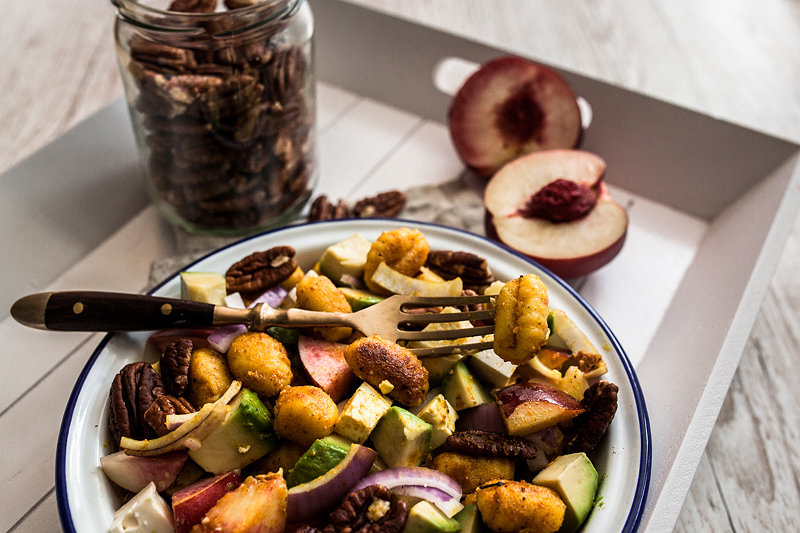 Curry Gnocchi Salad with nectarines and roasted pecan nuts
Portionen / Serves:
a big bowl for approx 2 servings
Zutaten / Ingredients
about 400g cooked gnocchi
1 tsp curry spice
salt
½ pack (50 – 75g) feta cheese or fermented tofu, fried
1-2 nectarines
1-2 small onions
1 avocado
a hand full of roasted pecan nuts
Zubereitung / Instructions
Roast the pecan nuts in a pan without oil and add them to a big salad bowl.
Add oil to a pan and roast the gnocchi until golden and crisp. Add the curry spice and a little salt and stir thoroughly. Add the gnocchi to the bowl as well and let them cool down a little.
In the meantime dice the feta cheese, nectarines and avocado. Chop the onions roughly.
Add all ingredients to the bowl and mix carefully in order to not smash the softer ingredients.
If necessary add more salt and curry to taste.
More delicious Salads on Purple Avocado: