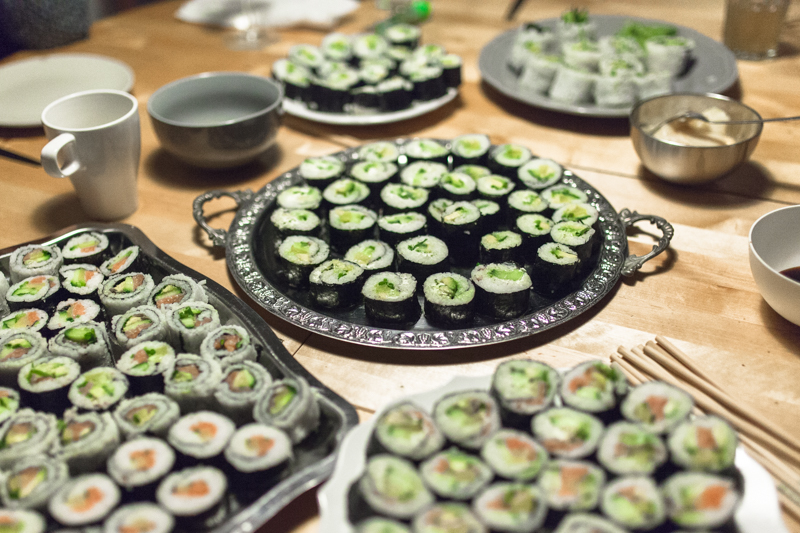 Last weekend we had a sushi party at a friends place. As we had promises of more than 10 people temporarily I decided to undertake the planning of the event. I never organised a sushi party for such a huge group of people and it sounded like a fun challenge.
In the end we were only a group of seven people. However, I'd like to give you some advice on how to host a sushi party for many people without breaking into sweat. At first appearance a sushi party seems like a rather elaborate, complex and vast affair. How much rice will you need? How much fish should you buy? Which ingredients should by no means be missing? What basic equipment will you need? What do you have to prepare in advance? How do you split up the tasks during the sushi party?
We were quite relaxed and took the things as they came. I merely wrote a shopping list with some rouhgly estimated measurements and of course I had to party extensively the night before and had only three hours of sleep. So here's my first piece of advice: Don't do that. Sleep deprivation and a hangover are not necessarily useful on such a day.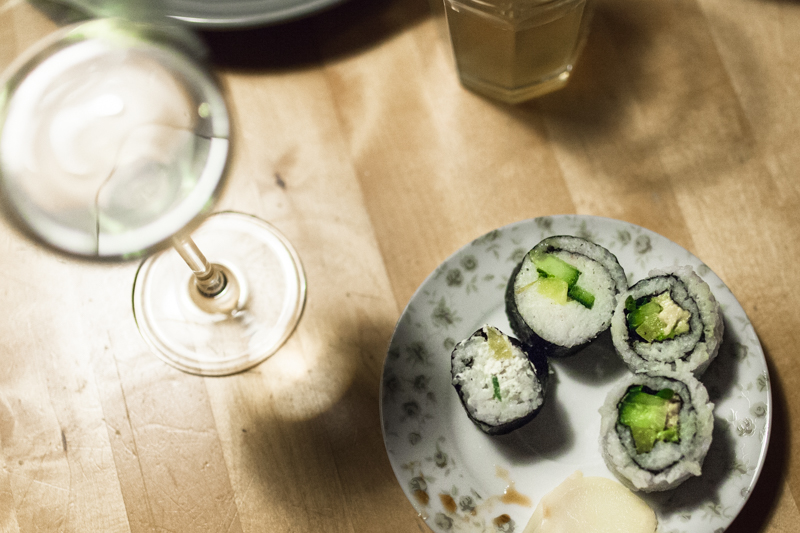 Now that we've stated the obvious, let's talk sushi party:
The first decision you have to make is whether you want to prepare the sushi all by yourself – perfect housewife style – or whether you want to turn your kitchen into a total mess together with your guests. We decided for the latter… because of reasons. The most pleasant way to host your sushi party is to sit around a large table and do the preparation collectively. Except for some things you can prepare everything together.

Task allocation and preparation
>> cooking the rice – it's better to prepare the rice the evening before or in the morning, so it has enough time to cool down. As I was told from several people that the rice preparation can turn out really badly, here's my method:
Sushi rice
Zutaten / Ingredients
1 part rice
2 parts water
rice vinegar, salt, sugar
Zubereitung / Instructions
Rinse the rice – I use jasmine rice or sushi rice (if you can tell me the difference between the two, please let me know) - until the water is not dull anymore. I usually use a sieve, but it also works with a pot.
Add 1 part rice and 2 parts water to a pot and bring it to a boil.
As soon as the water is boiling turn of the stove and do NOT remove the lid (if the pot is overboiling simply remove it from the hot stove for a few minutes)
Let the rice soak for about 15 minutes. The water should be fully absorbed by the rice after that time.
Add rice vinegar, salt and sugar and carefully stir the rice with a (wooden) spoon. For 200 – 250 Grams I use approx. one tbs of vinegar, a pinch of sugar and slightly more salt. Less is more in this case. Oversalted sushi rice cannot be neutralised and can be directly trashed. Happened to me once and since then I'm really careful.
Let the rice cool down at room temperature. If you prepare the rice the evening before don't put it in the fridge over night. The last time I did that the rice became hard and clumpy
>> obtaining the avocados – Avocados have to be soft and creamy as they are inedible and can cause stomachache when hard and solid. This is why you should look out for avocados the beforehand. Often you get to buy them 'ready to eat' but if you're not that lucky you can speed up the riping process by wrapping them into a newspaper with an apple. Overripe avocados will stay fresh when put in the fridge for several days. If you happen to have the choice, always go for Hass or Nabal. They have a more intense taste then Fuerte or Pinkerton.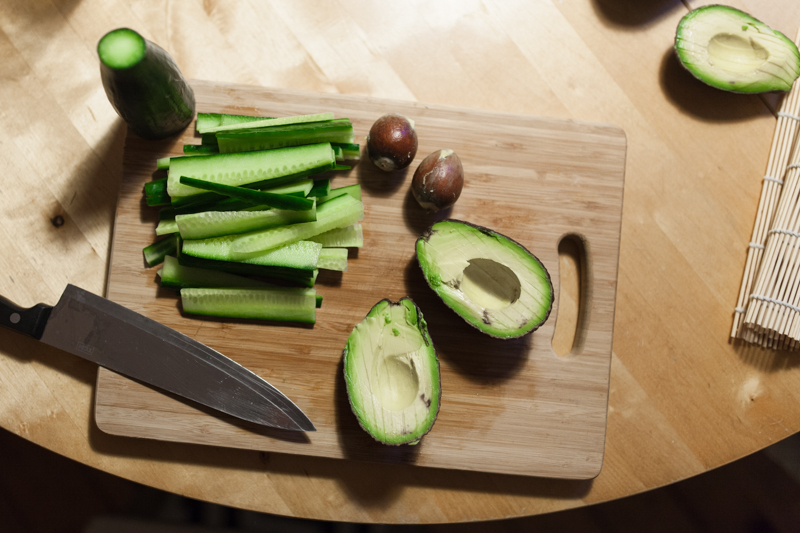 Task allocation at the sushi party
>> washing and cutting vegetables and fish into stripes
>> rolling the sushi – of course everybody may try. We had 4 sushi mats in total which was totally appropriate
>> cutting and draping the sushi rolls
>> supplying the 'rollers' with towels and wine – don't you dare underestimate this task. It's essential to keep the working class happy.
Grocery list for a sushi party
for 7 – 10 persons, depending on how many different components you're planning to handle. Luckily most ingredients stay fresh for several days and can be processed to a salad later on.
Basics (the Asian supermarket is your best friend)
>> rice – for this evening I estimated 200 grams of rice (uncooked) per person. We were a group of seven and used 1,5 kg of rice. 2 latecomers could also eat some pieces and 2 – 3 rolls we're given to a friend who was moving to the next party. You see, 200 grams are quite a generous guess. If your friends are not as greedy as we are you'll probably be fine with 100 – 150 grams.
>> rice vinegar
>> nori sheets – for 1,5 kg of rice we had 4 packs with 10 sheets each
>> soy sauce
>> wasabi
>> pickled ginger
>> sushi mat
>> sharp knife
>> chop sticks
>> small bowls for soy sauce
Ingredients, that you may vary greatly
for garnishing
>> sesame
>> caviar
>> minced chives
vegan
>> avocado – we did fine with 5 avocados
>> cucumber – 1 – 2 pieces
>> tofu (smoked or deep-fried, otherwise it'll be quite a tasteless business)
>> spring onions
>> yellow radish
other possibilities
>> peppers, carrots or beetroot
>> kimchi, kale, spinach, cress
>> pineapple, mango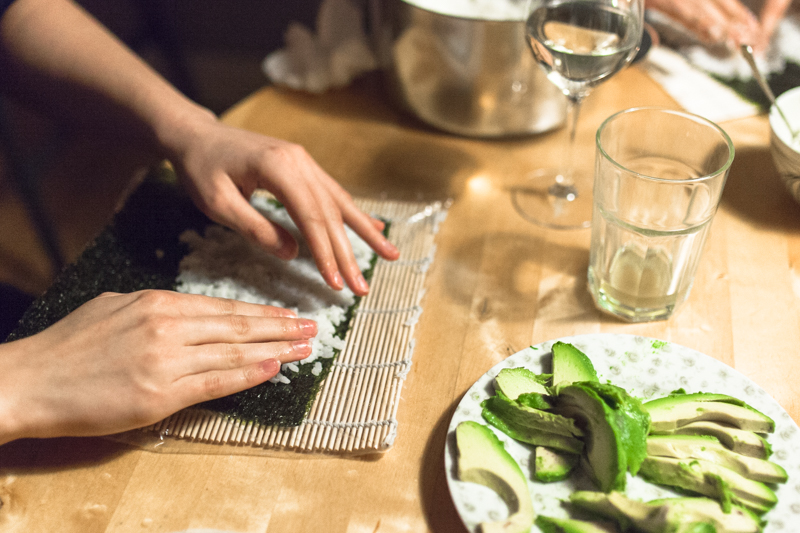 vegetarian
>> cream cheese
fish / meat
>> smoked salmon – one package – considering that half of our sushi was vegetarian. I haven't had raw fish for my own homemade sushi yet. Me and my friends were always quite satisfied with the smoked salmon option and it's a big plus from the financial viewpoint as well. If you feel like trying the raw fish thing anyway don't be stingy and buy some fresh and high quality fish.
other possibilities
>> chicken terriyaki
>> roasted or deep-fried prawns
>> tuna
And how much will a Sushi Party cost me?
That totally depends on what crazy shit you're planning for the evening.
The basic ingredients are really not that expensive, especially if you buy them at an Asian supermarket. The vegan and vegetarian components are also quite cheap to buy, the only thing that'll be a bit more expensive is the fish. For our group it was only 5 Euro per Person. So if you're kinda broke, you should relinquish the fish or buy smoked salmon. Also, there's so many delicious and creative possibilities to combine sushi that you won't even miss the fish that much.
Conclusion:
This was the first time I made Sushi with such a huge group and it was indeed a lot of fun. Considering that the host and I were tired and hungover the whole evening proceeded very well without causing too much of a chaos.
And the most most exciting thing is: I already got the next Sushi Party planned. Next time it's gonna be fully vegan. So stay tuned and be curious about what we're going to create. 🙂
If you have any specific questions, maybe for your own sushi party, just ask me in the comments below. And by the way, how do you like this kind of post? More of a documented guide rather than a recipe with perfectly styled photos? I'd love to hear your feedback on that.
How about some Mexican Food for a change?
Pin it for later: